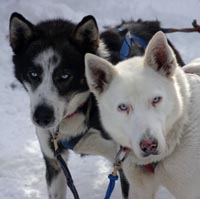 A pair of strong Alaskan huskies with big hearts.
Photo by Darin Summerhays/courtesy Cold Fire Creek Dogsledding
BARB MARTOWSKI
JASPER, ALTA. — When you walk up the line, you are greeted with a symphony of sounds: howls, whines, and barking. If you haven't figured out that this particular "musician's band pit" is filled with sled dogs, you have never been dogsledding.
Strapped in their harnesses, their continuous vocals and body actions are of joy because they know that soon they will be able to run, to pull, to work. It doesn't take much to realize that the cacophony of sound means "Let's get going."
"These guys are born and bred to work," said Amanda Sinclair, owner of Cold Fire Creek Dogsledding. "They are Alaskan huskies, a breed that is bred for their speed and endurance, and even though they are a mix breed, they are a recognized blood line. They're smaller than Malamutes and Siberian huskies, but they are really strong for their size, smart and have a lot of heart."
Time to play musher
Sinclair's company is located about an hour's drive from the Town of Jasper, Alberta, just across the British Columbia border. While friends were skiing and snowboarding on the slopes of Marmot Basin, I opted to go dogsledding. It turned out to be one of those great days that will always be remembered: perfect conditions, an enthusiastic group of fellow mushers, and spectacular scenery.
When you go on one of Sinclair's dogsledding tours, you get to drive the sled, to be a musher, which is without question a very cool experience. The group I was with were a mixed bunch from the U.K., along with a gal from Edmonton, Alberta. The vast majority had never gone dogsledding before, so while they were getting their instructions from Sinclair, I was saying hi to all the dogs, letting them know that soon we would be on the trail.
Once we hit the trail, it took only moments for the dog chatter to stop and peace to reign. I say peace because that is exactly what it is.
The only sounds are the runners skimming over the packed trail and the odd command from the mushers. Surrounded by snow-covered trees and spectacular mountain views, there is a certain sense of tranquility that envelopes the spirit.
The art of forgetting the rules
That is until someone forgets Sinclair's instructions or falls off the sled. As a passenger, you don't always see exactly what happens, nor do you know if your driver is still with you, which is what happened to Elizabeth Stevenson from England.
While the rest of us were enjoying the spectacle of her husband, James, chasing his sled, Elizabeth was blissfully unaware that she was in a "runaway" sled.
"You really don't know if he's on the back or not. I didn't know anything was wrong until the dogs stopped and all of you were laughing," said Stevenson.
Next up to entertain the gang was Linda Shave from Edmonton. A sudden pull away of her sled sent her flying off the back, which in itself wasn't very comical, but watching her struggle through the knee-deep snow did produce some giggles, especially since she was laughing the hardest, making it impossible to succeed in her quest. In the end she had to be rescued by another guide.
Touched by the beauty of nature
The day was having a profound experience for Thomas Ewart, from Northern Ireland.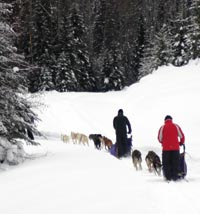 Travelling with Cold Fire Creek Dogsledding takes you through some spectacular places west of Jasper, Alberta.
Photo by Barb Martowski
"My wife, Margaret, and I have a small garden at home and we are always encouraging the birds and smaller animals to visit, but this ... being surrounded by all this," he said, as he waved his arm around at the setting we were in, "is really getting close to nature. I never expected to be driving a dog sled, never in my entire life did I think I would get to experience something like this."
Even Shave, despite her fall, was already planning on who she would bring on her next trip.
"This is so much fun. If you are not a skier or snowboarder but still want to get out and do something when you are visiting a resort, going dogsledding is perfect. I know a number of people who would really enjoy this, and it's so beautiful out here," she said.
This type of response is exactly what keeps Sinclair in the business. "I love working with the dogs and introducing people to dogsledding, especially those that have never experienced anything like this. Their reactions at the end of the day and the way they interact with the dogs keeps it fresh all the time. We take people of all ages – the only requirement is that you have a sense of fun and a sense of adventure."
Getting in touch
As for tour options, if you are tight on time but still want the experience, Cold Fire Creek offers a one hour tour that will provide a quick but excellent taste of this age-old mode of transportation. There are also multi-hour and night tours available.
There are a few ways of booking a tour with Sinclair's company: direct through www.dogsleddinginjasper.com, or in the case of my new U.K. friends, the tour company they were travelling with, Jetsave, and finally through some of the hotels in Jasper.
Mount Robson Inn, where I was staying, has partnered with SunDog Tours, a transportation and tour company that arranges for activities like dogsledding, canyon crawls through the Maligne Canyon and wildlife tours for guests of Mount Robson Inn.
For more information on Jasper and the many outdoor winter activities available, visit www.jaspercanadianrockies.com.
For more stories and detail on Jasper check out our SnowSeekers' destination page.