Think you know Winsport? Think again
Good skiers get great with some fine tuning
PAULA WORTHINGTON
CALGARY - There I was, a confident, advanced skier, gazing down the slope at Calgary's Winsport, unable to turn to the left. I'd start to go, then stop myself, the look of intense concentration evident on my face. 
How could this gentle slope cause so much trepidation?
Shannon Key was putting me through my paces. Moments earlier, Shannon, the team lead of Active Lives at Winsport, had me take off one ski, and leave it on the run. From there, she'd encouraged me to lift up my foot, gain some speed, and start to turn. One way, no problem. The other? No way.
The exercise served to test balance, agility, the ability to put weight on your inside edge, and keep your body pointed downhill as you make your way through the turn. For me, the exercise made me realize it had been quite a while since I thought about the fine motor skills that accompany perfecting your ski technique.
Known as a learning facility, Winsport also offers a number of classes, features and ski terrain that can help even the most advanced skier refine their skills.
Case in point: In January of this year, famed snowboarder Shaun White practised on Winsport's immense and impressive 7.5-metre half pipe for a month before going to the X Games.
On the other side of the facility sits the notoriously steep mogul pitch, in plain sight as you drive past Winsport on Highway 1. The bottom of the pitch features a "wave tank" — an area with small to intermediate moguls that the public can use to build confidence on the bumps.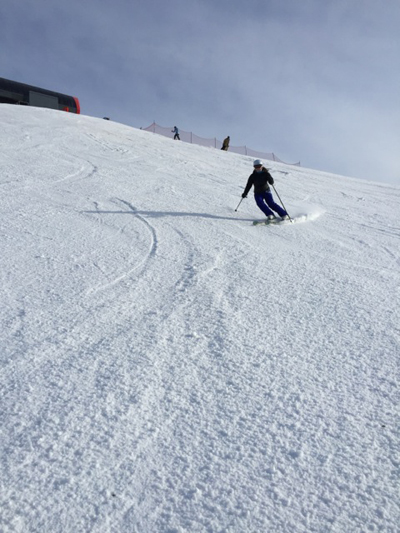 Always a good idea to work on your technique
Photo by Paula Worthington
Further up the slope, the gully leading in to the landing area of the ski jump offers some tight treed terrain that can be navigated after major snowfalls in the city.
Heading back up the lift with Key, we practised our downhill technique on the black diamond pitch at the top of the chairlift. "The green, blue and black categories are determined at the discretion ski resort," says Key. "We offer lots of opportunities to transition from beginner to more advanced terrain, whether it's the ski terrain, our mini-pipe to super pipe, or the variety of features in our terrain park." 
Winsport offers a number of workshops and skills clinics to help skiers build their technique, or become comfortable with park features. "Learning how to ride park or mogul features can help provide skiers and riders with more confidence in all types of mountain terrain," says Key. It teaches confidence, agility, and the opportunity to react quickly. We also welcome a lot of people in the early season who want to refresh their skills before tackling some of the bigger resorts."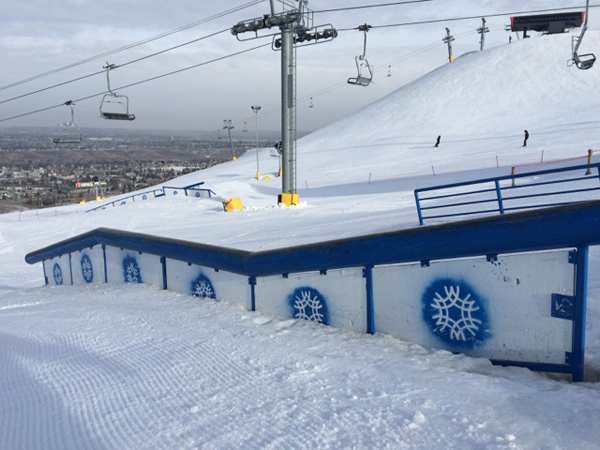 Winsport can help you get comfortable in the park
Photo by Paula Worthington
For those looking to brush up their skills, Winsport offers 90-minute lessons six times a day, along with specialty workshops and multi-week programs, including the Rossignol / Burton Performance Experience Clinics.
Visiting the "wave tank," taking a ski through the half pipe and turning through the terrain park features put me in my element — then taking on the slope with just one ski, solidified my belief that Winsport is more than just a beginners' slope. Just as Winsport helps train the best in the world, everyday skiers of any level can benefit from a little challenge and great coaching.
Like this story? Share it with your friends.
Check out Winsport's winter stats.