Sun Peaks brings out the happy in people
Intimate village life offers four seasons of fun, food and entertainment – oh and skiing
Stand in the middle of the village at Sun Peaks Resort and look at the faces of the people walking by. There's something going on but you just can't put your finger on it.
Oh, wait, you are feeling it too. It's a feeling of harmony with the mountains, the snow, the people and the village. That may sound corny but ask people that live there year-round. There is something about Sun Peaks that makes it all about the destination and not the journey.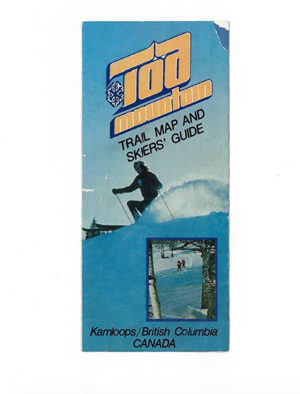 Tod Mountain was the beginning of Sun Peaks
Photo by Sun Peaks Resort
Three mountain faces now host more 130 runs. But back in 1961, it was Tod Mountain that caught the eye of a few developers. Harry Burfield was asked to help build the "Tod Mountain resort," create some trails and build the ski lodge. He, like many people, fell in love with the valley and envisioned purchasing the resort. Sadly, Burfield died in an airplane crash on the back side of Tod Mountain in 1971. His death had a huge impact on the resort. Today, there is still Harry's Run and the Burfield Quad lift named in his honour.
The resort struggled with different owners and limited funds so development was slow for the first 30 years. In 1972, the addition of the Shuswap double chair and seven years later, the Crystal triple chairlift was installed. In 1980, the doors to the Shuswap Day Lodge opened. But still, the resort wasn't really growing.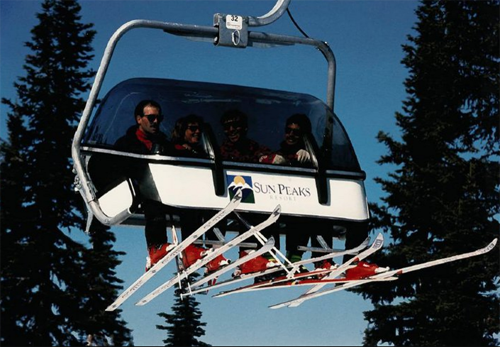 The Crystal triple chairlift back in the day
Photo by Sun Peaks Resort
In 1992, the Nippon Cable Company of Japan bought the resort and instantly set out to create a resort with the same concept as Whistler, north of Vancouver. Nippon brought in a master plan to create a village that would flow in the valley, respecting the landscape yet providing a community for the visitors and the people that worked there.
Nancy Greene and her husband Al Raine were instrumental in creating the village at Whistler and with that track record, they were hired in 1994 to come and help shape the village at Sun Peaks. When they opened their own hotel at Sun Peaks, the ski industry took notice. If two of Canada's ski visionaries thought Sun Peaks was worth investing in, it was worth checking out.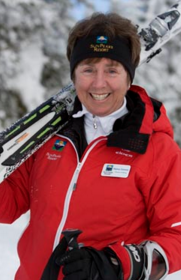 Nancy Greene
Photo by Sun Peaks Resort
By the 1990s the western Canada ski scene took off. Investments into resorts were happening everywhere and Sun Peaks was no different. Hotels helped shape the village while new lifts and runs enhanced the skiing experience. The construction of the 35-million gallon snowmaking reservoir made sure there would be snow.
Awards started trickling in 1995 and they poured in. Best mountain trail design, best designs for day lodge and best terrain variety were followed by best après ski and best kids resort features. It was pretty heady times for the resort.
When the Delta announced it would build the Delta Sun Peaks Resort Hotel and Conference Centre in 2001, it was proof that the resort town was shedding its winter-only label and moving into a four-season destination. Increasing the golf course to 18 holes brought in more summer visitors. Mountain and downhill biking was also welcomed to the resort.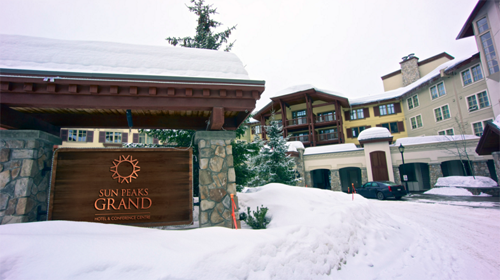 The Sun Peaks Grand
Photo by Sun Peaks Resort
Don't assume the resort was ignoring the powder hounds. The back country of Tod Mountain was opened to cat skiing, then came a tube park and 17 more trails on Mount Morrisey.
Sun Peaks was on the map. International ski teams like the Austrian Ski Team signed deals to use the slopes as its early season training site with hope it would replicate some of the terrain they'd cover at the Vancouver 2010 Olympics. The award-winning Nancy Greene International Race Centre, built in 2005, offered dedicated lanes for GS training. It's still popular with teams any time of the year.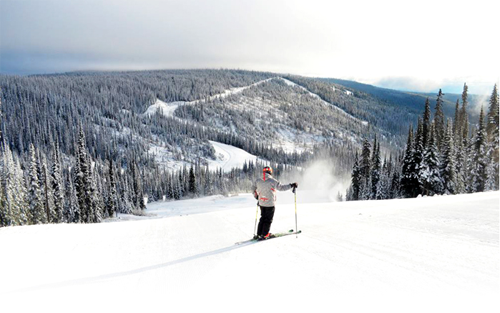 Skiing on Nancy Greene's International Race Centre
Photo by Sun Peaks Resort
More people were moving into the valley but there was one problem. There was no school for children and that meant 50-km long commutes to Kamloops 50 km or constructing a school. By 2010, the kids in the community were able to ski to school, ski at lunch and ski home. What a dream! See why everyone is happy there?
There is an average annual snowfall of six metres during a ski season that lasts from mid-November to Mid-April. Sun Peaks is now Canada's second largest ski area with 4,270 acres of terrain. Three mountain faces with 12 lifts carry skiers and riders to 135 trails, two alpine bowls and a 10 acre terrain park. For the cross -country crowd, there is almost 40 kilometres of groomed and track set backcountry trails.
Amid the mix of standard to luxurious accommodations are 7,000 beds at hotels, condos, chalets and B&B's with room in the summer for RV's and campers. During the summer, almost every weekend, there's an outdoor concert, to attend - but only after you've gone canoeing, hiking, golfing, horseback riding or zoomed down the new Mountain Cross Carts course.


The bustling village of Sun Peaks Resort
Photo by Sun Peaks Resort
The village atmosphere, with everything within walking distance, makes dining and heading out for the evening easy. Pubs, restaurants, lounges and cafes line the pedestrian only streets.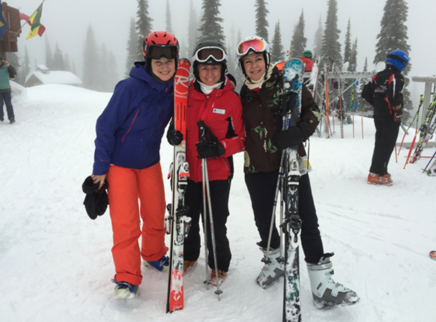 Nancy Greene with SnowSeekers own Lisa Monforton.
Photo by Lisa Monforton
As for Nancy Greene, as in Olympian, Canadian Senator, and Director of Skiing, Nancy Greene - she and Al Raine still call Sun Peaks home. She is still an excellent skier and still hosts visitors on most Saturdays and Sundays for tours of the slopes. Just another reason why the people walking through the plaza have smiles on their faces. They just skied with an Olympian. Pretty cool.
For more information, head to the official Sun Peaks Resort website
Click here to see what you will be doing at Sun Peaks.
Become a SnowSeekers member and get exclusive access to deals and more.
Learn about "Feeder Hills", community ski areas that nurture new generations of skiers.   
Show your stoke for the awesome history of Sun Peaks Resort by sharing this page with your friends!
For the latest deals, snow reports and contests, sign up today to our SnowSeekers e-newsletter.