Sun Peaks Perfection: Wine, food and skiing with an Olympian
Lisa Monforton
On a recent ski trip to Sun Peaks, I experienced the perfect trifecta of an Okanagan winter getaway: locally produced wines, fabulous food and the chance to ski with two-time gold medal Olympian Nancy Greene.
Canada's second largest resort is calling your name. Plan your winter vacation today!
That's just they way they roll at what is now considered Canada's second largest ski resort. (Whistler is No. 1). As much as Whistler is all about being seen on the slopes and then at the chi-chi-est of bistros, Sun Peaks is the antithesis, with its low-key, folksy vibe. On this particular weekend, it was the 17th annual Sun Peaks Okanagan Winter Wine Festival, featuring more than 30 wineries, tastings and pairings. In between all that, there was some downhill ski action, gorging on sticky buns after a few runs off the Sunburst lift, snowshoeing and shopping in the village.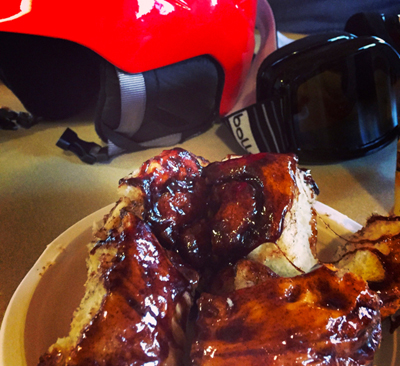 Yum! After a few run off the Sunburst lift, we stopped at the mid-mountain lodge for the famous sticky buns – warm out of the oven. The best part of the treat is that Nancy Greene-Raine proclaimed, "Eat more. There are no calories at 4,000 feet. Right on, Nancy!
Jess Thomson, from Seattle, Nancy Greene- Raine and me, revved up on sticky buns and ready to get back on the slopes.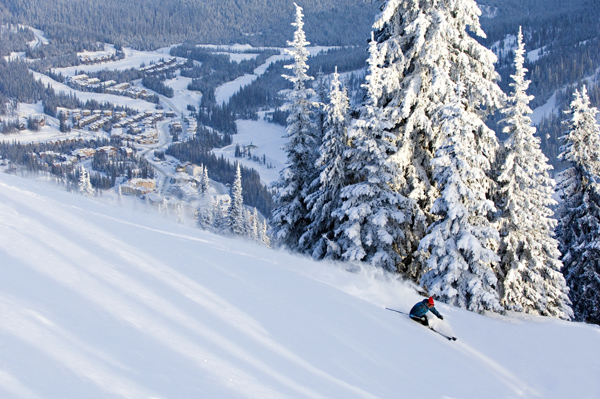 Photo by Adam Stein 
Fresh snow and a blue-bird day. What could be better, other than the après down in the village off in the distance.
A little chocolate and wine tasting is a sweet way to break up a day of skiing. The session is just one of the events at the annual Winter Okanagan Wine Festival at Sun Peaks. This year, the tasting was hosted by Forbidden Fruit Winery in Cawston, B.C. and Rocky Mountain Chocolates (which also has a story in the Sun Peaks Village).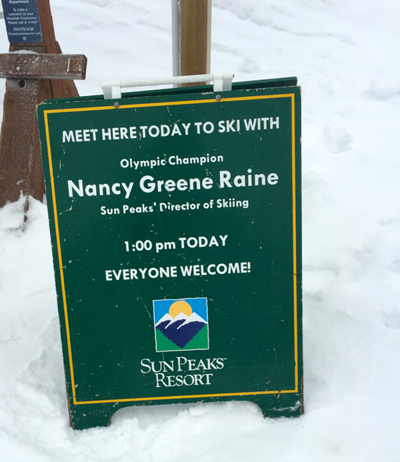 I'm not the only one who got to ski with Nancy Green. Nancy Green regularly skis with visitors to Sun Peaks. Watch for her sign at the top of Sunburst lift.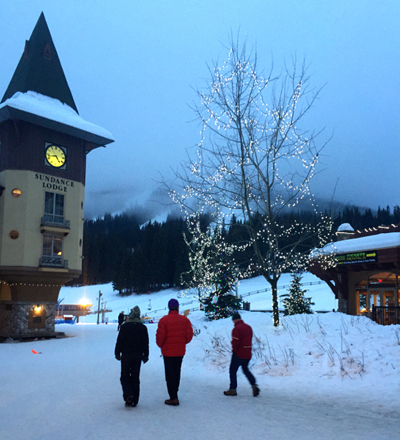 Another fine day ends at Sun Peaks. But that doesn't mean it's time to go home. Be sure to walk through the village and check out the dozens of shops, cafes and restaurants.
Like this photo blog? Share it with your friends! 
For more stories and detail on Sun Peaks check out our SnowSeekers' destination page.