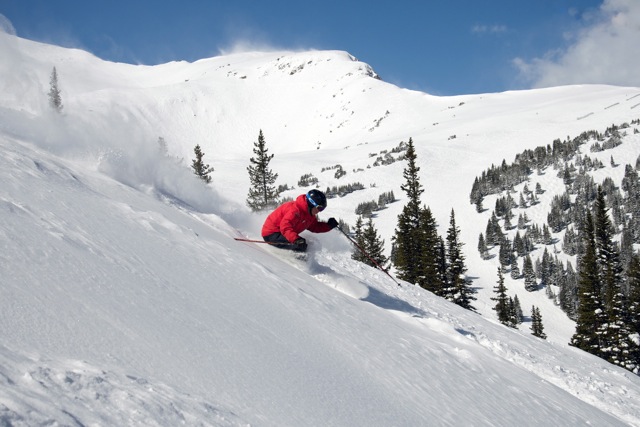 Jeremy Babcock gets in some powdery turns at Marmot Basin. The resort has had record snowfalls lately and will stay open until May 5.
Photo courtesy of Marmot Basin
LAURA ENGLAND
JASPER, AB - In response to the wacky weather Edmonton has received lately, we've whined and shaken our fist at the sky feeling like we've been cheated out of spring. We decided to look at it another way - instead of a short spring, how about an extended ski season? And I can't think of a better place to get in a few extra turns than Marmot Basin.
The 2012-13 ski season has been a banner year for the Jasper resort. So good, in fact, that they've decided to keep the doors open one week longer than usual. This year, the last ski day for Marmot Basin will be May 5 and conditions look to be spectacular. 
Recently, part of the SnowSeekers team headed out to Marmot to take in the Aloha Cup and the fabulous snow. The more adventurous of the group headed up to The Knob in search of fresh powder, (yes, powder, and yes, it is the middle of April). The rest of us found deep snow on Paradise and Solace. Marmot had something for every skill level and it usually came with a boatload of the white stuff.
Brian Rode, vice-president of Marketing at Marmot describes this year as, "Very good - probably our third busiest season ever." 
He also cited new additions on the slopes and good weather have added to the resort's success.  "Since a new group of owners took over in 2003, they've invested a lot of time and money into this resort," he added. "After the addition of three new lifts in a span of four years, the regional market has really responded. And Mother Nature has been extremely co-operative."
final weeks at Marmot won't be remembered solely for excellent conditions, however. The management team has packed in a series of events befitting a top-notch season.
Rail jam, rap band and beach party
On April 20, check out the Bud Light Mountain Refresh Tour featuring live music and a rail jam. April 27, Marmot plays host to the hugely popular rap/rock band, Down With Webster. (Wanna score points with your kids? Take them to see these guys.) For the final weekend at Marmot, you're all invited to the Beach Party Shakedown where the patio beckons and the barbecue is on. 
Golf and ski in one weekend
Well, how's this for an option. On May 4, ski at Marmot rand then on May 5, golf at the prestigious Fairmont Jasper Park Lodge Golf Club. It's the ultimate seasonal collision that is rare in these parts. According to Stefanie Hamilton, marketing manager at the JPL: "It happened last year, but that was the first time in decades. With the weather this year compared to last, it looks like a much more promising opening/closing weekend." 
Despite an unusually chilly April, but I found that once I got out of the city and onto the slopes I didn't feel so angry at the world. All around me, I heard people talk about what a fantastic day they were having and how they'd like to fit in at least one more trip.
The fact is, Alberta weather is sketchy and sometimes downright mean. But we choose to live here and we can choose to either complain about it, or give in and enjoy it.
Story links: 
http://www.fairmont.com/jasper/