BANFF - Cabin fever is an authentic ailment and one that should be taken seriously, especially when sharing close quarters with your husband's relatives. My daughter and I have the perfect solution - making a break for Banff and getting a good dose of fresh air. 
Our tradition is to break up winter with a short mini break that includes an outdoorsy activity followed by a little comforting indulgence. 
With so many options for outdoor adventures, it's hard to choose but we made the easy executive decision to go snowshoeing. As they say, if you can walk you can snowshoe, so we sign up for an afternoon jaunt with Discover Banff Tours.
Instead of trekking around Banff, we're off to Marble Canyon in Kootenay National Park, an area known for its plentiful powder stashes. Snowshoes strapped on, our guide Jordan Sinclair gives us the all clear.
"The most important thing when you do outdoor activities is to look the part. Since we're all looking pretty good, let's go!"
Snow ghosts loom large in all directions, but we're not intimidated. It's a bluebird day in the Rockies and we're up to our knees in fresh powder.
It's like floating through snow
There are plenty of children in our group and they scamper ahead, pelting Sinclair with snowballs, that he shrugs off. Forgetting we have snowshoes on, we float across the snow, leaving wide tracks behind. Dappled light peeps through the trees heavily laden with snow, an incredibly pretty scene as we stroll alongside a creek and then up a steep, short hill that provides prime viewing spots into the canyon.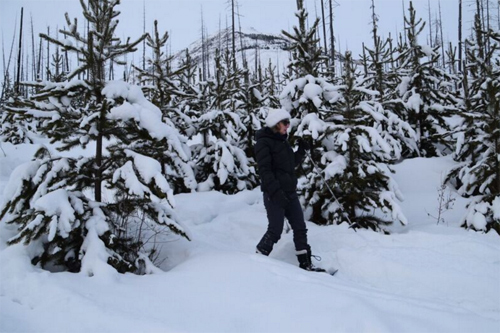 If you've never tried snowshoeing, you'll find that it's a little bit like floating on clouds of powder.
Photo by Jody Robbins
There are natural snow chutes to slide down or you can opt to barrel off the rock formations into mounds of pristine powder, as the kids do. My daughter goes cross country every chance she gets, leaving the trail and coating herself in snow. We spot an ice climber preparing his ropes for scaling what we think is a waterfall. "That's just ground water seeping out, freezing and squeezing out the air before compressing on itself," says Sinclair.
Discover Banff with these amazing Best of Banff Winter packages!
We leave the path and head for the trees, forging our own trail through powder at least two feet deep. There are snow mushrooms to leap over and tree branches to pull, showering the hiker behind me with a fine dusting of snow. We break for hot chocolate and maple syrup snow cones in a clearing that gives us panoramic mountain views. Then it's a final romp through this playground before we head back to the parking lot.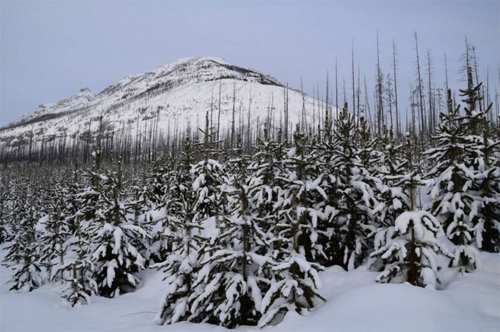 Snow-covered trees make for a beautiful backdrop to a day of snowshoeing in the mountains.  
Photo by Jody Robbins
Pampering time
After such an invigorating walk, I'm ready for some pampering and make my way to Red Earth Spa. It's got all the amenities you could want: infused water, a tranquil relaxation room, gym and steam room. There is just enough time for a soak in the jade-coloured waters of the hot tub before my muscle-melting massage.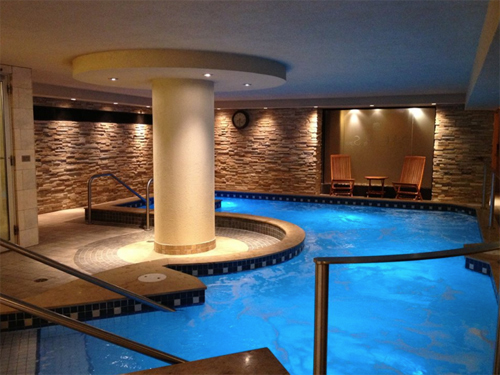 The mineral pool at Red Earth Spa will take the chill off and soothe sore muscles after a day on the trails.
Photo by Red Earth Spa
My masseuse knows just how to work those kinks out - especially the knots between my shoulders. I'm given extra Japanese mint oil on my trouble zones and advised to hit the steam room after my treatment.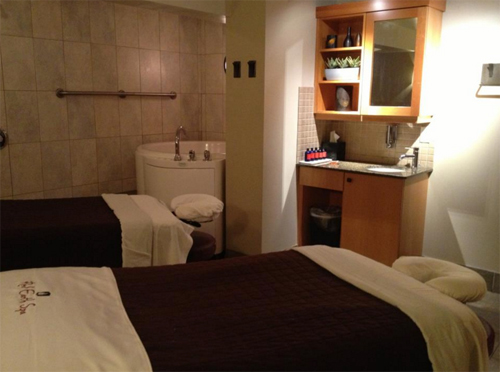 Red Earth Spa offers a menu of massages, including classic and signature treatments. 
Photo by Red Earth Spa
Following orders, I let the steam work those essential oils into my skin and congratulate myself on taking this much needed mini break to warm up to winter.
If you go: 
Ready for a relaxing weekend getaway to Banff? Share this page.
For more stories and detail on Banff check out our SnowSeekers' destination page.