With a local guide and a pair of snowshoes, you're all set for an awe-inspiring experience
DOC POW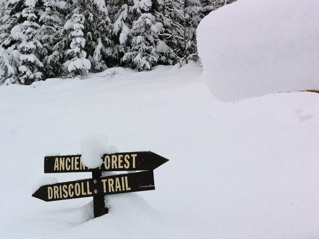 The snow gods are doing their best to keep the Ancient Forest a secret, it would seem.
DOC POW/SnowSeekers
PRINCE GEORGE, BC — If you are looking for a winter experience  beyond words, you'll find it within the Ancient Forest of Prince George, British Columbia. During a recent production stop I had the chance to go for a snowshoe tour through the forest and, man, the term "ancient forest" more than lived up to expectations. 
Most people do not expect to find a temperate rain forest in central/northern British Columbia. The top of the province is filled with trees, and Prince George is world-renowned for its lumber.
The Robson corridor and its 14 million hectares covers much of northern British Columbia, and within this corridor there are about five or six antique stands of the biggest cedars you'll find.  
The only forest area that is protected is the aforementioned Ancient Forest, which lies about an hour's drive east of Prince George. What started as an initiative to form a backcountry trail has now fanned out into a winter experience that can't be found anywhere else on the planet.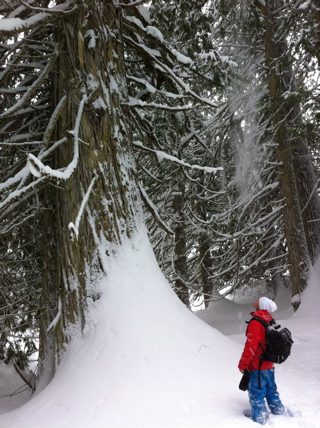 Brandon Boucher gets a close look at the ancient giants.
DOC POW/SnowSeekers
Ramblin' men
"It was a University of Northern BC (UNBC) researcher, Dave Radies, who had heard about this place through the locals and brought it to our attention," explained Nowell Senior, a member of the Caledonia Ramblers - a hiking and conservation group out of Prince George. "Much of it had already been tagged for logging."  
Radies alerted the Ramblers, who then put in an amendment to their application to preserve this outstanding patch of land and protect it from logging. "Our main purpose is to create exposure and then preservation can take place."
On our snowshoe tour, we ran into some pretty amazing flora and fauna. One of the most impressive things for me was the different types of lichen in the trees.
You know the air quality is good when you see moss and various types of plant life hanging from the trees. For this type of plant life to succeed it has to feed off the nutrients in the air. 
One of the world's natural wonders
Around this part of the world there certainly isn't a shortage of good air. Lung wart is a type of lichen that ancient physicians used to prescribe to people with lung problems.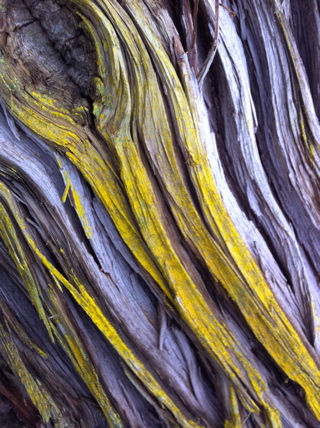 Gold Dust lichen, one of the 200 species of lichen within the Ancient Forest. It could be mistaken for spray paint.
DOC POW/SnowSeekers
It's got a nice greenish color to it and is so sensitive to pollution that if there was any in the area it would wither up and die. 
The trees here go undisturbed for so long they rarely get disturbed by fire or pests. Some are more than 1,000 years old. There are 15,000 types of lichen on the planet and 200 of them are within this forest.
Researchers from UNBC have made a few unique discoveries, and several of them are have only just been discovered discovered.
It's a pretty magical place, one that needs your help to preserve. There are not many of these types of places left on our planet and the Ramblers are at work to get some support.
They are busy putting in trails and making a summer boardwalk system that can get everyone into this exceptional environment, including those in wheelchairs. 
Please hike over to their website at www.caledoniaramblers.ca. I hope you can get a sense of what you are in store for via this video we recently produced. 
Check out this video of the SnowSeekers team exploring the ancient forest.
Aptly named Powder King Mountain Resort gets over 41 feet of powder each season. It's a powder paradise that every level of skiing and snowboarding ability can enjoy. From breath-taking drops to gentle groomed slopes, there is something for everyone. Locally owned and operated means you'll be part of the Powder King family in no time. Planes, trains and automobiles will get you there. Air Canada, West Jet, Central Mountain Air, Pacific Coastal Airlines and Via Rail all stop in Prince George. Rent a car at the airport using the #SkiNorthBC discount campaign.
If you go
Get the details about that snow here www.PowderKingResort.com 
Prince George International Airport http://www.pgairport.ca/
For all your Travel Northern BC details, the folks from Northern BC Tourism can help make the planning process smooth. http://www.travelnbc.com
#SkiNorthBC and explore more. SnowSeekers has partnered with National Car rental to secure you a SnowSeekers preferred rate. Make a reservation online, or with an agent and in the Contract field enter XVC4SNO for a savings that could cover your ski pass cost every day.