Brandy Rogers of Washington State arrives in Sun Peaks to film snowboarding video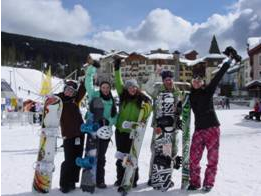 Tara, Brandy Rogers (Snow Bum 2 Winner), Jennifer, Jacob, Christina Antoniak
Photo courtesy of Tourism Sun Peaks
March 28, 2011 
SUN PEAKS, BC — The winner of Snow Bum 2: The Snapshot, an engineer from Washington State, has shifted gears for the week, stepping away from the drafting table and onto the slopes of Sun Peaks Resort.
Brandy Rogers of Washington State was selected as the official winner of the Snow Bum 2 contest. Her prize includes a six night stay at Sun Peaks Resort in the BC Interior, plus a full day of filming with a professional videographer. Brandy's photo was chosen from among more than 160 international entries, including hopefuls from Australia, Brazil and the UK (which can still be viewed online at www.snowbumcanada.com). 
A surreal experience
The 30-year old structural engineer arrived with three friends this past weekend to begin their six-night stay at Sun Peaks. In addition to filming their snowboarding video, Brandy's entourage has been checking out the restaurant and pub scene in the Sun Peaks village.
"It was so surreal when I won," says Rogers. "But now that I'm here, it's starting to sink in. The resort is beautiful and the village is gorgeous — it's been fantastic to explore."
What Rogers looks forward to most is spending Tuesday with Kevin Hagell of Kaizen Visuals, a professional videographer. "I've never been followed by a cameraman before, so that will be interesting," says Rogers. "It'll be great to find some lines through the trees and try some of the steeper terrain and have it as part of my winter video!"