Smithers' Local Entrepreneurs Reveal Top Winter Tips
#SkiNorthBC #PlaygroundoftheNorth
Discover the #SmithersVibe with these local tips to the area.
Smithers BC - With decades of experience travelling across BC, Smithers to me is top of the list when I think of a true alpine winter mecca. There is a reason the Alpenhorn is front and center on Main street, a pedestrian-friendly stroll home to several shops and experiences that offer services exemplifying Smithers as a mountain ski town.
To help you make the most of the next time you make a visit to this most friendly of Northern BC ski towns, here are a few suggestions on how to tackle it, as told by a collection of locals.
Please watch and share this video, and read on to get the best out of a winter trip to Smithers.

On Skiing at Hudson Bay Mountain Resort:
Blaine Etsby, Smithers Brewing Co.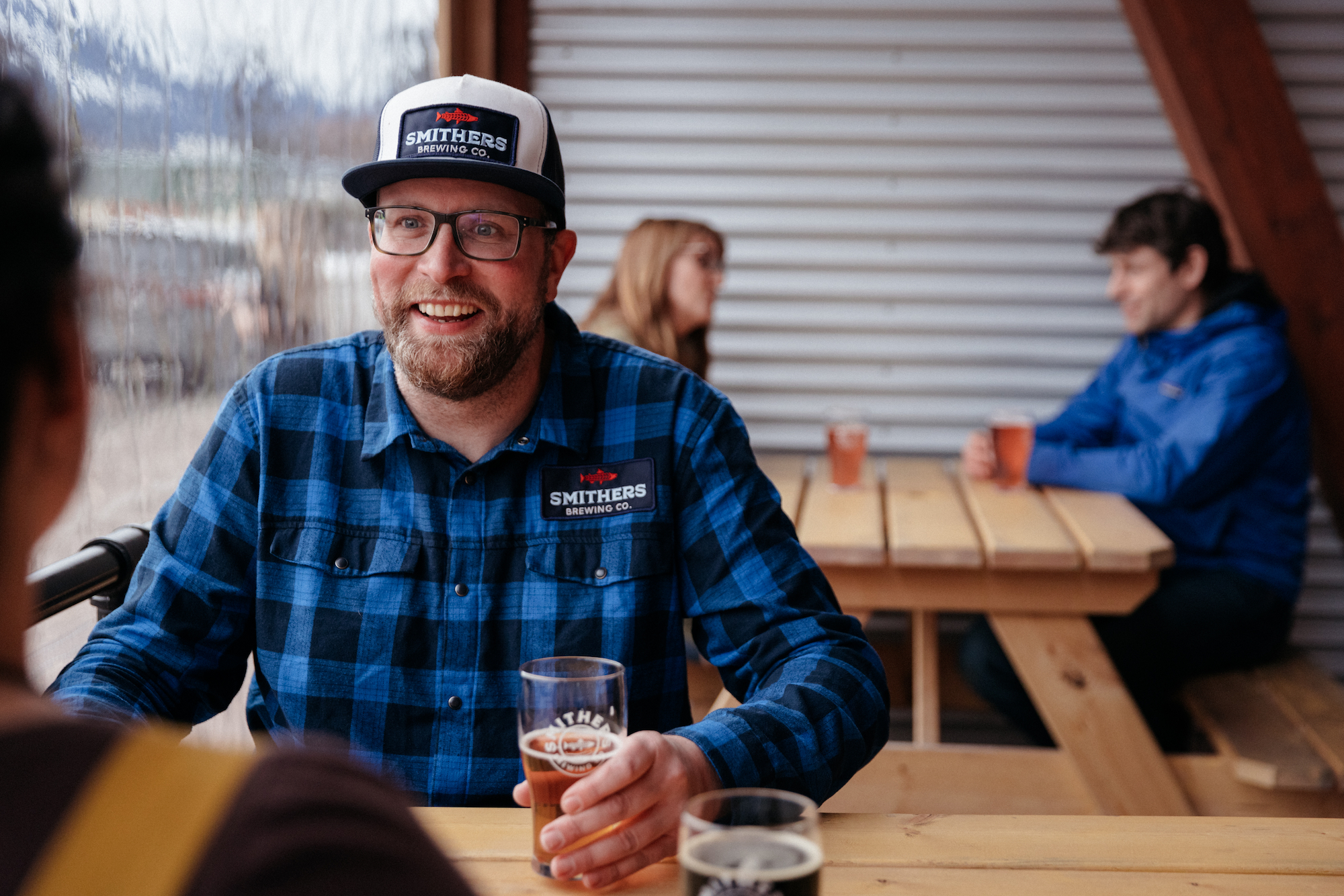 A born and raised Smitherine, sure Etsby got lured south for a few seasons on the slopes of Fernie and the big city of Vancouver, but the Smithers magnet hooked him back. Now co-founder for one of two craft breweries in town, when he's not brewing beer he's on the hill at Hudson Bay Mountain Resort.
"I grew up taking the mountain bus up every weekend, I spent countless years in Kids Camp and practiced daffy's and 360's on jumps all over the hill. We can see the chairlift from the patio of the brewery and when I get a few hours in the day, I can be up there in under half an hour. The cabin culture is also one of the most unique anywhere I've experienced."
It's a no-brainer that Etsby's favourite run on the hill is Alpenhorn, and suggests anyone who can hit it midweek at first tracks is up for a moment that dreams are made of.
The brewery's recent investment in a new covered heated patio, walking distance to some of the best restaurants in Northern BC, makes Smithers Brewing Company the ultimate apres spot. A patio session will keep the day's vibes alive by ordering up beers named after the hill including the Hudson Bay ISA and Panorama Porter.
Those mountain bus days for Etsby have come full circle given his brewery is now one of three stops the Hudson Bay Mountain Ski Bus makes, so skiers and riders can be dropped off at their front door after a day on the hill.
 
On Snowshoeing in Smithers:
Christine Blair from Two Sisters Cafe 
Whether it's snowshoeing or shredding, any snow seeker has to stay fueled on good food, so Christine Blair and her team at downtown Smithers' Two Sisters Cafe have you covered. 
"Hearty soups, specialty coffee's with our own made-in-house syrups and just for this time of year homemade eggnog are all on the menu," explains Blair.
This Cafe owner was born just down the highway in Terrace but now is a long-standing Smithers local spot.
After the year and a half, we've all had, Blair recommends for anyone looking for some serious space to grab a pair of snowshoes and hit Crater Lake because "it opens up fairly quickly and you can see for miles."
 
On Fatbiking Smithers' Bike Trails:
Peter Krause, founder and owner of Main Street's McBike & Sport 
Krause moved into Smithers at age 11 as his mom was a die-hard skier and couldn't resist Smithers' alpine magnetism. After realizing he wasn't going to be the next Neil Armstrong in competitive road biking, he went for retail legendary status, founding one of Northern BC's top bike shops.
"We have two fat bikes for rent here in the shop, with maintained fat bike trails less than 10 minutes from the shop," says Krause, a lead member of Smithers Mountain Bike Association.
He chipped in some cash matched by other community members to purchase a Snow Dog, perfect for packing and maintaining fat bike trails for the winter. His call is to go hit the Bluff Trails for a true taste of Smithers winter magic. 
SnowSeekers reminds you to leave a legacy of awesome from your visit: sure there is no cost to use the trails but the Mountain Bike club does accept donations. https://smithersmountainbike.ca/donate/
One thing that was unanimous from all three of these entrepreneurs when I asked why any snow seeker should choose Smithers this season for a visit was that the community, "has every winter activity you can think of and it's all connected to some of the finest shops and restaurants in the province."
Smithers is open for business, and they've got a seat on the chairlift just for you.
#SkiNorthBC and Save
Check out special offers on ski and stay packages in Smithers.
When You Go 
Let us know what you find, we encourage you to use the hashtag #SkiNorthBC and #exploreSmithers in your social media posts. 
Smithers has one of BC's longest running ski and stay package deals sites at www.SkiandStay.ca
They'd like to remind those from Vancouver or Alberta that you can save yourself the drive as Air Canada and the Smithers Airport can get you there in hours.