DOC POW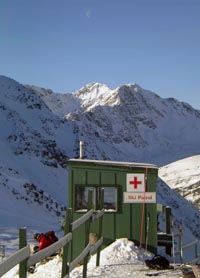 A good day for Marmot's ski patrol can be a lonely day.
Photo by DOC POW
JASPER, ALTA. — It's those runs that leave a lasting impression that skiers and snowboarders crave. They search for experiences that allow them to live in the moment, where nothing else matters except the current time and space.
You can only get that at a destination free of distractions, one that allows you to experience nature at its best. Marmot Basin, located in Jasper, Alberta, is just this kind of place.
Nestled within the Canadian Rockies, Marmot offers up some of the best terrain options for any shredder. With over 1,675 acres of skiable terrain, Marmot's layout is perfectly suited to handle groups with a variety of abilities.
Its upper alpine terrain funnels into a mid-mountain lodge so you can all take the same chair lift to the top (Canadian Rockies Express Quad). Everyone can select a different run out and then rally up at the mid-station, Eagle Chalet. Eagle East is a powder playground, home to stellar black and double-black rippers that feature a ton of lips and shoots.
Ridgeline fun
Marmot delivers a wealth of classic ridgelines and epic opportunities to work for views that few people get to enjoy. One of my favourite hikes – my personal vote for best in Western Canada – is  up to the summit of Marmot Peak, from the top of the Knob Chair.
It's a hike that leads you up along a ridgeline that's exposed on either side. This is a true test of someone's stamina, a 30- to 40-minute summit strike for an unrivalled view that looks onto the majestic Tonquin Valley. Even better is the run that awaits afterwards.
Recently I was up there with a friend, Shelley Tjelum, one of my New Year's cohorts, and she loved it.
"This is some of the best skiing I have done. It's wicked with all this snow and sun," she proclaimed during our 40-minute ascent. Tjelum, an intermediate skier, found the hike to be a challenge, but the rewards certainly outweighed the efforts.
A couple of great alternatives
For those who need to keep the fiber in their snow-seeking diets, you'll find some great tree skiing off Caribou Chair. This is an oasis for fans of the trees, with some well-spaced obstacles and untracked powder. Switch up your view in the afternoon, and head up the Eagle Ridge Quad Chair and down its front side for some additional time in the trees.
Home to a well-rounded variety of options, Marmot makes for a stellar three or four day adventure.
For more stories and detail on Jasper check out our SnowSeekers' destination page.