JEREMY DERKSEN
The notion of "traffic" in Jasper has always amused me. Sure, in the summer you can get stuck behind two lanes of rubbernecking RVs going 30 kilometres an hour down Connaught Drive, but it lasts all of a few blocks. 
In winter, the roads are pretty much wide open. There's one traffic light in town and once I'm west of Hazel Street on Connaught, heading for the Mount Robson Inn, I'm past it. 
From the main driveway of Mount Robson Inn, your sole option is to turn right, towards Highway 93 and Marmot Basin. It's only natural. 
Tracking new trails
As the day winds to a close, the Mount Robson Inn's in-room Jacuzzi tub suite is definitely calling. 
But to a family of five, like mine, the three-room suite with bunk bed is more our speed – kind of like the cross-country ski trail out at Whistlers campground. It's a graceful 4.5 kilometre beginner loop just a stone's throw from the inn. The trail is a bit of an open secret around Jasper, being that it is always one of the first to be groomed. 
For a shorter but slightly more challenging glide, there's the Wabasso campground just a few kilometres further down the 93A past the ski hill turnoff. Or for the ambitious, the Pyramid Fire Road, 15 kilometres long with switchback climbs up the shoulder of Pyramid Mountain Definitely something to aspire to, if I can drag myself away from Marmot Basin long enough.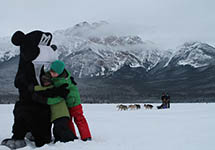 Celebrate with Jasper
Discover why Jasper is one of the top Canadian Rockies destinations.
Though Jasper isn't that well known as a nordic skiing destination, Jasper National Park recently introduced new cross-country ski trail maps to help people discover the trail system. 
A different nightcap
Set off from the bustle of downtown,though not far from it, the Mount Robson Inn is also a great spot from which to engage in another pastime in Jasper, dark sky viewing. 
As the world's largest accessible dark sky preserve, there are places within the park that rival the darkest in the world.
Perched on the verge of the Icefield Parkway, the Robson offers ringside seats to one of nature's greatest nightly showcases, the starry cosmos. 
After a day of riding through sheer white bliss, it seems fitting to nod off with visions of the Milky Way in my head, mixing into a euphoric dream cocktail of powder, stars and open roads.