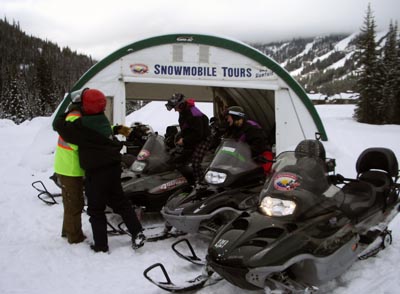 Guests get ready to head out on a tour with Sun Peaks Snowmobile Tours at Sun Peaks, British Columbia.
Photo by Rick MacDonnell
RICK MACDONNELL
SUN PEAKS, B.C. — As I parked my sled alongside my tourmates and flipped the kill switch, I looked around and saw nothing but smiles from ear to ear. We just returned from a two-hour snowmobile tour around the back country of Sun Peaks Resort, a trip that saw us ride virgin powder almost the entire time.
Based on the hoots and hollers of my friends, their adrenaline rushes hadn't yet dissipated. For me, it was one of the saddest moments I can recall in a very long time.
Canada's second largest resort is calling your name. Plan your winter vacation today!
All I wanted was to keep going. Having not felt the 60-kilometre-an-hour rush of a speeding sled for some time now, I wasn't ready to let that go. Two hours was too short. I contemplated taking off and living the rest of my days as a snowmobiling vagabond in Kamloops' back country, with nothing but my sled and my wits to help me survive, but that idea was short lived. I figured I'd run out of gas eventually.
Backcountry travel
"People are amazed when they get out on the sleds," said Andy Matusky, owner of Sun Peaks Snowmobile Tours. "When most people book the tour, they assume that they'll just be riding around on some farmer's field for a little bit. But we actually go right into the backcountry."
For the majority of the tour we sped along ex logging roads. The wide berth allowed for relaxed, easy riding. But when we asked, Matusky was more than okay with taking us into some bowls and meadows. 
"We provide safe backcountry tours for beginners, right through to snowmobile veterans. Our trails accommodate pretty much any type of rider other than extreme."
Kids can have fun too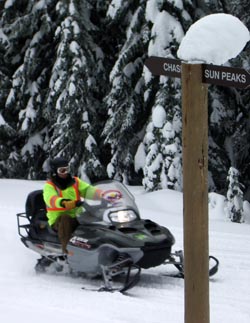 When it's foggy on the slopes, heading out on a snowmobile tour is an excellent alternative.
Photo by Rick MacDonnell
The tour is open to anyone with a valid driver's license, but children are allowed to ride if accompanied by an adult. However, if they're not content in playing second fiddle, children aged three to nine can ride a real mini snowmobile that's just their size.
"For anyone who hasn't driven a sled at Sun Peaks, they can expect to see the backcountry around Tod Mountain in a way they never have before. They'll get some deep powder, some beautiful views of the local lakes, and a back country cabin wiener roast."
The standard tours range from two to four hours, but at an extra cost guests can be treated to a fantastic wiener roast in the McGillivray Lake Outpost, a cabin located along the tour that's often used as a warming hut for nordic skiers.
Warm lunch, warm fire
"When we arrive, Darlene (Andy's wife) will be waiting there with hot dogs, chips, and juice boxes. There'll be two lanterns going and a fire as well." 

As Sun Peaks' only snowmobiling tour company, Sun Peaks Snowmobile Tours books about 1,000 customers a season. Groups can book up to a maximum of 10 sleds per tour.The wiener roast takes about an hour, and can either be included in your two or four hour tour, or added as an extra bonus.
For anyone looking to stay more than a day at Sun Peaks, be sure to check out the partnership deal that Sun Peaks Snowmobile Tours has with Sun Peaks International Hostel.
The first building that you'll see on your right hand side as you enter the resort, the Hostel has a deal that gives its guests 10% off of a snowmobile tour with a night's stay. Hostel rooms start at less than $30 dollars a night. 
For more stories and detail on Sun Peaks check out our SnowSeekers' destination page.