DOC POW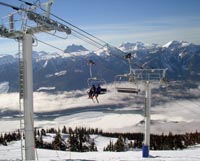 At Revelstoke, you can enjoy cat or heli-skiing, or stay in-bounds for some truly great riding and skiing. 
DOC POW,SnowSeekers
REVELSTOKE, BC — You know the tune, by the Steve Miller Band and if you want to live the dream, jump in the car right now and head to Revelstoke for some serious skiing and riding—and living. 
Revelstoke Mountain Resort, British Columbia's newest resort, is a place where people can live their dreams. People like Stu Smith. He is a very, very happy snowboarder and rightly so. Living in this part of the world for the past four years, this guy has been living the dream and his dream just keeps getting better.
By day, Smith welcomes the world, of which now all attention is firmly focused on the new resort, and by night, he's behind the wheel of his big ass groomer cat, cruising the slopes of Revelstoke Mountain Resort prepping for another day of vertical bliss. 
Snow Rodeo is what Smith calls it, "The best groomer, with the best fall line I've ever seen." 
Big sweeper turns matched up with an incredible pitch, just watch those blind rollers, which will put your stomach in your mouth as you head over the other side and into the outstanding view.  
Nervous Nelly
It's so steep that they need to winch cat the run. I am not going to lie to you, I had my reservations when I was driving in. It was a clear night and I could see the cats at work and I couldn't believe that they could be on such a pitch. The next day, Smith did indeed inform me that they are up there with the assistance of the winch. 
Smith, who has worked on installation of the resort right down to twisting the bolts for the chair lift, is like a proud parent when he speaks to his new baby. And rightly so, she's not only a cutie, but has some serious attitude. 
"Our terrain is bell shaped," explained Smith. "It all fans out, but funnels well, so you won't find many traverses here, especially with those epic fall lines. I am on day 48 this year (last season), every one of them here, and am still making some new opportunities out of our terrain. And just at the end of the season when I may get bored, they go and put in some new lifts."  
This would include the addition of "chair 14" into North Bowl. Smith and I went to have a peak in there and all I can say is there is a lot of snow-filled options. Big ledges, really great shots and some epic diving boards all housed in a bowl with an incredible fall line could keep any skier or rider busy for days.
A great ambassador
Like a kid pointing out his favourite toys, it was with passion and pride Smith laid out his powder playground. Under a blue bird sky we rode up the Stoked quad and Smith gave me a lay of the land, with the mighty peaks which surround this character-filled town of approximately 9,000 people.
He also gave me some great places to grab growlies and a good pint: Frontier with its famous tater cakes and excellent prime rib, Wolsly for sushi, The Mod for the best home-made soups and the Grizzly Sports Bar for which I agree, awesome burgers.
The best part of Revelstoke though is that it's what I consider a real ski town, and it's the only place that offers in-bound, cat and heli-skiing all at the same resort. 
For the latest deals, snow reports and contests, sign up today to our SnowSeekers e-newsletter.