Night canyon walk best followed by the comforts of a warming dip and a roaring fire
BANFF - It's one of those crisp, calm nights on the cusp of the winter solstice, when most folks are hibernating in front of the TV. The moon and a smattering of stars peep out between a wedge in the clouds and light up the velvet-like night sky.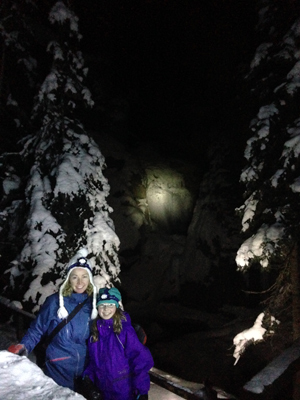 Johnston Canyon at night is magical.
Photos by Jody Robbins
The excitement is beginning to build as we strap on our cleats. Who will go first? What will we see? These are just two questions I'm peppered with by my 10-year-old. We're off to explore Johnston Canyon at night, taking an ice walk with Discover Banff Tours. We're keen to get an entirely new perspective on the falls and ancient rock that make up this canyon.
Discover Banff with Best of Banff Winter packages.
We begin our trek into the narrow canyon, walking directly behind our guide Denise Swick. "This is a really special tour. I get to share my love of the night," she says.
Glowing ice
I never thought hiking at night would be that big of a deal, but she's right. Nocturnal canyon tours are a unique way to explore the Rockies, especially when the ethereal glow of ice is illuminated by our headlamps.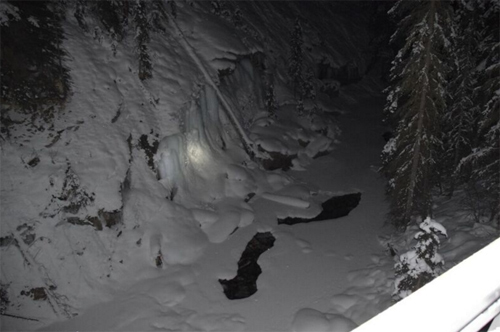 The canyon looks entirely different by the glow of our headlamps.
The one-kilometre trek through this icy expanse to the lower falls is invigorating, and it feels as though we've stepped into a Christmas card. All is silent, save for the sound of snow crunching under our feet and the whoosh of water that surges in the creek bed. My daughter has hiked this trail countless times, but she's scampering along completely fascinated, as though this was her first visit.
Moonlit canyon
After reaching the lower falls, we peer down into the karst system of rocky topography that feeds the creek. We test our night photography skills and warm up with hot chocolate, before the journey back. 
Headlamps switched off this time, it's amazing how our eyes adjust so quickly to the darkness. Even though the moon slips between clouds, it's incredibly bright and much to my surprise, no one loses their footing. Swick is an expert when it comes to night vision and urges us to notice if our other senses are heightened. Surprisingly, the pungent smell of pine and spruce fill my nostrils on the hike back, yet this scent didn't register at all when our headlamps were on.
Relaxing fire-side or pool-side
We return to The Fox, our Banff hotel in a super relaxed state, and fall asleep as soon as our heads hit the pillow. Our room is cozy and kitted out with plenty of wooden decor that says you're definitely in the Canadian Rockies. With free breakfast and kitchenettes, it's perfect for families. We've also got a fireplace, plenty of storage space and a large balcony to enjoy. The best part about staying at The Fox, however, is the pool.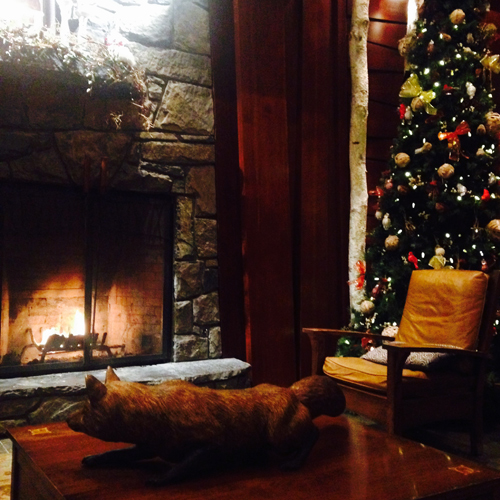 A roaring fire and and a dip in the grotto-style pool is a great way to end the evening after the canyon ice walk. 
Designed to look like the original Banff hot springs when it opened over a century ago, this hot tub is an atmospheric experience not to be missed. The fish hook-shaped pool is dark and cavernous, with rock formations flanking the water and an open ceiling letting in wafts of refreshing mountain air. Slipping into this grotto for a soak removes all traces of city stresses. 
If you go: 
Are you ready to discover ice walking in Johnston Canyon? Share this story with someone who would appreciate the adventure.