Real adventures begin where the road ends in Wells, B.C.
Powder Matt's don't-miss tips for enjoying the tiny B.C. town
Wells, B.C., is like that special place you may have never heard of - but don't let that deter you from going.
It's often true that the real adventures begin where the road ends.
Here are some don't-miss tips for enjoying a blend of serene and wild times in this small British Columbia town.
Fresh baked bread. If the smell doesn't get you first, then surely the taste will. Everyone loves fresh baked bread. Wells, B.C., has its very own Bread Peddler. You'll want to make sure your visit matches the timing of the fresh sourdough coming out of the stone oven. Wood-fired goodness and organic, it's the way bread should tast. Check out www.thebreadpeddler.ca for the winter schedule.
While you're in the region, be sure to sample Barkerville Ale after a day on th snowy trails. 
Photos provided by Whitegold Adventures
Extend your winter adventure. Experience what few people get to. A winter ski tour with Whitegold Adventures around Bowron Provincial Park lets you experience the beauty of this all-natural place famous for its multi-day canoe circuit in summer.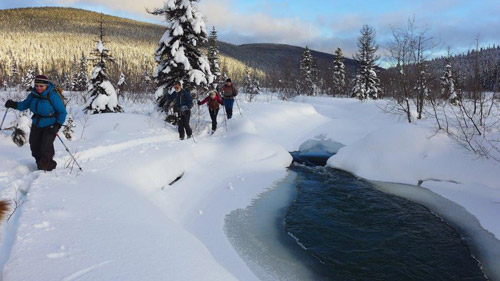 Endless Nordic trails can be found all around the Bowron Lake circuit. 
Take some time to star gaze. A distinct lack of city lights mean an opportunity to catch nature's magic in the sky. No guarantees, but be sure keep your eyes on the sky to catch the brilliant dancing Northern Lights.
Whether you are looking for luxury by the lake front, a once in a lifetime bed and breakfast or a hotel room the Well's region offers something for every taste and budget.
Feel like a pioneer. Grab your snowshoes and follow Dave the guide at Whitegold Adventures to explore the surrounding history and natural beauty. Take the William's Creek exploration, one of many original pioneer routes, to explore frozen mine tunnels, meadows, sign of wildlife, mountain views and historic remnants from the by-gone days of this old mining region. Choose from trips as short as an hour to a full-day tour.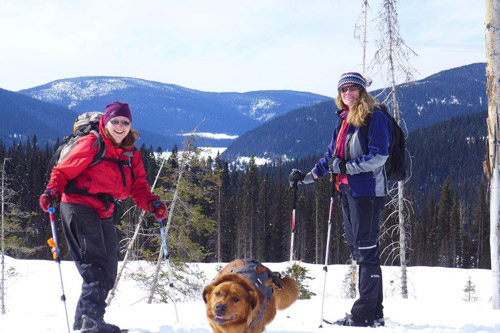 Snowshoes are the perfect way to explore the wilderness around Wells, B.C.
If you go
Check out the official Wells B.C website.
Get more information about accommodations in the area here. 
Read more about Wells and how it is an epic powder nirvana here.
Like this story? Share it with your adventure-seeking friends!
For the latest deals, snow reports and contests, sign up today to our SnowSeekers e-newsletter.
Troll Ski Resort less than one-half hour away. Make the most of your time in the region get time in at Wells and the some turns in at Troll.