A powder nirvana at the end of the road in British Columbia
Wells is a wintry epicentre for everything from sledding to back-country skiing
WELLS, B.C. - At the heart of this place is the sheer resilience of people and the landcape.
Like bamboo in a hurricane this community has survived the busts of several commodity crises, Wells, a former mining town, bends but does not break.
That's probably because it's filled with passionate people. Some still do a bit of mining, many have escaped city life to embrace the great outdoors, or pursue their artistic passions. But they all share a love for this special place with a big heart.
Powder perfection
We arrived expecting to experience nature in abundance. This is a wild place nestled up in the mountains, far away from four walls, routine and repetition. It's a perfect place to pursue deep powder, human-powered by my choice, but plenty of people like to motor through here on their beloved sleds.
Untracked powder is everywhere. Our guide, Dave Jorgenson, and his company aptly named, Whitegold Adventures, happily share their secret stashes of deep Cariboo Mountain powder.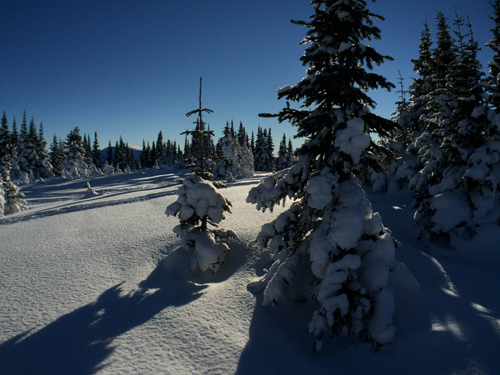 That about sums up why backcountry skiers and snowboarders should put this place on their map.
"This is the end of the road, truly a place like no other," said Jorgenson. "Snowstorms will drop their deep bounty for days and you will not see another track or experience a wild like this. It's a community with spirit to share your journey and an authentic place that is filled with passionate people."
There are many options to experience the Wells region with Whitegold Adventures. Just pick your passion. It could be a hut to hut ski, or a day tour through big trees and big mountains.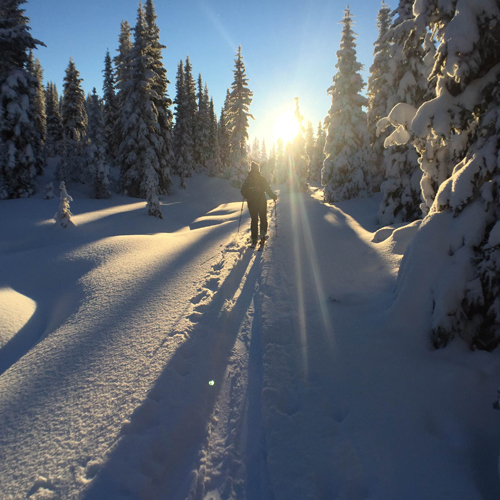 Ski touring opportunities are incredible in Wells with all that unbelievable powder.
Photo by Powder Matt
During the mining boom, the deep snow was a hindrance for tired miners digging up the creeks. But it's a boon for the powder mining experience you get with Jorgenson. Nature provides the playground and along with Jorgenson's smile, you'll be happy on his tours that can suit all abilities.
Sledding nirvana
Few places in British Columbia are as set up for snowmobiling like this. Marked corridors leave right from town to massive trail networks. Beginners will love the groomed trails and one of the many options like a tour of the historic mining town of nearby Barkerville.
Then, there's the miles of un-tracked alpine powder-riding for experts, with the beautiful backdrop of the Carriboo Mountains in all directions. A raft-load of volunteers make this all possible through the Wells Snowmobile Club, which owns and operates its own grooming machine, to keep the trails, smooth and enjoyable.
Don't miss the Groundhog Lake tour, accessed from Wells, either. It follows a historic ditch line that once carried water during the heyday to the various mining operations.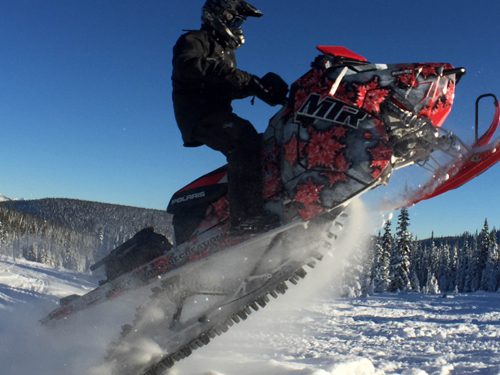 Sledding opportunities begin right from the town centre of Wells. 
Photo by Powder Matt
From scenic forest, to carving the deep snow, or maybe trying one of the various hill climbing areas, this will certainly please all riders.
There's no need to rough it here with a variety of lodging options, including private cabin rentals, quaint guest houses, bed and breakfasts, hotels and motels. For example, the Hubs Motel, recently renovated and conveniently located downtown, close to the Wells Snowmobile Club trail network, offers a clean and comfortable place to reflect and rest from all that outdoorsy powder-filled fun you've just experienced.    
If you go:
Check out the official 

Wells, B.C website.

Get more information about accommodations in the area 

here. 

Like this story? Share it with your adventure-seeking friends.
For the latest deals, snow reports and contests, sign up today to our SnowSeekers e-newsletter.
Troll Ski Resort less than one-half hour away. Make the most of your time in the region get time in at Wells and the some turns in at Troll.