From B&Bs to high-end suites at Red Mountain and Rossland
DOC POW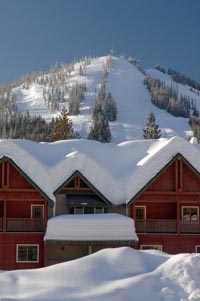 On-hill accommodations at Red Mountain Resort are covered in a thick blanket of snow. 
DAVID GLUNS,Tourism BC<
RED MOUNTAIN, BC — After all the adventures you'll find in Rossland, British Columbia, and on the slopes of Red Mountain, you are going to need a solid place to call home.
The on-mountain accommodations options will leave you relaxed and re-charged. Book into Slalom Creek for its deluxe condo units, most equipped with a hot tub on the deck.
In my opinion, these are some of the finest accommodations you'll find on any ski hill, units come with granite counter tops, a wine fridge, surround sound systems and some extremely comfy beds with a steam shower  
The walk from your unit to the lifts is less than two minutes. For full details, the folks over at Red Central reservations will have the details on these spaces, as well as some additional options 1.877.969.7669 toll free or www.redreservations.com.
A little Canadiana
If you are looking for a little more of a classic Canadian ski lodge type stay, the Ram's Head Inn fits the bill. The owner is Rose Garbutt, a Whistler transplant, and when I asked her about what brought her to Rossland from Whistler, her answer was simple.
"The skiing, just like anyone else. The days on the slopes are amazing – the snow is that light fluffy stuff, just magic." 
She and her team built a beautiful lodge slope-side, where guests enjoy some great sleeps in any of the 15 rooms. The lounge area is where you'll find a river rock fire place, the perfect spot to catch up on your book and a stellar space for breakfast that's included with your stay. Wait till you get a load of the hot tub area – set amongst the trees, finished in cedar, they offer plenty of privacy. 
For the latest deals, snow reports and contests, sign up today to our SnowSeekers e-newsletter.