ANASTASIA MARTIN-STILWELL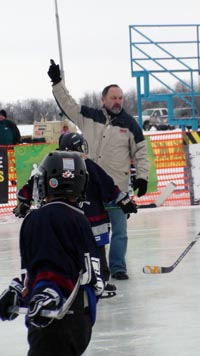 Canadian hockey hall-of-famer, Bryan Trottier drops the puck during the Trottier All Star game at the Alberta Pond Hockey Tournament in Lac Cardinal, Alberta.
Courtesy ANASTASIA MARTIN-STILWELL
PEACE RIVER, AB — My last Alberta road trip started off as it usually does. My boyfriend and I have our heads in a map, determining which secondary highway or off-the-beaten-path route we are going to take. One non-negotiable factor in deciding our course – this time to Peace Country in Alberta's Northwest – is my penchant for our province's 'Big' roadside attractions.
Whether it's the 25 metre high T-Rex in Drumheller, the five tonne Starship in Vulcan, or the even heavier six tonne sausage in Mundare, I just have to get my vacation snapshot fill. As I always say: go big or go home.
So, with a hockey stick and new skates in tow, we hit the road heding northwest up through the Grizzly Bear Trail (a portion of HWY 33) and past Fahler, not only the Honey Capital of Canada but home to the Fahler Honey Bee, the largest man-made honey bee in the world. Non-negotiable #1 fulfilled.
The puck drops here
Our final destination was Peace River during Alberta's Family Day long weekend, where hockey enthusiasts flocked west of the city, to Lac Cardinal for the annual four-day Alberta Pond Hockey Tournament, the largest of its kind in the province. We arrived on site to a flurry of organized activity. Heading in and out of the central tent in between games, players – both men and women – came in to warm up reddened cheeks, munch on juicy burgers or to just sit and chill to live music until the next round began.
Outside, we were welcomed by perfectly cleared rinks – 19 in total. Hosting an impressive 300 plus games and about 400 players from throughout the Peace region and as far away as Ontario and the North West Territories, site preparations for this year's festivities took about five weeks which was no small undertaking for an event that has seen such significant development into its third year.
"Wow, this is amazing," my hockey fan travel buddy claimed, as he drifted off behind me to the centre rink to watch a game.
Adding to his excitement was the arrival of former New York Islander and Hockey Hall of Fame Legend, Bryan Trottier, who dropped the puck at the Trottier All Stars Games, a special event developed this year for eight lucky kids – a game that certainly added to the Family Day spirit of the overall tournament.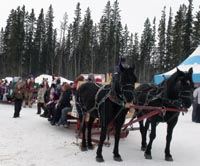 Bundled up against the chill, visitors enjoy sleigh rides during St. Isidore's winter carnival.
Courtesy ANASTASIA MARTIN-STILWELL
Saved by the Carnaval Super Heros
Taking a side trip to the east of Peace River we received a grand 'bienvenue!' at the 27th Annual Winter Carnaval de St. Isidore. A quiet little hamlet of only about 300 people which was a buzz hosting one of the biggest winter carnavals in Alberta's north – one that typically attracts over 1,500 visitors.
The theme this year – Carnaval Super Z'héros – was played out during the opening ceremonies at the St. Isidore Cultural Centre. During this humorous sketch, the audience was advised that the event was in 'danger' from the vicious Frères Maniaques and only the local "superheroes," The Alliance Masculine, (complete with bedsheet capes and thick glasses) could save us all.
Of course, the more enthusiastic festival goers became, enjoying the weekend's musical performances, comedy, authentic French-Canadian meals, snow sculpting, log sawing, winter games and more, the greater power the Alliance would have to conquer the evil doers.
We determined that the Frères Maniaques were quickly defeated and we set foot outside to join the hordes of bundled up families milling about licking sweet sticks of maple taffy, and munching on generous bowls of poutine drenched in delicious gravy topped off with tasty little cheese curds that 'kwik kwik'd' in our mouths with each bite.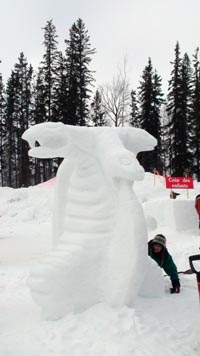 This three-headed fire breathing dragon was just one of many snow sculptures on display during the 27th Annual Winter Carnaval de St. Isidore.
Courtesy ANASTASIA MARTIN-STILWELL
French language filled the air and we cozied up in the gazebo-turned-Gazebar to enjoy French music from bands from around the province, Yukon and Quebec.
There's something to be said about rural Alberta hospitality. It's warm, charming and most inviting. It is written that a Beaver Indian Legend says "Drink the water of the Peace River and you will return." I'm sure this is no tale. We will be back.
I

f you go:

Family day, along with the Alberta Pond Hockey Tournament, is celebrated the third Monday of February each year. Though the tiny hamlet of Lac Cardinal does not offer accommodations, visitors still have plenty of options in the Town of Peace River (a 45-minute drive) or Grimshaw (30 minutes or so away).

Peace River is a six hour drive from Edmonton, Alberta, and also home to the nearest airport which is serviced by Northern Air offering scheduled flights from Edmonton's City Centre Airport.

The Mighty Peace Country is famed for its fishing – both summer and winter, and surrounding provincial parks such as Queen Elizabeth Provincial Park provide excellent opportunities for snowshoeing and cross-country skiing. For those who enjoy Alpine skiing, extend your stay and visit Whispering Pines Ski Hill, located just outside the Town of Worsley, about two and a half hours northwest of Grimshaw.

With a top elevation of 1,060 metres (3,500 feet), the hill offers enough terrain to keep the smiles wide on beginner, intermediate and expert skiers and riders. Due to its location, it is not uncommon for fox, moose or deer to cross the coniferous tree-lined runs. The resort also boasts a terrain park and a special Winter Wonderland area for young children.

Some excellent sites to visit include www.albertapondhockey.com, www.stisidore.ca/carnaval, www.mightypeace.com, www.travelalberta.com.