DOC POW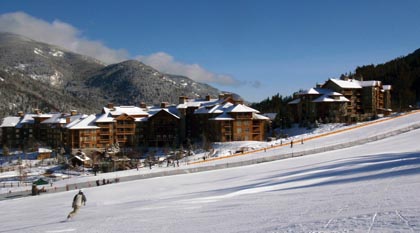 Panorama offers not only some top-notch skiing and riding, but also some great off-hill activities. 
BRANDON BOUCHER/SnowSeekers
PANORAMA VILLAGE, BC — As a full mountain village, Panorama offers exciting adventures for everyone. Whether you are a Nordic or downhill fan of the snow, Panorama's got you covered. On the slopes, coming out of Sun Bowl and down to the Sunbird Chair, you'll find the Becky Scott Nordic Center. Its location is literally steps from the triple chair. 
You can strap on the downhill skis first thing, get some phenomenal runs in off the Summit quad chair, drop into Sun Bowl and leave your skis at the side of the chairlift at Sunbird. For the afternoon, click into your cross-country skis and cruise off to enjoy over 20 kilometres that wind around Panorama's Grey Wolf Golf Course.
Enjoy the full gamut of options
Panorama is the perfect place to set up shop for a multi-day winter vacation.  During your stay, it would be wise to hang up the sticks or board for a day and get into some "extra-curricular" adventures and crafty events. 
On a recent visit, I got the chance to check into two such opportunities, a killer snowmobile tour with Toby Creek Adventures and a stop in at the Bavin Glass Cabin to work on my creative side through its glass bead making class.  I couldn't think of two more different experiences to show the diversity of activities that Panorama offers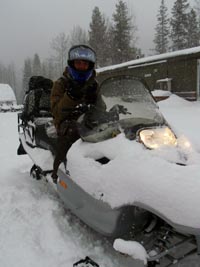 Brandon Boucher, from Edmonton, Alberta, takes a break while touring with Toby Creek Adventures. 
DOC POW/SnowSeekers
"Our business is built on smiles," said Scott Barsby, owner of Toby Creek Adventures. "Toby Creek offers snowmobile tours that include introductory or intermediate half or full days and advanced powder trips." 
The trail system that he and his team have put in is simply stellar. A wide range of options will allow anyone to get up, out and lost. 
"We have the only trail systems in this area that gets you to some serious elevation," said Barsby. 
Touring up the mountain
We started from his base camp at around 1,036 metres (3,400 feet) making the climb to over 2,400 metres (8,000 feet). Our four-hour tour too us through some impressive areas, right into the back woods with surrounding trees covered with white. It was a really majestic setting and easy to get to thanks to the well-maintained trails.  
"The dry snow here is the best for sledding, beautiful mountain ranges – the bugaboo spires, forests stocked in snow," said Barsby.
Toby also features mountaineering trips, and two-, three-, four- or five-day snowmobile options. For the multi-day adventures, you stay at Panorama, but each day head out to a new destination. This is going to change after this summer as Barsby plans to put in a full circuit of backcountry cabins.
"This will allow us to offer multi-day hut to hut sled adventures." How cool would that be? 
Minimum age for the tours is five years old, and 16 for the rights to the sit in the driver's seat. There is no maximum age limit as some of Toby Creek's guest have been a lively 80 years old.
All ages welcome
"You can be brand new to sledding and have never experienced this before," said Barsby, who has 13 years of operational experience. "We put everyone through a driving and obstacle course and take care of everything."
Toby Creek is so stocked up on gear, you could show up in Bermuda shorts and a matching Aloha shirt and Barsby will get you sorted.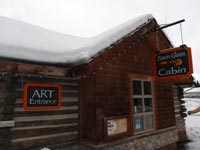 Bavin Glass Cabin is located right at the resort base of Panorama Mountain Village. 
BRANDON BOUCHER/SnowSeekers
Barsby toured us up to Paradise Basin raising over 1,500 vertical metres (5,000 feet) to the company's historic cabin just at tree line. The area in and around Panorama is rich in mining history and Paradise Basin with its cabin is the perfect place to immerse yourself in the history. 
"This cabin was a blacksmith shop from 1890," explained Barsby. "One hundred and twenty people lived up here in a town called Paradise."
They were mining for Gallena – a mixture of lead, zinc and silver with high concentrations of silver, but when the value of silver went south so did the mine.
For a big night out, you can make this your dining option of choice as Toby offers what I would think are some stellar snowmobile-accessed dinner tours. 
"You are arriving at the top of the world and the dinner tours we produce are offered up on white linen, the whole nine yards." For more on Toby Creek, visit www.tobycreekadventures.com.
Discovering your creative side
Back at the resort, I dropped into another log cabin offering up experiences that work the creative side of the brain. "Where else can you find this, maybe Italy?" said Sheenah Lindsay of the Bavin Glass Cabin. "What ski resort is going provide the chance to make glass pieces slope-side." 
Lindsay, who I got to spend the morning with through a three hour glass bead making course, is an expert in everything glass. 
"The class is pretty straight forward, there is a lot to learn with this but I repeat myself a lot," explains the glass master. 
It's a very therapeutic thing to get into, hovering over your propane torch, twirling the glass as you watch it heat up and transforming it into a work of art. But the piece de resistance for me was the special rose coloured glasses. These help block out the glare as the flame hits the glass and keeps it so you can see what the heck is going on with your creativity.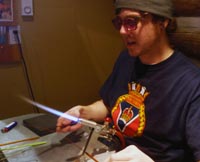 Specially tinted glasses cut down the flare of the flame. 
DOC POW/SnowSeekers
"You are the boss of your bead but sometimes the glass gets the best of you," said Lindsay. "People come in and make their own beads, then can make their own jewelry out of that."
Local artists and artisans
The Bavin assumes its name from a local family from the Town of Invermere, located 20 minutes from Panorama Mountain Resort. The family has their own glass blowing station and gallery in Invermere.
In addition to classes, The Glass Cabin plays host to the works of about 25 different artists. If you are looking for the signature gift for someone, not only can you find here hear, but they will let you make it.
"For the most part I see ladies 97% of the time here in the classes but guys, listen up, if you take the time to make your sweet heart her own piece of jewelry from scratch, you will receive some serious brownie points," says Lindsay. 
Get more info on Panorama on our SnowSeekers' destination page.