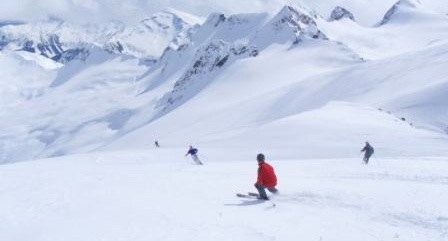 The terrain is so unearthly near Terrace, British Columbia, you'll think Disney made it.
Photo courtesy of Doc Pow
DOC POW
TERRACE, BC — "Looking back on the perfect powder 8's that we laid ... that was amazing," said a good friend of mine, Julie Henderson after another glorious day with Northern Escape Heli-Skiing (NEH), which is located about 30 minutes outside of Terrace, British Columbia.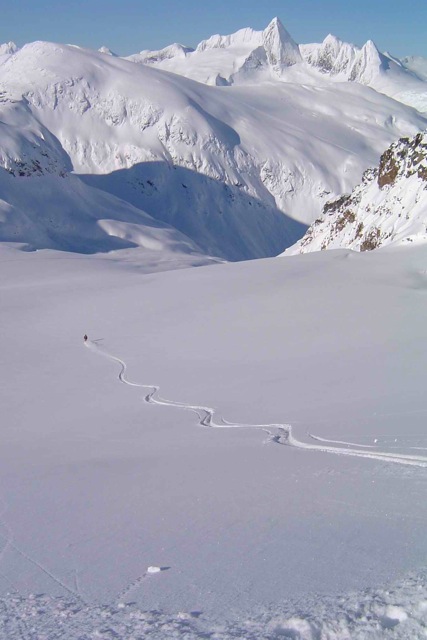 Home to a terrain two-thirds the size of Switzerland, Northern Escape offers powder-filled adventures that let you leave the world behind. 
Photo courtesy of Doc Pow
Being a blue to black diamond snowboarder, Henderson had experienced some sleepless nights questioning her ability and if she was good enough. "But then in the few days leading up to the adventure I was just plain excited about it. If I was having a bad day, I'd think how that weekend is fast approaching and it's all good."
Those good vibrations were for good reason. Henderson was about to experience what, for many, is the Holy Grail of skiing and snowboarding: heli skiing.
Silence shattered by whoops of joy
Picture it: with eyes wide, you land on a powder-filled mountain peak; a door opens, it's noisy and snow is flying everywhere, but your group efficiently exits the chopper. Huddling together you try to catch a glimpse of the bird lifting off only a few inches away from you in the blowing snow. You are left in silence.
That is until one of your buddies starts yipping and yelling because before you is an endless untracked powder bowl with your name written all over it.
"There is nothing better than getting out of that chopper to some incredible scenery," said heli-ski fan John Radostis. "It's the ultimate, riding in knee-deep powder, looking over and seeing your buddy doing the same thing. It's a very cool feeling."
Ride just got a whole lot faster
That feeling is now able to hit a whole lot quicker with NEH's new Koala brand of helicopter, which makes it much easier for the NEH team to get powder addicts to the snow quicker. The new Koalas are "simply spectacular," said John Forrest, general manager for NEH. "This chopper has much more power and speed, cruising at around 300 km/hour. It allows us to open up more terrain—5,000 square kilometres. With a faster chopper, we can make more out of the terrain, more space."  
With tenure to land two thirds the size of Vancouver Island, guests of Northern Escape never run out of the snow filled magic. 
Small means more with NEH
"The small choppers make it intimate here at NEH, we pair you up in a group of six great skiers and/or snowboarders and off you go," said Forrest.  
Most other locations will have bigger groups of 11 or 12, but in Terrace, it's a different story. A smaller group means it can move quickly, translating into more vertical in the day. Skiing or snowboarding with Northern Escape Heli-Skiing is one of those times that will live with you forever, certainly that case of perma-grin you are left with isn't going anywhere fast.
With an average annual snowfall of 480 inches (1200 cm), Shames Mountain is a powder hounds happy place. Only 35 kilometers from Terrace B.C., it offers 28 runs and plenty of access to backcountry bliss. Planning a weekend get-away is easy with five flights arriving daily from Vancouver on Hawkair or other choices from Air Canada. Rent a car at the airport using the #SkiNorthBC discount campaign then toss the bags in a welcoming room at a local inn or lodge then hit the powder.
If you go
Visit the official Terrace website to learn more about the region http://www.visitterrace.com/stage.php/events/activities
Check out the conditions at Shames Mountain here http://mymountaincoop.ca
Fly into Terrace via Air Canada and Hawkair with daily non-stop daily service: http://www.yxt.ca
For all your Travel Northern BC details, the folks from Northern BC Tourism can help make the planning process smooth. http://www.travelnbc.com
#SkiNorthBC and explore more. SnowSeekers has partnered with National Car rental to secure you a SnowSeekers preferred rate. Make a reservation online, or with an agent and in the Contract field enter XVC4SNO for a savings that could cover your ski pass cost every day.