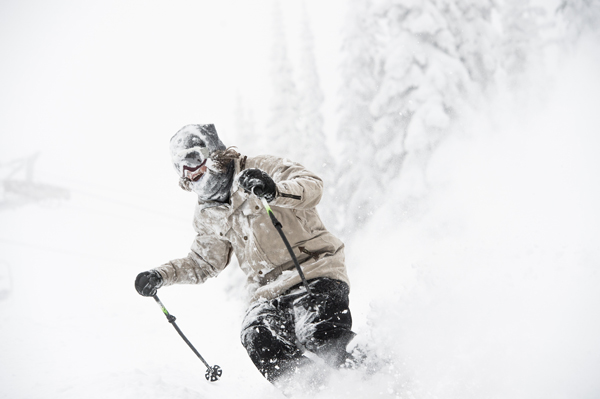 SilverStar provides "rippable" terrain for all skier types.
Photo by Blake Jorgenson
The debate rages on in my head about whether it's easier to schedule a family or friends winter ski trip. On the one hand, telling our kids what to do is something only the bossiest among us would try to pull off with friends. On the other hand, our friends tend not to melt down, resist new things or get "h'angry." (OK, scratch the friends don't get h'angry bit.) What remains true about the family-friends dichotomy is the belief that winter resorts are better suited for one or the other.
Many destinations are either all about kiddie parks, with terrain to match, or they're teeming with weekenders looking for that ski resort vibe without much interest in the actual ski part. I remember hitting a club in Banff once, which felt a little like table dancing in New York's Meat Packing District, in other words, just plain wrong. My ideal western ski resort feels like part backcountry and part saloon.
US friends: With the exchange rate in your favour, why not come and visit your neighbours in the great white north this winter? Explore winter deals and getaway packages at SilverStar Mountain resort.
While I've written plenty about family skiing, I haven't surveyed as many areas for a potential guys or gals getaway, so I was psyched to change lenses from kids to crew and start exploring, especially given I was heading to SilverStar Mountain Resort, a place my family loves. But what about my pals?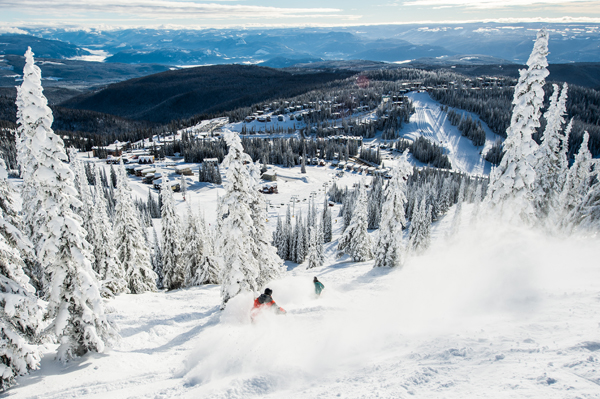 There's more to 3,282-acre SilverStar than meets the eye.
Photo by Blake Jorgenson
If there's one critical element to a good adult group trip, even more so than what's on the hill – hardcores be damned, it's ski-in, ski-out accommodations. This may sound fluffier than your down jacket but think about it. Whereas families are mostly going to move about en masse, adults are going to splinter off, not just around skiing but everything from morning start times to the closing party at Long Johns Pub. Speaking of pubs, a car-free weekend is also a must, especially in British Columbia.
SilverStar's nightlife draughts from several western town watering holes with no need for long taxi waits or other distractions.
"There's nothing fancy here," says Justin, who's back for a third season, as he orders a Granville Island IPA. "But après and after hours always kick it up a little, you may even find some table dancing on a Saturday night at the Bulldog."
The Bulldog joins Long Johns and The Den as fine locales to unwind without any pretence that the nightlife makes the trip.
"This is a place people come to get away from that idea that ski resorts are as much about off-slope entertainment as on-slope energy. Believe me, there's nothing wrong with partying, but it's cool to be somewhere that truly feels very far removed from the city, where you can still think 'only in the mountains,'" says Justin.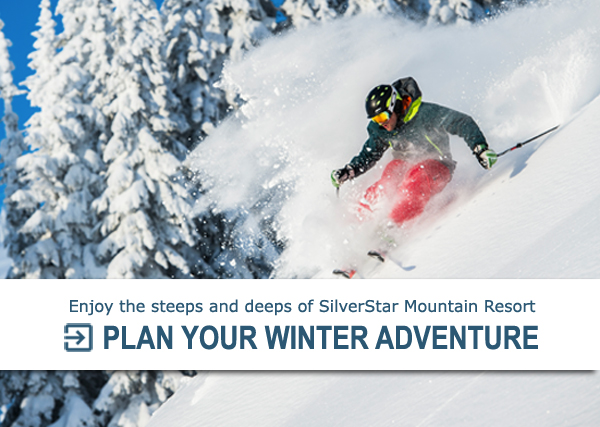 As I slide over to catch some alt-country crooners at the Den, a snug saloon that serves up live local music several times a week during the season, I see what he means. One doesn't happen upon SilverStar and rare is the visitor that hasn't strapped into a binding here. That alpine chill is unmistakable – like-minded people who would rather strap on snowshoes than strut under coloured lights.
Not that SilverStar is dazzle-free. The Victorian village, running about a block long, appears Oz-like from the slopes leading in. There's also plenty of extraordinary evening entertainments, however, most revolve around being in, not getting away from, the outdoors. My personal favourite is Pedal and Pint, a nighttime fat bike tour – bring your own light – through the labyrinthine trails followed by a pint or two of Okanagan ales. There's also a self-guided snowshoe to the Wild Horseman's Cabin for dinner. (Hint: If you're spent from your day on the slopes you can also take snowmobiles or a sleigh to dinner.)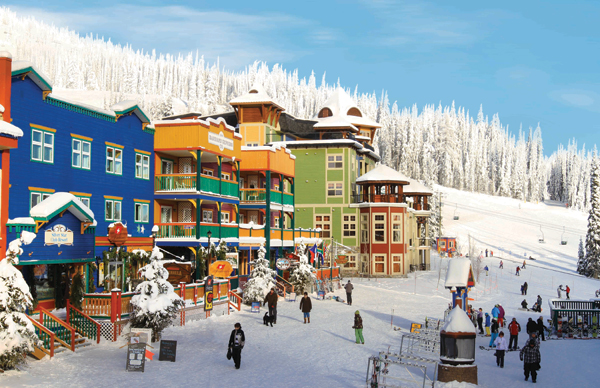 The western ambience is no façade.
Photo by SilverStar Mountain Resort
Wanna make a quick Loonie? Bet a friend to name B.C.'s third largest ski area. If he cites SilverStar's 3,282-skiable acres then he's probably been here before. You can't really get a sense of the size until you've slipped over to Putnam Creek on the backside. And size matters, because I find terrain is even a bigger deal for a group of friends than it is for a family. Again, it's all about choices for everyone.
When I've jumped into a few groups over the years, it seems to me that the median skier or snowboarder, if there is such a person, is happiest with a few blacks, a few blues and a fine smattering of double blues, or advanced intermediate terrain. In other words, a large terrain boasting a ton of diversity wins the day.
SilverStar has an awesome ski school should you bring along a beginner or two, not that all of us wouldn't benefit from a lesson. Come to think of it, grabbing an instructor for the group is an awesome idea. Since everyone knows each other, a group lesson turns into a foray to the hidden snow stashes with benefits. Even without the guidance intermediates can more than fill the days popping off Vance Creek, as well as joining the more aggressive in the group for tree turns in Silver Woods or drop-ins along Attridge.
Speaking of advancement, sliding into Putnam Creek is a game changer for experienced skiers and riders. Whether you spin out on the double-black like Head Wall and Three Wise Men, or just dart through the Canntastic glades again and again, there are diamonds for the picking here, there and everywhere. I'd be remiss not to mention that Putnam Creek is flanked by blues so the whole party can join the fun.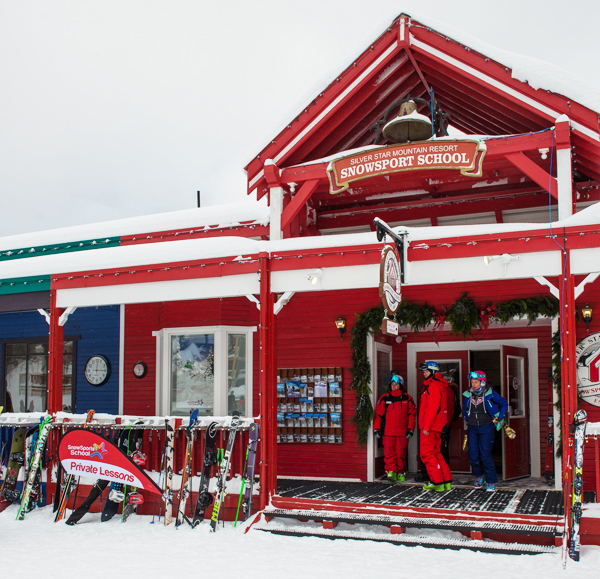 A little schoolin' comes with extra benefits at B.C. third largest resort.
Photo by Crai Bower
Like most full-service resorts, SilverStar offers many distractions, from candlepin bowling to Brewer's Pond, the best resort-based shinny hockey surface in the province. But it's that sense of isolation.Think Colorado's Telluride or Crested Butte, that always makes me think when here that I've made away with the gold hidden deep within the B.C. Interior.
If you go
U.S. friends: With the exchange rate in your favour, why not come and visit your neighbours in the great white north this winter? Explore winter deals and getaway packages at SilverStar Mountain resort.
Like this story? Share it with your crew on Facebook!