Originally posted in 2015
The mountains are calling and you need to answer the call because the start to the 2015/16 season has been a blockbuster.  You've heard the reports of epic snowfalls across many of Alberta and B.C'.s mountain destinations - and its no different at Marmot Basin. That's where I was this week, out inspecting the snowy goodness and reporting back so you know what you can look forward to.  
As of Nov. 26, 2015, Marmot's seen two feet of snow just in the past two weeks.  For me, Marmot has always been one of my favourite destinations in Western Canada.  I like the snow, I like the challenging terrain and the view leaves you feeling like you're on top of the world. Situated in the Canadian Rockies, you're sure to have days full of photo-worthy moments amid this gorgeous natural setting.  
Check out my SnowSeekers' photo post which should inspire you to get out and answer the call of the mountains.   While you're there tell us all about it at #SnowSeekers. 
Getting started in skiing while you're young is a great way to get into the sport. Parents, Marmot is not all full of steeps and deeps; there are plenty of opportunities to learn to ski or snowboard in this mellow setting. It doesn't matter if you're young or not so young, get out there and learn the sport for a sense of satisfaction like you've never felt before.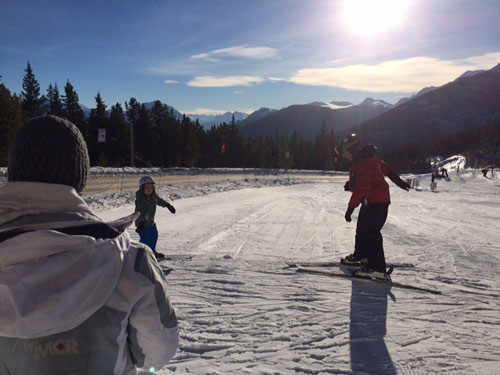 Instagramer and longtime Marmot snowboarder Jackie Harrison was loving life on the mountain.
(Hot tip! Get a few ski days in this season mid-week, when you'll practically have the place to yourself and your crew!
Check out this short video as Harrison explains the scene at Marmot right now. She has a message for all those skiers and snowboarders who are "on the fence" about getting their season off to an early start.
Marmot is known not only for snow, but sun. It's a great balance all set within an epic setting.  Marmot's northerly setting ensures a bit colder temperatures but that only means one thing - lots of POW!  Last season, Marmot had some of the best conditions on the planet!  An it's already shaping up to be an excellent season again this year.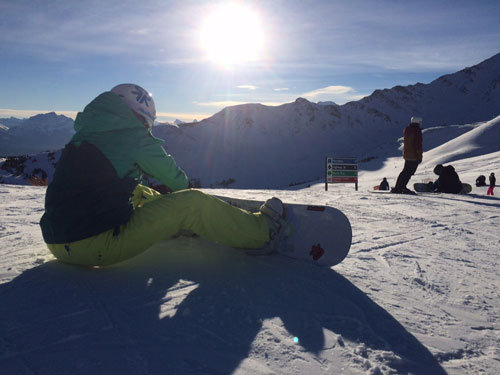 As of Nov. 27, Marmot's seen five feet of snow land on its slopes. From our day on Friday, my friend Erin and I were still able to find a few "powder pillows."  You'll still find lots of white gold in the trees in Marmot's wide assortment of spectacular glade runs.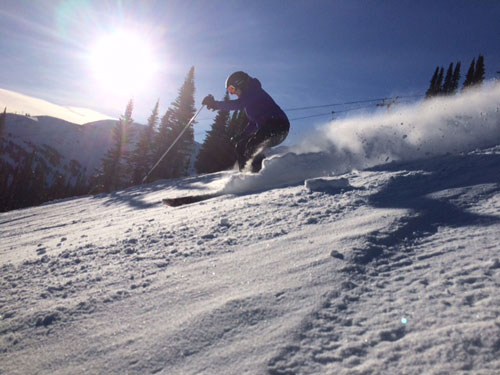 They say that the journey can be almost as good as the destination.  For those coming from the south, accessing Marmot Basin is via one of the world's top drives on the planet, The Icefields Parkway. Expect epic scenery on every turn!  In 42 years of exploring Western Canada, my day Friday included a glimpse of the biggest moose I've ever seen. Tgis beauty must be the king of the jungle in Jasper National Park - the rack on the guy was a minimum, seven feet wide - wild! 
Here's a very last minute shot of him as he disappeared into the wilderness.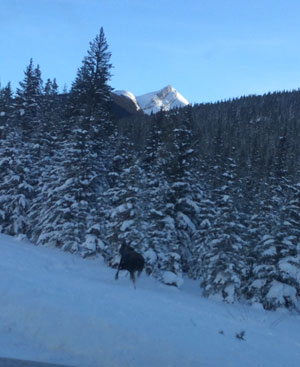 The Parkway is full of pit stops and opportunities for amazing photo-worthy moments.  Snow tires are recommended as the drive is a winter one.  If you are looking for some winter driving tips, click here.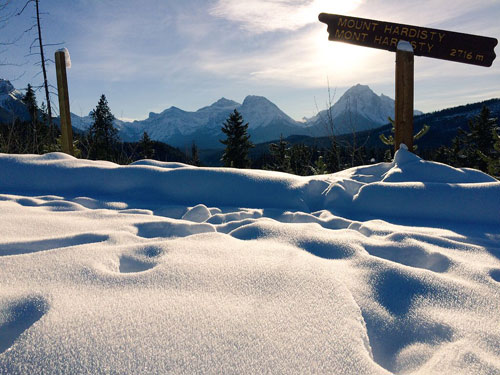 For more on Marmot, check out our then and now story, written by SnowSeekers' Jeremy Derksen; a look at how Marmot became the great ski resort it is today and one of Canada's most storied ski destinations.  
Do your friends a favour, share some snow-filled inspiration and show SnowSeekers some love by hitting our share button.
For the latest deals, snow reports and contests, sign up today to our SnowSeekers e-newsletter.
Ready to learn more about how you can #SkiNorthAB? Learn more here.