Marmot setting a powder precedent
No hard answers for recent snowy trend; more research is needed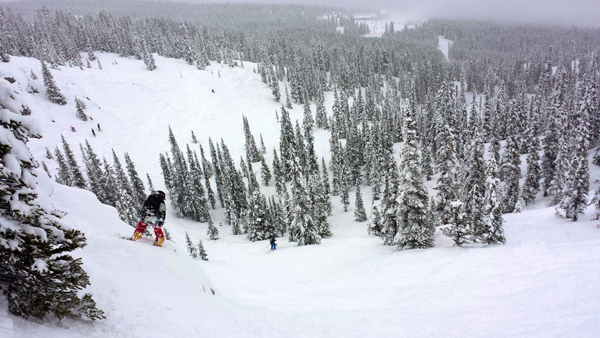 Winter is alive and well at Marmot Basin.
Photo provided by Marmot Basin
JEREMY DERKSEN
Here's the basic intel: Marmot Basin in Jasper, AB., is the snow destination in Western Canada right now. While warm weather had folks elsewhere paddling their way down main street, I spent my weekend choking on blower powder.
It's a bit of a mystery, given just how rough a season it's been in many other places, but Marmot Basin seems to have conjured some good fortune over the past few months. Why is the snow so consistently good here? What's the secret?
So far, on Feb 4 to 5, a storm cycle brought in 36 centimetres in 48 hours. This past weekend another 15 to 20 centimetres. In the last pew seasons, the hill has had some of the best snow in its 50-year history.
The 2011-12 season was a record-setting year, with 579 centimetres of total snow. The following season, a single-day 70-centimetre snowfall, the stuff of legends. I was there, straight-lining down Elevator Chutes with a madman's grin. This isn't just to make you jealous; it's establishing the powder precedent.
Staying cool, Marmot
Being at the highest base elevation in the Canadian Rockies at 1,698 metres, and a latitude of 53 degrees north, Marmot often stays cool even when melt conditions persist elsewhere.
Having spent a few rainy nights in town crossing my fingers for the next morning,
I can tell you that the freezing level in Jasper rarely gets above 1,700 metres in winter. Rain in town brings snow above. Light, fluffy buckets of that classic, dry Eastern Rockies snow.
So while Marmot doesn't boast the highest annual snowfall in the West, it seems to be better insulated against extreme warming trends. After all, it's not just the snow a hill gets, it's the snow a hill keeps that matters.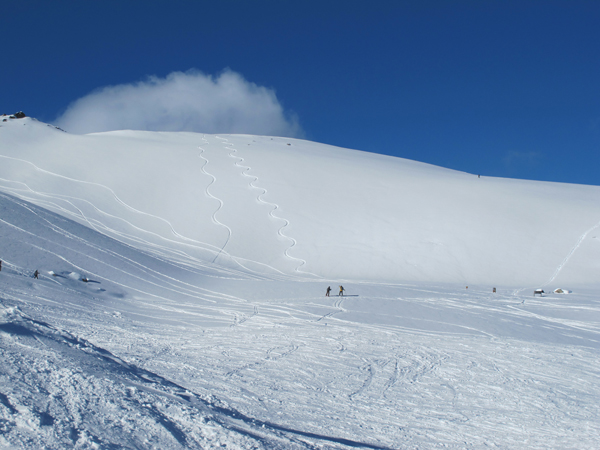 Marmot has ton of terrain and there are plenty of chance to score some fresh tracks.
Photo provided by Marmot Basin
Access to fresh tracks
As you plan your next great roadie, here's another thing to consider. One of Marmot's great blessings, for powder seekers at least, is that the highway or the railway are the only ways in (the nearest airport, Edmonton International, is a 3.5 hour drive) to Jasper National Park. No fly-ins means fewer folks to share all that powder with.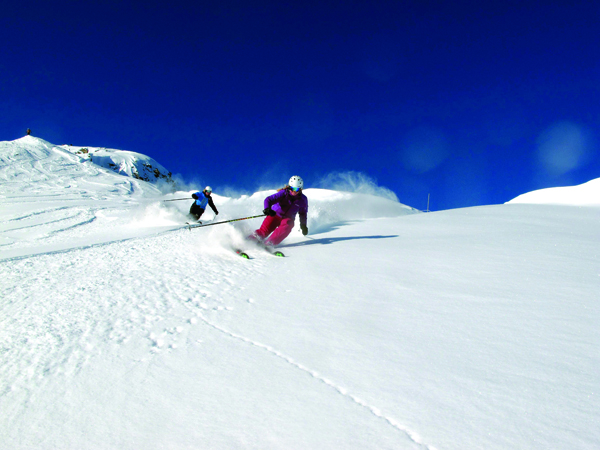 A stellar blue bird day and fresh powder; it doesn't get any better than that. 
Photo provided by Marmot Basin
On a good day in the spring or a holiday like, say, Family Day, the actual skier visits might hit 4,500. Other days, you're sharing that goodness with maybe a couple thousand at best. It's not just that the snow and the temperatures are better on the eastern slopes of the Rockies of late, it's that lift lines are virtually non-existent.
Bermuda Triangle effect
A sure sign conditions are good is when you see every backcountry guide, off-duty patroller and local ski bum in the area turning out. Whether you chalk it up to northern voodoo, high altitude or global warming, Marmot seems to be enjoying a big Bermuda Triangle effect, drawing in powder and powder lovers to its vortex.
As for me, I've been through the eye of the storm. But there's more research to be done, to determine the root causes of this strange phenomenon. You can bet I'm going to work my way to the bottom of it — repeatedly, if that's what it takes.
Ready for amazing snow this season? Head on over to our snow conditions page and see where the white stuff is flying.
Ready to learn more about how you can #SkiNorthAB? Learn more here.
Like Marmot Basin too? Share this story with your friends!