Marmot Basin reaps snowy blessings of the gods
Originally posted in 2015
JEREMY DERKSEN
JASPER, AB ‑ Discovering the secrets of Marmot Basin's mysterious bounty has been my mission for several weeks, since plumbing the depths of a powder deluge back in early February.
Back then, I researched some of the logical explanations behind this phenomenon. But as I delved deeper, I began to think there might be something more mystical at work.
Never let it be said that skiers and snowboarders have no sense of humour: we do, just not during a winter drought. With rainouts in the West and deep-freezing out East, there has been too little cheer at après hour.
But, not up here in the northern Rockies. If snow deprivation is getting you down, Marmot Basin has the cure — and it may just be that good humour is the secret to snowy blessings from above.
Seducing the snow
Pajama-clad skiers hit Marmot Basin on Feb. 27 in throngs and likely, a few thongs, too. Seeing a town band together with such self-deprecating, good humour for Jasper's fourth annual PJ Day had to give Ullr a hearty chuckle — an omen of good things to come.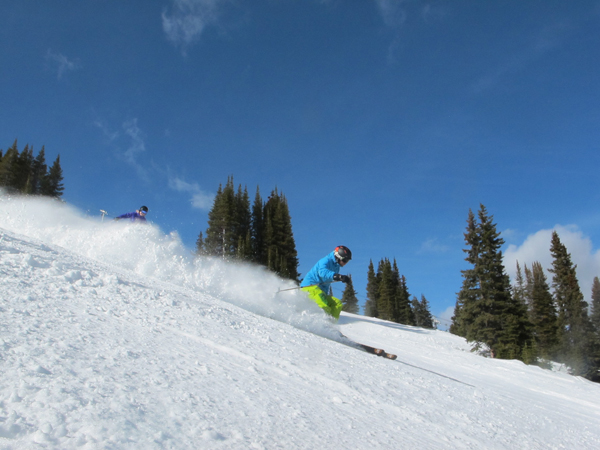 The slopes at Marmot Basin still have plenty of life.
Photo provided by Marmot Basin
Mike Perron can attest to good omens. The 13-year veteran guide for Magic Bus spends a lot of time in the mountains, but over three consecutive weekends in January and February, he enjoyed three straight snow days at Marmot.
He was there again March 7, hosting another busload of happy day-trippers. "It hadn't snowed for about four days but there was still excellent coverage," he reports. "People are pumped, they're having a good time."
"The best skiing in North American right now is Marmot."
Ascending the heavens 
More good times are brewing, too. Bacchus – Roman god of partying — would be proud of Marmot Basin's contribution to Kokanee's Peak Brew, and the lengths that snowcat driver Gunner Ireland went to collect pristine snow from Marmot Peak.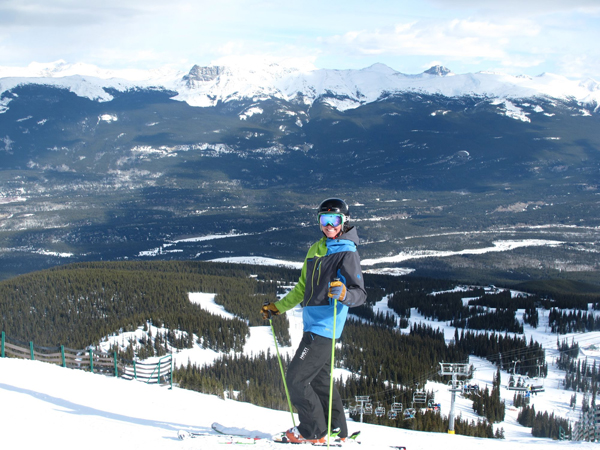 Soak up the sunshine this spring!
Photo provided by Marmot Basin
The official uncasking of this brew will bring much mirth, sanctioned and supported by Bacchus, Ullr and a pantheon of other gods. (It's astounding how many gods are patrons of either snow, wine or revelry, or some combination thereof.) 
Aloha, Ullr 
Like carrying an umbrella to ward off rain, the Marmot Basin faithful don their best Hawaiian garb each April to welcome spring snow and celebrate a bountiful season with the annual Aloha Cup.
Come spring, sun worship is a regular activity up here. Logically, it's because of Jasper's high northern latitude, bringing longer, sunnier days as the earth tilts its northern axis towards Apollo's chariot. Or could it be the favour of the gods?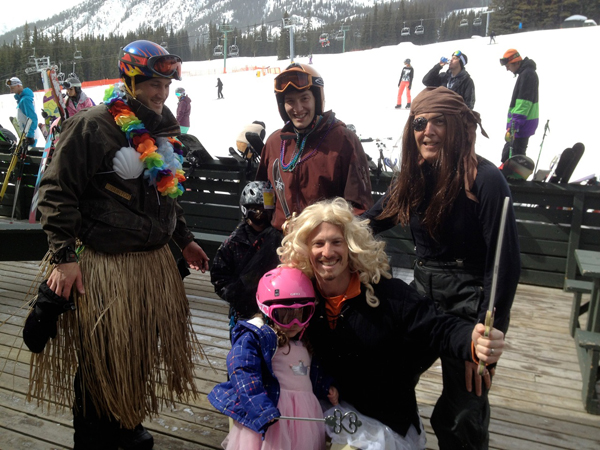 Finish the season off at the Aloha Cup!
Photo provided by Jeremey Derksen
With one of the longest seasons in the west — Marmot's open until May 3 — there's still plenty of time to find out for yourself.
That's only scratching the surface of suspected metaphysical, meteorological influence.
Easter brings the all-powerful Bunny, one mythical creature whose influence on skiing has been largely underestimated. You think the term ski bunnies is a coincidence?
So, if you've been thinking about burning your skis in a desperate snow offering, save your sticks, pack your best grass skirt and make a pilgrimage to Jasper. The gods may well reward you. 
Ready to learn more about how you can #SkiNorthAB? Learn more here.
For more stories and detail on Jasper check out our SnowSeekers' destination page.