DOC POW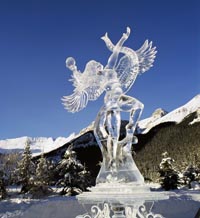 Carvers come from around the world to compete in the Banff Ice Magic Festival.
Photo courtesy of TRAVEL ALBERTA
LAKE LOUISE, AB — Banff's Ice Magic is an event like something from the pages of a storybook. A mystical setting along the majestic Lake Louise is more than enough to make this one of the world's most well attended ice carving festivals.
The main component of the annual Ice Magic Festival is the International Ice Carving Competition. Sanctioned by the National Ice Carving Association (NICA), the competition features 12 teams and 2,700 blocks of ice – each weighing 136 kilograms (300 pounds). At the end of three days, there will be 12 fantastic sculptures depicting that year's theme (in 2012 the theme was 'Rhythm of Nature Within The Canadian Rockies').
NICA member and lead judge for the Lake Louise event, Dan Rebholz said this event is premier.
"You can't put together a better setting. With such a stunning backdrop and the lake; it's just as the title reads – magic."
Fan amazement
For carver Kelly Davies of Edmonton, Alberta, it's not so much the $10,000 prize purse that gets him going, it's the enjoyment he gets from the spectators' fascination with the sport.
"When I have a little kid come by and she says, 'Look mom, an ice fairy,' that is what makes my experience here," said Davies.
With chainsaws blazing, nail-studded sanders busy and special weapons of ice sharpeners on the go, Davies and his crew worked to produce a piece they titled 'Border Crossing,' a throw to his teammates of both U.S. and Canadian heritage, an elegant fairy rising from the forest.
"We may have to give the judges two hours to make their decision this year, up from the current hour and a half, because the calibre of competition is getting that strong." said event organizer Tracy Burges.
"This event is amazing! Here I am, this local guy, who enjoys the sport and takes pride in what I do, being on the same bill as the world's best ice carver," said Davies.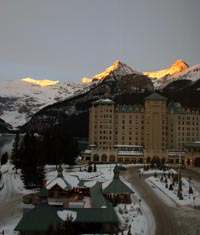 The morning sun is just beginning to kiss the mountain range behind the beautiful Fairmont Chateau Lake Louise, home of the Banff Ice Magic Festival.
Photo by Barb Martowski

World's best
Davies is speaking about Junichi Nakamura of Japan, whose amazing talents have resulted in some of the best sculptures the world has ever seen.
Junichi's team, including Derek Maxwell from Detroit, Mich., who is listed in Ripley's Believe it or Not for producing a completely functioning ferris wheel from ice, took top honours in three out of the four categories for their incredible "Snow Fairy."
While the main ice carving event takes place at the beautiful Chateau, the Village of Lake Louise (just down the hill from the Chateau) is the site of several related events put together by Banff Lake Louise Tourism – including a one-hour competition, an ice playground and a children's festival, where 'little chippers' can learn the art of ice sculpting.
For more details on all the magic, skiing, accommodations, dining/nightlife and other upcoming events in the Banff Lake Louise region, visit www.banfflakelouise.com