DOC POW
LAKE LOUISE, AB — Continually ranked at the top of the charts as one of the most spacious ski resorts, Lake Louise Ski Area can take a week to tackle. Since I was only there for one day, it had to be a full on shred session to secure this report (which was enough to leave the muscles sore for several days).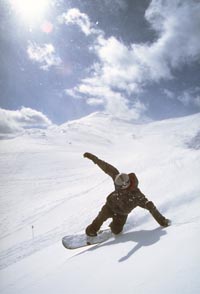 Lake Louise has 4,200 acres of terrific terrain for all levels.
Photo courtesy of TRAVEL ALBERTA
Hanging with the Rondeau brothers, Jeff, Mark and I made short work of a resort known for being home to endless snow-filled  adventures. Before Whistler/Blackcomb became one ski area, Louise was the largest, and still stands as the single biggest ski area in Canada. With over 4,200 skiable acres, it's the 2,500 acres of back powder bowls that really can get a guy going.
Launching into Boomerang Bowl, we discovered some fantastic terrain.
Definitely worth the hike
Boomerang is found off the Summit Platter, and with a little hike along the ridge, the run left us yippin', yelling and freaking out over the epic conditions. There must have been about 15-20 centimetres waiting for us back there and with the big old sun dog off to the right, our descent was one of the best of the season.
"This is the reason I own these skis, for a day like this and a run just like that," said Calgary-based Jeff Rondeau as we finished up on Brown Shirt, and made our way as quick as possible to loop back from another go. His K2 Chiefs were coming in real handy through the snow found in the glades off Paradise chair, within the bowl sharing the same name.
Mark, a past guide with Canmore, Alberta-based Howling Dog Tours, is now based out east (way east), in Halifax, so there hasn't been too many powder days coming his way. It was with some massive smiles and some pretty hurting quads that he worked to shred his way into powder euphoria.
Too many runs, not enough days
During the eight hour effort, I know there wasn't a single run we did twice and with so many other runs available, Louise makes for an exceptional weekend of discovery. My advice: stay as long as you can.
Lake Louise is home to five such powder bowls and over 130 named runs, the longest of which is eight kilometres long.
"To have the mix, including beginner runs through to great intermediate, to advanced black and double black diamonds, it's the perfect mix for any group," said a resort rep.
Those double diamond options include the infamous Whitehorn chutes, which have received honours in a few publications as Canada's top super steeps. Blend this all in with an average of 450 centimetres of the white stuff that the resort receives annually, and it adds up to some incredible days and exceptional scenery.
For more information on Lake Louise Ski Area or to book your ski, snowboard, or winter getaway to Banff, Sunshine Village, or Lake Louise, check out Ski Big 3's website at www.skibig3.com.