Avalanche Awareness course a must when it comes to the backcountry
RICK MACDONNELL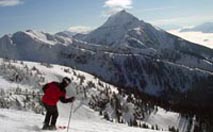 Revelstoke Mountain Resort is a big resort with a lot of inbound and backcountry terrain to explore, and keeping an eye on it all is the Canadian Avalanche Association.
RICK MACDONNELL/SnowSeekers
REVELSTOKE, BC — The centre of heliskiing in Western Canada for 20 years now – with a plethora of operations north, south, east, and west – Revelstoke is, naturally, home to the Canadian Avalanche Association. Needless to say, if there's one place to learn Avalanche Skills Training, it's Revelstoke Mountain Resort.
"What we'd like to do with the ski area here is create a bubble in the mountains where you feel safe," said Avalanche Forecaster Troy Leahey. "We groom the runs, we do avalanche control, we make sure hazards are marked.
"We try to make that bubble a safe place for people to access. But once you're outside that bubble – in the backcountry – nobody's looking out for your safety. If you don't have the wherewithal to know what the dangers are, then you really shouldn't be there."
Programs on offer
There are several different programs offered right at the resort: AST 1, the introductory skills training course, AST 2, which teaches intermediate decision-making skills in relation to avalanche hazard recognition, Avalanche Search and Transciever Orientation, a basic intro into the use of beacons and probes, Dig, an intro into the use of shovels and Intro to Snow, an intro into the formation of snow crystals and their effect on the snow pack; and a full package that includes all programs.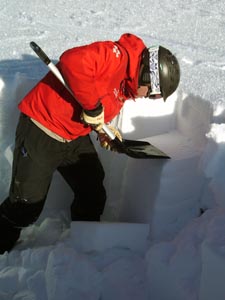 Avalanche Forecaster Troy Leahey digs deep in the snow to check out the layers at Revelstoke Mountain Resort.
RICK MACDONNELL/SnowSeekers
"The goal of the training is to familiarize yourself with the equipment. Also, every avalanche is going to be a different scenario, so the more you can run through different scenarios, the more you'll be prepared for the actual event."
Like icebergs
The most popular program at the resort, according to Leahey, is the Avalanche Skills Training Level 1. "It's taught by avalanche professionals from our crew who are super-familiar with the terrain and the conditions, so you'll get really good, expansive knowledge. It's been really successful this year."
Avalanche awareness programs are not taken advantage of nearly as often as they should. "People look at their local mountains and assume that they aren't in danger," Leahey said. "But they're like icebergs. You only see about 10% of the snow that's actually there."
When deciding where to take your avalanche awareness course, there isn't a better location than Revelstoke. "Revelstoke is a great place to take the course because we've got a bit of the coastal snow pack, a bit of the continental snow pack. A real nice mix. As well as a great, big, wide backcountry in which to learn and use your skills. 
"The view's alright too."
For more information on the various avalanche awareness courses, visit Revelstoke Alpine Adventures at www.revelstokealpine.ca.
For the latest deals, snow reports and contests, sign up today to our SnowSeekers e-newsletter.