DOC POW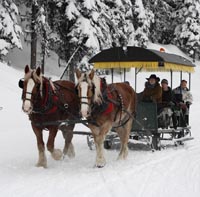 Get back to the quiet by taking a horse-drawn sleigh ride. 
DON WEIXLY,Tourism BC
BIG WHITE, BC — Resorts today are so much more than just downhill ski and snowboard runs and Big White Ski Resort is no exception. The resort, located a short drive away from Kelowna, British Columbia, offers an impressive collection of on mountain snow activities in its Adventure Park.
I had a chance to get inside the park to experience options that ranged from horse power to horsepowered, and everything in between.
"There are so many incredible things for families to do here at the resort," said sleigh ride operator, Jim Long.
With his two Clydesdales, Tom and Jerry charging the way, I joined 15 other guests for a sunset spin with Long into Big White's backwoods.
"People really dig this," explains Long, "especially at this time – around six, with the sun going down. It's magical back here."
From one horse to another
Sitting snug in a grand old sleigh that's about 80 years old and complete with horse bells, Tom and Jerry pulled us through the forest on well-groomed trails deep into the backcountry where a delicious dinner was waiting for us in a warming hut.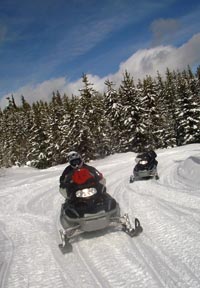 Doc Pow discovered mountain sledding isn't so bad. 
DOC POW,SnowSeekers
I did say it was a horse power to horsepowered weekend and when I saddled up for the next adventure, I had some misgivings about how I would make out. Instead of shredding trails, I was going to be sledding trails. Being a bit of a purist and preferring to ride my board, I wasn't sure if I'd enjoy the whole snowmobile thing. 
Our guide, Lewis Brooking of Outback Snowmobile Tours, had some pretty epic plans laid out for us. Brooking led the pack of us out and around Big White Mountain, to an area known as East Peaks, where you can enjoy some spectacular views of this massive ski resort.
An unexpected pleasure
I have to agree, it's definitely the way to get around to some pretty excellent landscape if you're not a fan of skiing or snowboarding. Or, even if you're just looking for a different activity for the day.
"People love these tours," said Brooking. "Most say it's the best thing they've ever done and don't know why they are skiing or snowboarding."
Some of Big White's off-slope activities don't require any horses; lasso yourself a tube ride on the 'Mega Snow Coaster' for a thrill that will meet your need for speed. Rounding out the available options in this adventure playground is a full size skating rink, dog sledding tours and snowshoeing adventures.
For more stories and detail on Big White check out our SnowSeekers' destination page.