Five tips to get in shape for the slopes
ADAM ROBERTSON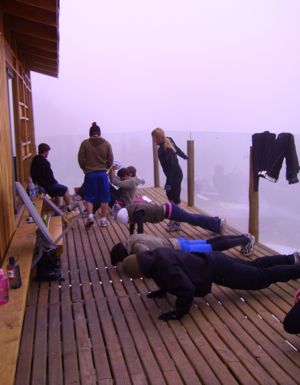 It's never too early or late to start your dryland training, and it never hurts to do it in a group.
Photo courtesy of Adam Robertson
CALGARY, AB — With the mornings having that crisp chill in the air it is clear that the seasons are changing. How do you prepare for the winter snow season? Have you thought about how doing some physical preparation will help you once you get on snow?
Enter dryland training
Dryland training can consist of many activities and can be a fun thing to do. Being in the gym is one of the main things that comes to mind when thinking of this word and that does not always excite everyone. Well, dryland training can be fun and can involve many things including mountain biking, skateboarding, rock climbing, playing games of soccer, and many other activities. What is important is that you get active and do things you enjoy.
There are five important things to remember when preparing for the season:
Do a proper warm-up, consisting of some aerobic activity to activate your muscles, and a stretch, that consists of a lot of movement to prepare your muscles for activity.
Incorporate some aerobic work into your activity—whether that consists of long bouts of moderate aerobic activity or shorts bursts of intense work—this is very important to your training.
Strengthening your overall body is very important. Of course we need to have strong legs for skiing/snowboarding and thinking of this with many exercises is important. It is important not to forget that our upper body plays a large role in starts and maintaining stability for our riding and incorporating exercises that focus on this is important.
Work your core! One of the most important and sometimes forgotten areas is your core, which essentially stabilizes everything that you are trying to do on the snow. This does not mean you have to do 1,000 sit ups a day, focusing on all aspects of your core is important and there are many different ways to do this.
STRETCH! DO IT EVERY DAY!