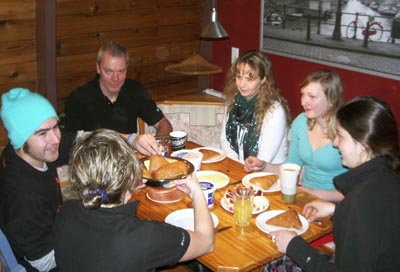 Owner York Welz (sitting in back in black) sits down with some guests for lunch at Sun Peaks International Hostel in Sun Peaks, British Columbia.
Photo by Rick MacDonnell
RICK MACDONNELL
SUN PEAKS, B.C. — Let's face it: skiing is an expensive hobby. While there are those lucky enough to have the means to stay in well-to-do hotels and condos, there are others who are living on a budget. For these people, places like the Sun Peaks International Hostel are a godsend.
Canada's second largest resort is calling your name. Plan your winter vacation today!
The Hostel has been in operation for approximately 10 years, providing skiers, snowboarders, snowmobilers, and more, a place to stay at a very affordable price. And just like the more expensive hotels in the village, it's just steps away from a chair lift.
"Even more appealing than the cost is the opportunity to socialize," said York Welz, the owner of Sun Peaks International Hostel. 
"In hotels, if you want to socialize it means that you're going to have to go down to the bar or maybe even outside somewhere. This means extra costs. At the Hostel, you're never alone. It's very communal, and so for single travellers especially, it's a great way to meet people."
Unexpected treats
My favourite aspect of the Hostel experience was the shared kitchen, which Welz kept stocked for guests to do with as they would. "We stock the fridge and pretty much give people free reign to make whatever they want.
People are sometimes shocked with what we actually have here. I mean, we have a mixer here, so you could bake a cake if you wanted."
Among the other amenities at the Hostel are free wireless internet, on-site laundry services, and a foosball table (where you'll most likely spend the majority of your nights). The Hostel also has a great partnership with Sun Peaks Adventure Tours, where you can book a snowmobile tour at 10% off with a night's stay.
Downhill alternative on offer
A charming snowman greets guests at the Sun Peaks International Hostel in Sun Peaks, British Columbia. Photo by Rick MacDonnell
"We used to have a sled in back, but it demanded a lot of maintenance. There's always something to fix. So we gave up our own snowmobile. But we got in touch with Andy Matusky, who runs the tours, and partnered up with him. 
People need an alternative to skiing, and I just thought that it was a good idea to provide guests with a different opportunity."
As far as a bang-for-your-buck accommodation, a person would be hard pressed to find something better at Sun Peaks. With rooms starting at less than $30 a night, you can't go wrong.
"We offer a free breakfast, ski in/ski out accommodations, and a pretty great homelike atmosphere. The Hostel is set up like a big house, basically. I set it up the way I would feel comfortable, and our guests tend to agree with me. We made it as homelike as possible, and people really respond to that."
To find out more on Sun Peaks International Hostel, visit www.sunpeakshostel.com.
For more stories and detail on Sun Peaks check out our SnowSeekers' destination page.