BARB MARTOWSKI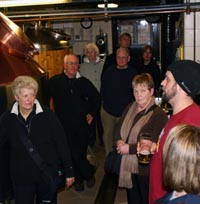 David Mozel (red shirt), brewmaster for the Jasper Brewing Co. gives a tour to some U.K. visitors.
Photos by Barb Martowski
JASPER, ALTA. — Whether you've spent the day skiing, snowboarding, snow shoeing or dogsledding, at the end of the day there is nothing like a good pint of beer to quench your thirst, especially when you are reliving your day with those who have shared it with you.
Plus, a good pint always helps with the re-telling of the day's adventures.
The Town of Jasper is home to the only brewing company located within a Canadian national park – the Jasper Brewing Company Pub & Eatery. Owned by a few young entrepreneurs, the brewery has been open for only a short time and is quietly, but steadily gaining a large following for its beers and for its food.
"We haven't really done a lot of advertising or promotion," said Dave Mozel, the master behind the beers. "We've concentrated more on producing a good consistent product that people would enjoy."
Put to the test by the experts
There is a viewing area that looks down onto the brewing floor, but my new U.K. friends and I were treated to a tour by Mozel. When he said that he got his hops from Germany and England, a number of the fellas were eagerly checking out the bags to see exactly where in England they came from. It also became evident that these veteran beer tasters would be putting Mozel's beers to the test – just to see how they measured up to the beverages back home.
A good thing that the beer was stored in huge vats and directly connected to the pulls upstairs in the pub. I had visions of it being a big night.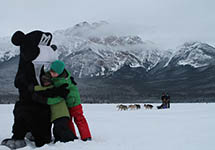 Celebrate with Jasper
Discover why Jasper is one of the top Canadian Rockies destinations.
Jasper Brewing makes five specific beers – a pilsner, a stout and three ales – and one seasonal beer, which was a blueberry ale at the time of this writing. The lads make it easy to have your own little tasting without falling off your stool by serving all six in four-ounce portions in a wooden crate.
Inspiration comes from the food world
Though he sticks to classics for the majority of brews he produces, Mozel looks to flavour trends for inspiration when it comes to seasonal beers. "Blueberries and their anti-oxidant qualities were getting a lot of press, and I thought 'Why not an anti-oxidant beer. Done right, it should taste pretty good.'"
A couple of the gals in my party agreed with him, but my favourite was the Honey Bear Ale – light and refreshing with a slight sweet aftertaste that is counterbalanced by a fresh squeeze of lime.
After a day out in the fresh air, we were all hungry and looking forward to a good meal – we weren't disappointed. The menu is quite diverse, pairing local ingredients with international flavours resulting in an array of dishes that range from traditional pub fare to more exotic flare.
Nothing like a purely satisfying meal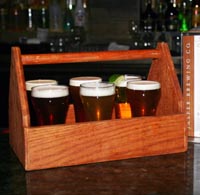 The Jasper Brewing Co.'s little six pack.
The chefs are fast and it didn't take long for dishes brimming with multi-mushroom ragout and rice, bison burgers served with crisp, yam fingers and spicy shrimp and pasta were being set before us. I kept it simple – a sirloin steak medium rare, heavy on the rare side please. Cooked perfectly, it was melt-in-your-mouth tender and so full flavour that I did something I rarely do, I went and thanked the chefs personally.
My U.K. Friends had been travelling across Canada for several days and when British boy, Robert Dewar saw fish and chips on the menu, he couldn't resist. "We have been eating some pretty rich and spicy foods on this trip and I wanted something a little familiar."
I asked him how it stood up, and his reply was  "This is good, this is just like being at home." as he saluted me with his pint of 6060, the Jasper Brewery's stout.
An excellent day, an excellent ending
A great day of dogsledding, an excellent evening with good food and good friends, the only way to end it was in a comfortable bed. The Mount Robson Inn filled the bill. Located slightly away from the downtown hustle and bustle, the Mount Robson is an ideal place to stay while in Jasper. It offers a number of room options that range from singles to family suites with X-Boxes and large screen TVs.