DOC POW
Brandon Boucher from Edmonton, Alta., sauntered up for a brew at the infamous T-Bar, located slope-side at Castle Mountain Resort, ordered, and then discovered that he's fresh out of cash.
"Is there an ATM close?" he asked. 
The bar keep asked, "How many days are you here for?"
After learning that it was for the next few, she passed over his beer and said, "No worries, I'll run you a tab tonight and when you get the chance, swing in tomorrow and we'll settle up." 
Where does this happen anymore?
Castle Mountain Resort's hospitality is second to none. A stop at Castle is not complete unless you head into the T-Bar for some great eats and killer times.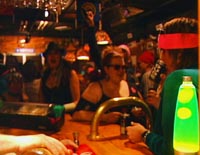 Castle's T-Bar hosts lively themed parties and great live music throughout the season.
Photo by Brandon Boucher
An après spot that doubles as the night life option of choice, there is no doubt about your opportunities to get in with the locals here; many, who would be more than happy to make some turns with you the next morning, helping to unlock the Castle's secrets. You may even catch the Table Traverse in action. It's a game that will leave you wide-eyed and in awe. 
No touching of the floor
The game involves someone – usually an agile local with a love of rock climbing, who makes their way around the table in a very non-traditional way. There is a local who's made 58 consecutive runs. 
The T-Bar features a great line up of items on the menu, including some of the tastiest pizzas I have ever had.   
If it's a finer dinner you are after, visit the Barnaby Steakhouse located in the day. Featuring choice cuts of New York and Sirloin steaks, I enjoyed the steak stir fry loaded with top sirloin and fresh veggies. The Barnaby is on the mountain and is open Thursday, Friday and Saturday nights. This destination has a fireside ambience to it that perfectly complements a fine glass of red wine with your steak.
For more on Castle Mountain Resort, visit www.skicastle.ca.
Check out this video featuring the T-Bar.