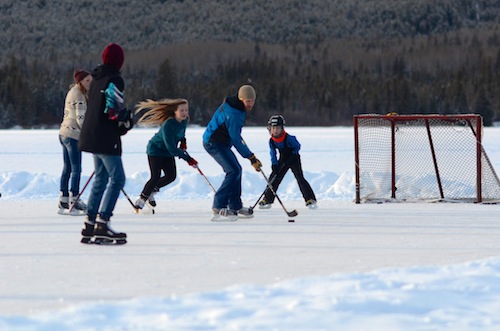 Pyramid Lake has great ice for a game of family hockey. A family that plays outdoor hockey together is a healthy one. Meanwhile, grandparents can watch the game with hot chocolate by the fire.
Photo by Bob Covey 
BOB COVEY
As a part-time waiter for a restaurant in Jasper, at night, I often get asked what there is to do during the day. 
It's not a bother — along with my server duties, I enjoy being a local ambassador for Jasper National Park. It gives me pleasure knowing families will have a great time after I serve them a good meal, plus, dishing out friendly advice never hurt the tips! I know that whenever I visit somewhere new I appreciate when locals help me find the perfect activity. In that spirit, here is how I answer that nightly question from families: So what should we do tomorrow?
If everyone at the table still has their lift tickets attached to their coats, I usually assume they've already hit the slopes up at Marmot Basin. As such, once we establish they're looking for something other than downhill skiing or snowboarding, I draw upon my skills as a journalist to help them choose an activity that will suit the whole gang. My J-school teacher always stressed the 5 W's. In the case of determining the best activities, those 5 crucial questions include: Who's going, Where have they been already, When do they want to go, What do they want to spend and Why are they visiting Jasper in the first place?
Who's going?
Typically, if grandma and grandpa are tagging along, the options aren't usually going to include ice climbing, spelunking or fat biking. Same goes for babies on board. But even with a less-mobile group, there are great choices for enjoying Jasper's gentle side.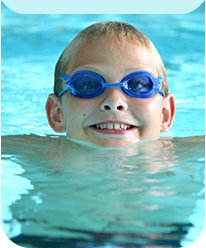 A day at the Jasper Aquatic Centre is a great mellow activity for families with young and old members.
Photo courtesy Tourism Jasper
When I think a mellow day is going to be more in line with the family's needs, I suggest a morning at the Jasper Aquatic and Fitness Centre, followed by an afternoon at Pyramid Lake Resort. At the Aquatic Centre a hot tub, waterslide, kiddie pool and steam room offer ample opportunities for everyone to have a relaxing soak or a fun splash in the pool.
At Mountain Park Lodges' Pyramid Lake Resort, dad can take the older kids for an outdoor skate while mom and grandma have a hot chocolate by the fire.
Still at the lake, the whole gang can climb aboard a sleigh ride with Pyramid Riding Stables or if it's too cold, simply have a great breakfast in the Pines restaurant while watching the world wake up.
Where have they been already?
If my experience waiting tables is any indication, most visitors have some idea of what's on tap in Jasper. Still, there are lots of off-the-beaten-path activities that will keep veteran Jasper visitors interested.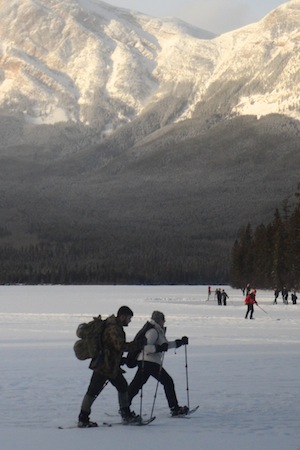 Snowshoeing is an easy-going sport for any age. If you can walk, you can snowshoe.
Photo by Bob Covey
Unless you're a Parks Canada poindexter, you probably won't know that Decoigne is Jasper's newest cross-country skiing spot. It's a perfect place for families who want to get some fresh air without exerting too much effort.
Situated 20 km west of the townsite, the new hub is a great place to try cross-country skiing or snowshoeing for the first time. Lots of places in town rent the equipment, the fire pit is a good spot to have a thermos, and the warming hut is a perfect place to change out of your wet woolies. Twenty or so kilometeres of gentle grades ensure rookies will have lots of room to learn.
Another place families shouldn't forgo is the Jasper Yellowhead Museum and Archives. Located across from the Jasper Aquatic Centre, the museum is a great place to discover Jasper's pioneering spirit and the people who paved the trails for tourism. Interactive displays will keep the kids curious while the parents can marvel at the magnitude of what it took to create the park.
When do you want to go?
One of the coolest things to try, even for those who have already done it during the day, is a Maligne Canyon Ice Walk at night. Unique, accessible and uber-Canadian, a trip to frozen Maligne Canyon is like travelling back in time. Since it's night, spooky shadows make it super natural, but it's the canyon's stoic silence that really sticks out.
Beyond the gorge's geological puzzles, fascinating fossils and constantly changing ice formations, the kids have natural slides to slip on and ice curtains to hide behind.
And if the family hits the canyon on a clear night, you'll see that Jasper National Park's star scape is literally from another universe.
Combine the heavenly bodies with the dazzling icicles that will reflect and refract your tour guide's high powered flashlight, and you've got a kaleidoscopic cruise that will leave you, and the kids, smitten.
What do you want to spend?
Not everything in Jasper costs money, but sometimes you have to dish out before you can soak it in. Such is the case with a spa day, for example, at the Fairmont Jasper Park Lodge, the Sawridge's Mountain Wellness Day Spa or the Wild Orchid Salon and Spa (all mega hits, by the way, with visiting moms).
As long as we're indulging, let's talk about hiring a guide for a wildlife safari. Moose and wolves tend to make themselves more visible during the winter, but only the pros are keeping tabs on their whereabouts. Or head out west to Valemount, for a dogsledding adventure.
If it's a more budget-conscious experience you're seeking, consider that a pair of snowshoes can get you onto tucked-away trails and across frozen fjords without breaking the bank (or the ice). Lakes Edith and Annette are both stunning draped in snow-white, and you'll have the forest to yourself if you choose to amble through the aspen. Don't worry about the cold: if you're bundled up and know where you're going, the snowshoeing, if not the snowshoes, will keep you plenty warm.
Why are you visiting in the first place?
Strange as it seems, not everyone knows the answer to this question. Do you? Think about it…sure, you want to "get away," but you've already done that. Now that you're here, are you trying to relax, do you want to go on an adventure, would you secretly like to geek-out on human history, or would you prefer to simply immerse yourself in nature?
There's something for every type of family in Jasper during the winter, but occasionally, to find it, you have to do a little more research than simply asking your server. Not that there's anything wrong with that.
For more stories and detail on Jasper check out our SnowSeekers' destination page.
Did you enjoy this story? Follow us on Facebook for all things snow.
Stay connected this season on everything winter, please sign up for our SnowSeekers e-news