Lake Louise Ski Lesson, Snowshoeing give First-Timer New Love for Winter
#NewSkiAB #SkiLouise
New to Canada, or maybe just new to skiing? A ski lesson at Lake Louise can help you discover your love for winter. Follow our #NewSkiAB series for more winter inspiration and tag #NewSkiAB to share your Alberta winter adventures with us! 
Lake Louise, AB - The stunning beauty of Lake Louise Ski Resort was nearly enough to put Gurusewak Kaur at ease for his first-ever ski lesson. He'd visited Lake Louise in summer, but walking into the snowy ski resort for the first time, he was taken aback by its beauty in winter.
Naturally, he was nervous about clipping into skis and getting on the learning hill – who wouldn't be?
"I was a little bit scared of falling down," but his instructor Dave Gibson instantly put him at ease, says Kaur. That recent ski lesson also made up for the unpleasant experience he'd had 10 years before at a ski resort in California with a friend who left him to fend for himself on the slopes.
All that has changed now, and Kaur will be among those excitedly awaiting Lake Louise's scheduled opening for Friday, November 5, 2021. 
"Thanks to instructor Dave, he made skiing feel very easy. I didn't feel much stress after this… it was a relief," says Kaur, whose eight-year-old son Jaskirat joined him for the lesson and had a blast. "We did very good, my son did much better than me," Kaur said.
Gibson's slow and easy approach to teaching the basics – learning how stop and making a pizza to slow down – made Kaur feel "confident and comfortable."
"They did really well," says Gibson, who's been an instructor at Lake Louise for 25 seasons. "They figured out what skiing is all about: it's fun, fast and you can be in control."
By the end of the lesson, the father and son were asking about getting more instruction, says Gibson, a sure sign they had a good experience.
For Jaskirat, the day was so memorable he wrote a thank-you letter: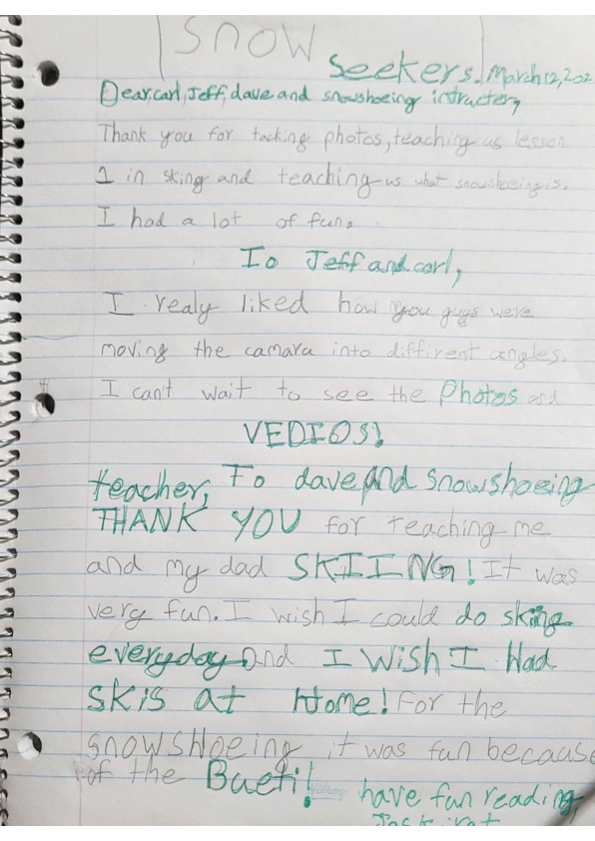 Kaur left the day's lesson feeling like, yes, he will definitely get back out to try it again and he's planning to put his son in lessons as well. His return visit won't just be for skiing, but also for the majestic surroundings.
Learn more about new skier and boarder programs at Lake Louise.
"It's so beautiful there. It's a feeling in you that you're are actually in the mountains, you see the beauty you get into nature. Being in the city we hate winter – with this experience, there is nothing to hate about winter. You go skiing and you feel good!"
The day at Lake Louise also included a trip up the gondola for a guided snowshoe experience. "I've seen that in movies and documentaries, but I've never experienced it before. It was a different feeling on the top of the mountain walking in the forest and walking on the soft snow. I loved to go out in nature."
Kaur loved snowshoeing because he likes the idea that you can do it anywhere, but it sure was spectacular at Lake Louise - and right in his backyard. 
While he was out in the mountains for the day, Kaur said he was texting friends and family in Ontario who were impressed with his photos. "People started texting saying 'Where are you?! It's so beautiful.' They were saying, "Whoa, I want to go there.; "
And for those who want to get on skis, Kaur would tell them this: "Go out and try! I'm so thankful to Snowseekers to let us do this. Unless you try you don't know... I will recommend it to my friends!
Want to take a ski lesson?
SnowSeekers' #NewSkiAB can get you and your significant other or you and a buddy on the slopes for your first lessons at Lake Louise.
SnowSeekers is stoked to partner with HEAD Skis, Lake Louise Ski Resort and our friends at Immigrant Services Calgary. A legacy of our #Calgary2026 work, we've formed this #NewSkiAB partnership, helping to welcome more diversity to Western Canada's slopes. Check out this story to learn more.
#NewSkiAB Night
In Calgary and looking for some help getting started? Come out for #NewSkiAB Night Dec 9, and get help from industry pros to get set for the season.
When You Go
New this year!
Lake Louise has added new terrain and a new chairlift this year:
The Juniper Express Quad chairlift, on the frontside at the base of the resort, opens up access to new beginner and intermediate terrain. More room for learning and practice those turns!
More glading in the West Bowls will open up more tree skiing for advanced skiers.