Originally posted in 2013
DOC POW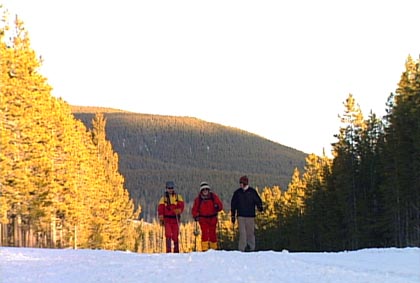 Doc Pow (right) heads out with hank Radtke and George Kokibus for an afternoon of cross country skiing at Allison-Chinook south of Calgary, Alberta.
Photo by Brandon Boucher
PINCHER CREEK, AB — There are not too many easily accessible places left on our planet where you can still head into the wild and feel like you are lost in a winter wonderland. However, located just a short distance from Castle Mountain Resort, outside of Pincher Creek, Alberta there exists such a place. 
On a recent visit I was fortunate enough to get on a pair of cross-country skis for a bit of exploration into what makes the Allison-Chinook Recreation Area such a stellar one.
Discover the quiet side of cross-country
"Come and discover a new place," said George Kolibus, founder of the Crowsnest Pass Cross-Country Ski Association. "Here at Allison-Chinook, you truly are surrounded by nature."
For years it has been him and Hank Radtke who help preserve the adventures and break ground for new ones. Back in the day, these two snow seekers were the ones out cutting the trees to make the trails what they are today, and they are still looking after the trails. 
"It used to be 31 kilometres which have now expanded into 35. We use forestry maps and skid trails from when logging was busy through here, this way we have a path already established and we can just expand on it," said Radtke.
"It's a ton of effort. We have to go through the same paperwork as if you were going to log, which can take up to a year to go through."  
This cross-country ski destination is managed by the Crowsnest Pass Cross-Country Ski Association, who not only oversees trail development, but also its management, including grooming.
Rules for keeping the trails pristine
"We have the criteria that if there is 10 centimetres or more, we are out here grooming twice a week, always on a Friday to prep for the weekend," said Barry Remus, who ensures that the trails are maintained.
The results of the association's efforts are breathtaking, a tranquil cross-country experience paired with stellar views of the Crowsnest Mountains and Mount Tecumseh, "formerly known as the sleeping giant," said Kolibus.
The mountains expose themselves as you twist through these trails, and hover over you as you wind your way through the 35 kms of Nordic bliss.
"One of our big mandates is of course environmental preservation. The collective works to keep the trees and provide this opportunity for people to just come up and lose themselves in a morning or afternoon ski," said Kolibus.
The trails are all very well marked and provide a balanced set of greens, blues and black terrain.  Some of the black options may even put people off the map and into the backcountry. 
"This is where we spend most of our time, telemarking across some of our higher ridge lines included in the area," explained Radtke. 
Options are endless
It can get really exciting for these guys, with endless options, charting a path to wherever their skis will take them. As a Nordic enthusiast, you have many options here: ski high into the alpine, wind through forests on wide open expanses, or trek through narrow nature-stocked preserves. The choice is yours.
It's nice to go hit up someplace that has a developed Nordic experience, however Allison-Chinook has a really unique feel to it, because you are right in the middle of nowhere, yet still only minutes from all the amenities that you could need.
Surrounded by mountains, wildlife and killer trails, these folks don't call it the area Allison Wonderland for nothing. Located about 45 minutes from the resort of Castle Mountain, along Hwy. 3, if you are a Nordic fan and in the area for a bit, a ski here will not do you wrong. Check them out online here.
For more stories and detail on Castle check out our SnowSeekers' destination page.