DOC POW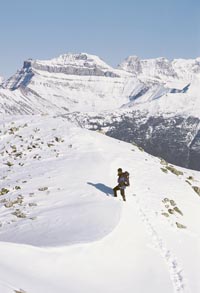 When it comes to winter hiking, being properly prepared, including wearing the right gear will ensure a safe and comfortable outing.
Photo courtesy Banff Lake Louise Tourism
BANFF, ALTA. — When I'm in Alberta's Banff area, I's usually there to do some serious shredding at Lake Louise, Mount Norquay, or Sunshine Village, all within easy driving distance from the Town of Banff, which makes the town a great base for a ski vacation – or a winter vacation in general. Although, this time it was time to approach the slopes from a different perspective - as in doing some winter hiking. 
You can't miss Mount Rundle in Banff. As adventure travellers, Ryan Cancilla and I discovered during a very adventurous and varied visit, this geological giant wasn't born yesterday.  
Year-round challenge
Through processes started over 165 million years ago, Rundle, also known as the Rundle Thrust, can make for a great scramble or day summit, depending on when you go. The trails are open year-round with the exceptions being weather conditions and bear activity.
With a summit span of 12 kilometres, it's long enough to be its own mountain range. Though Cancilla and I were lucky with the weather, we didn't make the summit, preferring to schedule that goal during the warmer months when the daylight hours are longer and when we would have more time.
"It's wicked. We are right on the edge of town and in the middle of all this beauty," said Cancilla, as we took a few breathers just to admire the panoramic views.
Regardless of the time of year, you need to contact the Park Warden's office in Banff. Not only to check for any closure updates, but also to register (just remember to sign out once you are off the mountain).
Easy access
The trail head starts in the parking lot of the Banff Springs Hotel Golf Course and although trails are easily identified, it's still best to pick up a trail map, and to make sure you have the right gear and are dressed appropriately. During the winter, parts of the trail can become quite slick and icy, especially once you get above the tree line.
For more stories and detail on Banff check out our SnowSeekers' destination page.