DOC POW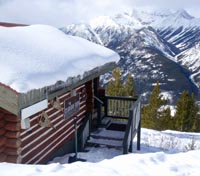 Panorama The Elkhorn Cabin is located off the Champaign chair on Rollercoaster. 
BRANDON BOUCHER/SnowSeekers
PANORAMA VILLAGE, BC — When it time for the dinner bell at Panorama Mountain Village, located in British Columbia's Kootenay Mountains, visitors have a wide variety of options.
One of Panorama's undiscovered gems is the Elkhorn Cabin, owned and operated by Don Bilodeau and his family. This ski or snowboard accessed restaurant is located off of the Champaign chair on Rollercoaster. Bilodeau brought the cabin up in the summer of 1997 with a bulldozer.
"We thought it was going to take us about three hours, two days later we just about had her in place," said Bilodeau. "I didn't tell the mover what we were doing or where it actually had to go, I kept telling him, 'Just up here and around the corner.'"
Inspired by the many regions of Canada
From the Elkhorn, guests enjoy a gorgeous view of Mount Nelson which reaches up about 3,350 metres (11,000 feet) up over Panorama Village.
"Our menu is all sourced locally, with some fine fixins' including something from a few Canadian provinces like Quebec Tourtiere, B.C. Salmon burgers and Alberta Beef burgers."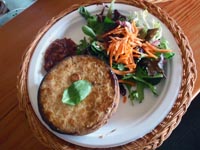 Ontario Chicken Pot Pie is only one of the Canadiana-inspired dishes served at the Elkhorn. 
BRANDON BOUCHER/SnowSeekers
I went for the Ontario chicken pot pie and I wasn't disappointed. It was served up with a sweet mango chutney. All the lunches finish with vanilla gelato with maple syrup.
"The gelato comes right from Invermere's mayor. He owns a gelato stand in town, Gerry's Gelato and on the side, he runs the town."
Bilodeau, who also operates the ski school at Panorama, installed the cabin as a meeting place for his students.
"Because it's a big mountain, we wanted a place for our lesson folks to meet, and it was at the same time Panorama was working on some vision positioning for the resort. They were looking to incorporate some of the area's history and heritage, so they thought the idea of huts would complement the fur trading heritage of the area. So with the mountain's approval, I found ourselves a cabin and hauled it half way up the mountain."
A glimpse of history
The cabin is the perfect place to showcase the area's trapper heritage. Walking through the door, you are met with some stellar mementoes of times past, a wood burning fire place and music that could keep you here for the rest of the day. A wrap-around deck will keep anyone in the sun and may just be the perfect spot for après, still leaving you an enjoyable run out after a few bevies and a chance to soak up the outstanding view.  
When its time for dinner, head over to Chopper's Landing, base operations for RK Heli-Skiing. This full-service restaurant features an impressive line up sure to plese the hunger of any snow seeker. I dived into a plate of RK's signature ribs featuring a stack of tasty goodness so tender, they fell off the bone. My dining mate enjoyed a beef tenderloin which came with goat's cheese and a special peppercorn sauce. Also receiving top marks, was the West Coast Salad adorn with BBQ prawns and avocado … stellar is the word.
Big delights from a small package
And thanks to some new friends, I discovered another Panorama special, the resort's Summit Fondue option. As a guest of the Mountain Friends, a collection of snow-loving tour guides who provide free tours of their favourite destination twice daily, they invited me to join them for a bite at this small cabin which serves up big taste in the form a great BBQ lunch and in the evening, an excellent fondue.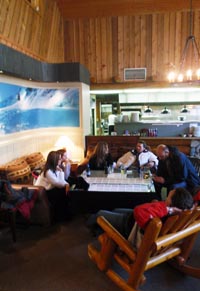 Guests relax at Chopper's after a full day of heli-skiing with RK Heli-Ski. 
BRANDON BOUCHER/SnowSeekers
During the day, the cabin, located off the Summit chair, is surrounded by deck chairs offering the perfect place to sit back and enjoying your lunch in the sunshine. For the fondue experience, you load up on the last chair for a memorable dinner and a sun set that is second to none. Post dinner, outcome the head lamps for a unique ski descent with your guides, hopefully under a full moon above.
At the end of a big day
A part of any snow-seeking diet is an après session and at Panorama, you need not look any further than the T-Bar Restaurant and Pub. Great wings, stellar nachos and a kick-ass environment featuring pool tables and comfy couches allow you to expand on your mountain loving vibe.
Most weekends include live music which makes for the perfect night spot to, getting into the action with the locals and visitors from all over the world.
When it comes time to rest, Panorama offers dozens of options. From full-serviced townhomes, to standard hotel rooms and deluxe slope-side condos, the village has just what you and your crew is looking for. 
It's all right here, and as we have suggested in other stories, drop the keys, ditch the watch and get into the action. With everything at your ski tips, there is no need for the car during your visit.
Get more info on Panorama on our SnowSeekers' destination page.