Posted in 2016
Passionate photographers show their insightful eye in ARC'TERYX Deep Winter Photo Challenge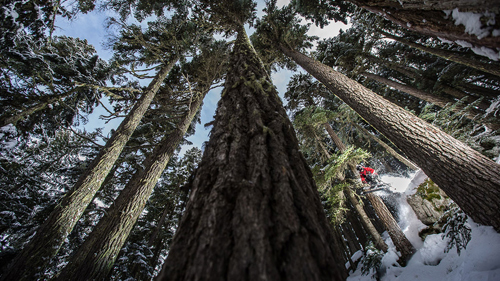 Photo by Ashley Barker
WHISTER, BC - Photography's best of the best showcased their most impressive shots to a packed audience on Jan. 9 at the Chateau Whistler ballroom for the 10th anniversary of the ARC'TERYX Deep Winter Photo Challenge. To the appreciative roar of over 1,500 onlookers, five of snow sports photography's boldest and brightest talents went lens to lens for the honour of being crowned the 2016 King or Queen of Storms. Also up for grabs was the first place prize of a cool 10 grand. 
Competitors included past winners Russell Dalby, Zoya Lynch and Ashley Barker. Israeli snow sports photographer, and "King of the Dolomites" winner at 2015's Freeride Photography competition in Italy, Guy Fatal competed alongside. Whistler resident and first time entrant while Chad Chomlack, rounded out the field. Each photographer was given only 72 hours to shoot photos and create a five-minute slideshow.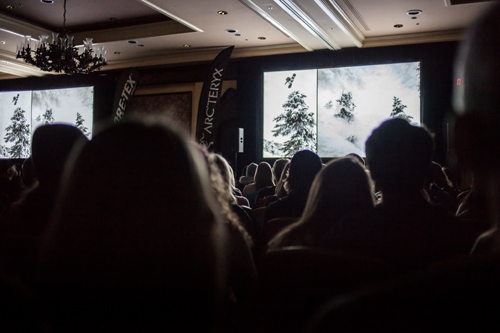 At least 1,500 people showed up for the 10th anniversary of the ARC'TERYX Deep Winter Photo Challenge.
 Photo by Whistler Blackcomb
In addition to the plentiful terrain at Whistler Blackcomb that has provided a decade of epic backdrops, this year's teams were able to spend a portion of their time in the Whistler backcountry that can only be accessed via ski lifts.
The photographic results from this uber-accomplished team were nothing short of visually breathtaking. Along with the impossible-for-mere-mountain-mortals-to-emulate airborne athlete action shots, the surprisingly down-to-earth theme of family emerged in some of the photographers' work. Gauging by the ages of some challengers, children are now entering, enriching and refocusing their lives with charming and poignant artistic results.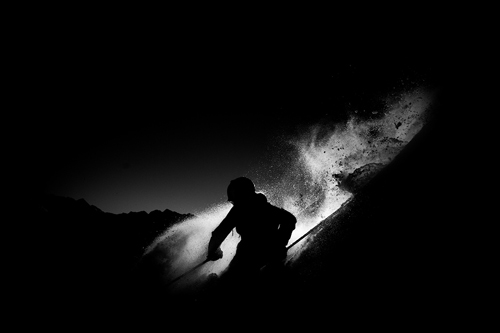 Photo by Zoya Lynch
What became evident on this night, especially in the touching inter-generational imagery of Lynch, Barker, and Chomlack, was an exuberant celebration of families, friends, lovers, and even happy strangers. Their photos showcased special moments of indescribable beauty that organically emerge from a true appreciation of authentic mountain life. Intimate memories were captured, set against the elemental beauty of snow, rock, and sky. They revealed refreshingly emotional images set within nature's epic amphitheatre — a place where we can dare to play and laugh. Their art also revealed that this is a place where we can learn to love one another in ways that are pure, spontaneous, joyful, and yes, even fragile, connecting us to all that feels true and real.
We were told by the always reliable and entertaining MC Feet Banks that the judges would determine the winner primarily on technical skills and composition.
Although, it seemed impossible for them not to be deeply moved by photos that weren't just your standard ski magazine fare. At one point, Banks even joked that any of judges with kids would be unlikely to be able to vote objectively.
It wasn't just the photos of cute babies swaddled in cozy blankets that melted the judges' hearts. The photos of older folks caught in intimate moments also tugged at the heartstrings. For example, the Whistler Blackcomb Mountain Host couple captured executing an ebullient slope-side pas de deux in Lynch's sweet, poignant slideshow.
"Watching Deep Winter over the past ten years has been really cool, just seeing all of the creativity that comes out of it," said Lynch, as Banks introduced her to the audience before her montage. "But the one thing that stands out for me," she added, "is the women who have competed and totally stolen the shows and won this competition three out of ten years —which is pretty good odds for women in ski photography."
Then the Deep Winter judges delivered their verdict. As it turned out, the ladies came close to stealing the show once again. Revelstoke resident Lynch, the 2013 winner, took third place. Last year's Queen of Storms, Whistler-based Ashley Barker, nabbed the runner-up spot. In the end, the stark and emotional images of hometown boy and Deep Winter rookie Chad Chomlack which claimed the coveted crown of 2016 King of Storms to thunderous applause.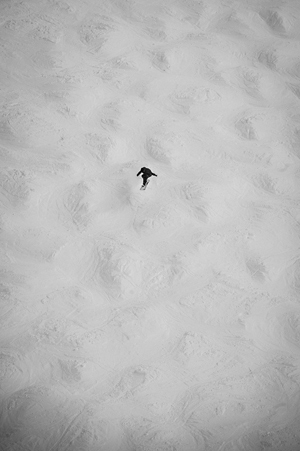 Photo by Chad Chomlack
After the show was over, one image from each photographer was posted online at whistlerblackcomb.com/deepwinter. The public then had 72 hours to vote for a People's Choice award winner. Anyone who voted online had a chance to win a prize package, and the award winner scored a trip for two with Whistler Heli-Skiing and a $1,000 cash prize.
Enjoy Whistler Blackcomb with cheap lift tickets via their Edge Card, click here for details 
Who says a picture isn't worth a thousand somethings?
When what the camera lens' captures is guided from the heart, photography can become such a visceral window into the soul. Making a connection was the emotion that emerged from the collective work of this year's Deep Winter challengers. As their images so evocatively spoke, nothing else matters.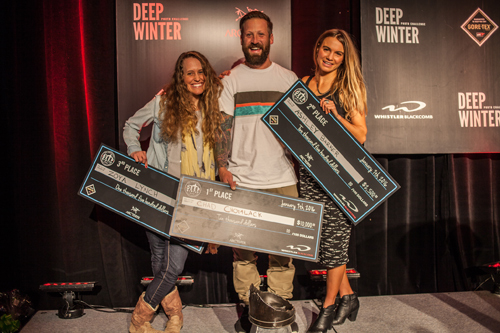 Photo by Whistler Blackcomb
For more about the show and competitors, visit www.deepwinterphoto.com
More about Whistler Blackcomb