DOC POW
BIG WHITE, BC — Minimal traverses and big, big snows make Big White the perfect destination for those of us on a board. This resort, situated about 40 minutes out of Kelowna, British Columbia, was one of the first in Western Canada to welcome snowboarders. With its epic glades, big sweeping runs and stellar terrain it really is a snowboarder's mountain.  
"Of course, this region is known for its wake boarding options in the summer, so you'll see a big cross over with that in the winter," said media relations manager, Blair Ireland. "On some days you'll pull up to the line and see 80% boarders."
Not to leave our two-stick carrying friends out in the cold, this terrain will also keep the skiers smiling.  
With some huge acreage to explore, you might want to take a spin with one of Big White's snow hosts, one of those special people on our planet that have keys to other lands.
Some serious tree skiing 
Judy Poole has called the slopes of Big White home for the past 10 years and it was just my luck to queue up a shred session with her at this winter wonderland.  
"I know you have skied in the trees before, but have you ever skied with ghosts? There's tree skiing, but Big White is famous for its Ghost Skiing," said Poole. 
Made by a phenomenon occurring due the high humidity in the air, these snow encrusted trees loom over dozens of Big White's runs and create some otherworldy formations.
"I have many guests say they feel like they are no longer on earth, that it's just so foreign up here. The other day I had a couple of Australians say that our mountain crew does some great landscaping; they thought we put them there," said Poole. "It fascinates people the first time, they feel like they're in another world."  
Those on the east side of the Canadian Rockies will really dig the snow ghosts, as they don't exist at any of the resorts found there.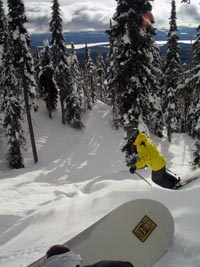 Dipping into the trees and chutes at Big White is an adrenalin rush. 
DOC POW/SnowSeekers
Making the most of every day
She and her husband are lined up with one of those really killer mountain gigs – touring guests around the mountain –  but for Poole it's all business. With 72 days already in and counting, she doesn't allow herself much rest time. "You've only got from 8:30 am to 4 pm. You have to make the most of it."
Big White will keep you coming back. Its terrain provides a perfect balance for all abilities and is served up in a location that's home to world class wineries. From Kelowna, visitors are within two hours of six serious ski resorts and over 80 wineries. 
Much of Big White moves as any resort should, with minimal to no traverses and lots of lift options to help minimize line ups from a amazing village. With over 12 transportation systems, the mountain and the massive amount of lift systems around the village ensure that the crowds are thin and the wait times are light.
A perfect blend of spirits to warm you
When the day is done and your muscles are calling for a coffee break, head to Snowshoe Sam's for its signature Gunbarrel Coffee, invented by Brian Spence.  
He was first to put this java infused concoction together 26 years ago on the slopes of a resort just down the road – Apex Mountain Resort – in the saloon which shares the same name of this perfect mix.  
Grand Marnier, Cream Du Cacao and Orange Brandy are served up in a coffee or hot chocolate with a style that is all its own. You are definitely not going to find this at Starbucks and you are certainly going to remember this as one of your most memorable coffee breaks.  
"We had to make a few taste tests over the years," laughed Spence, "to ensure the taste was right."  
For more stories and detail on Big White check out our SnowSeekers' destination page.