DOC POW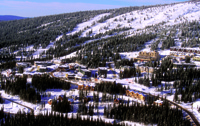 Big White is a large ski resort with plenty of on-hill accommodations to suit every budget. 
Courtesy BIG WHITE
BIG WHITE, BC — Big White's appeal is in its charm—a well-designed mountain that has a tonne of options to keep any beginner or intermediate skier or snowboarder busy for a week. It also offers a well-rounded experience for a family or a couple; if some shred and others don't, there's no reason why they couldn't still choose Big White and have an excellent winter vacation.
The village is bursting with a stellar array of accommodations and food and beverage options. On a recent visit, we pulled in during the evening and the place was popping at the seams, literally. Nightly on Friday and Saturday nights, the skies over Big White come alive with fireworks raining over the village. It makes for a spectacular welcoming.
If you arrive in time for some dinner, Kettle Valley Steak House and Wine Bar is not going to leave you hungry. Located in the Happy Valley Day Lodge, at the base of the village gondola, the restaurant offers a great atmosphere, especially around the river rock fireplace. It's a fabulous steak house with an impressive menu featuring a mean prime rib and an excellent wine list. 
Time for some 'little plates'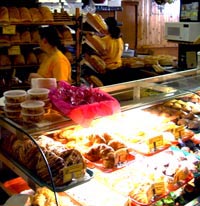 If you are in the mood for something sweet or a loaf of fresh baked bread, stop by the Big White Bakery. 
DOC POW/SnowSeekers
Try out the Flight Adventure and sample four different wines—all from the internationally renowned Okanagan Valley. "We offer wine tasting slope-side," said Big White's guest relations manager, Blair Ireland, as we enjoyed a stellar lunch of Ahi Tuna steak.
The newest dining attraction on the slopes is the Globe Café and Tapas Bar, where the fixings are a little more conducive to sharing. Taking its nod from the restaurants of Spain and Portugal, the Globe allows patrons to get in on some delicious dining while immersed in a very social setting.  
"Tapas is the perfect situation for a ski hill restaurant, because you can order a collect of plates, put them out on the table and everyone gets a little of everything," said co-founder Jude Brunt. "We do have something for everyone but those who are vegetarians will really appreciate the menu options. It was something that was really lacking here at the resort." I never knew you could do so much with eggplant—try it with the goats cheese if you are looking for a taste sensation which will be just as powerful as the fireworks later.
It's an international collection of characters that have some together to open this little gem of a restaurant. With a nod to the Irish connection, there's sticky pudding for dessert fixed up with Guinness ice cream and jerk pork which reflects the Caribbean heritage of another owner. It's a menu that really needs to be sampled because it all works, and works well.
For more stories and detail on Big White check out our SnowSeekers' destination page.