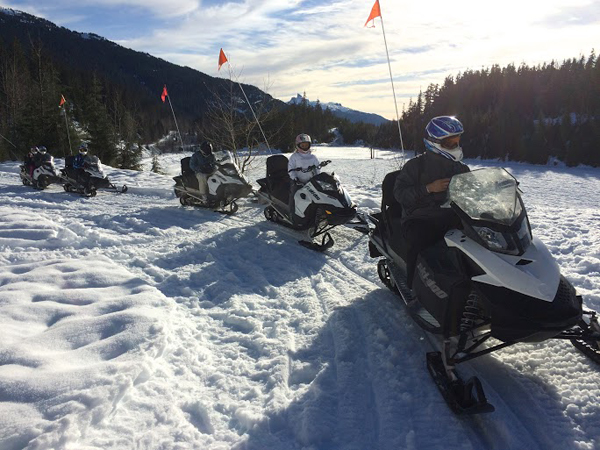 JOHANNA READ
I thought it would be too cold.  It wasn't.  There are heaters on the handlebars and, to misquote Bruce Springsteen, my legs were wrapped around a nice warm engine.

I thought it would be too loud.  It wasn't.  Yes, I heard the motor, but I could also hear the sublime slide of skis on snow.

I thought it would be too dangerous.  It wasn't.  Safety equipment is top notch, instruction thorough, and guides extremely professional.

I thought it would be too smelly.  It wasn't.  Except for a slight whiff of gasoline while idling in the trees, all I smelled was sunshine and snow.

I thought it would be too difficult.  It wasn't.  It was surprisingly easy to operate the machine, even in varied terrain, and even for someone like me whose only previous motor vehicle operating experience was a car. 

I thought it would be too sedentary.  It wasn't.  Snowmobiling is more like riding a fast horse, where you need to shift your weight and engage your arm, shoulder, and leg muscles.
So, what was it?  It was fun!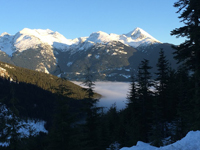 View from Cougar Mountain.
Photo by Johanna Read
I spent two sun-filled days in the Whistler / Pemberton area trying snowmobiling for the first time.  I later learned that the Coast Mountains area has some of the best — and most unique — snowmobiling terrain in the world.  The Coast Mountains are nice and big, and they have the ideal mix of slopes, plateaus, open spaces and tree-lined trails that make snowmobiling really fun.  You can head up to the Pemberton Ice Cap, zoom over frozen lakes, carve through deep powder, or cruise along groomed trails.  Plus the snow pack here is very stable, meaning a lower risk of avalanche.
Catching a little air on the bank of a frozen lake.
Photo by Johanna Read
My first day was with The Adventure Group on Cougar Mountain's 20,000 acres of rideable terrain.  The groomed trails and patient guides were perfect for getting accustomed to my Skidoo and feeling comfortable controlling 600 cc of power.  
On day two, Canadian Wilderness Adventures took me on its Wilderness Run in the Callaghan Valley.  I practiced tight turns, conquered steep slopes, and discovered my need for speed on the flats.  
Tours, terrain and a place to stay
The views both days were spectacular, and I saw terrain I couldn't possibly see by any other means.
If you fall in love with snowmobiling, give SnowRide Adventures in Pemberton a try.  They cater to enthusiasts (though have programs for beginners, too) and provide a heli-skiiing fresh-tracks type of experience. 
I highly recommend staying in Pemberton, just a 20 minute drive past Whistler Village.  Pemberton is quiet — both noise and traffic — and feels like a real community rather than a tourist town.  If you're bringing your own machine, Pemberton makes it easy: street (rather than underground) parking, more than one gas station, and two in-town dealers if you need parts or service.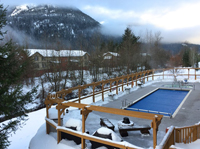 Pemberton Valley Lodge's heated pool and hot tub.
Photo by Johanna Read
The Pemberton Valley Lodgehas all the comforts you could possibly want (including an outdoor hot tub and bedtime milk and cookies).  You should visit Mile One Eating House, even if you're not staying in Pemberton.  Their local-products comfort-food menu appeals to foodies and the less-adventurous alike (it will be difficult, but leave room for dessert!).  Prices throughout Pemberton are great too.
I now understand the appeal of snowmobiling.  And I can't believe I got to have my first experience in incredible Pemberton / Whistler.  Hope you do too!
Oh, and one more thing snowmobiling wasn't.  I thought it was called snowmobiling.  Everyone I met says "sledding."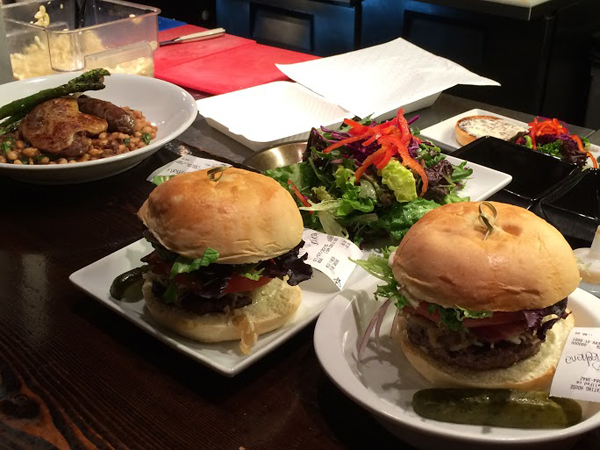 Mile One House's local-products comfort-food menu appeals to foodies and the less-adventurous alike
Photo by Johanna Read
More info
January is BC Sledding Month. Did you know there's a reason why sledheads are always smiling?
Thank you to Tourism Whistler and Tourism Pemberton for your support with this initiative.  If you are looking for a place to stay and sled in either location, they can help get you there!
For the latest deals, snow reports and contests, sign up today to our SnowSeekers e-newsletter.