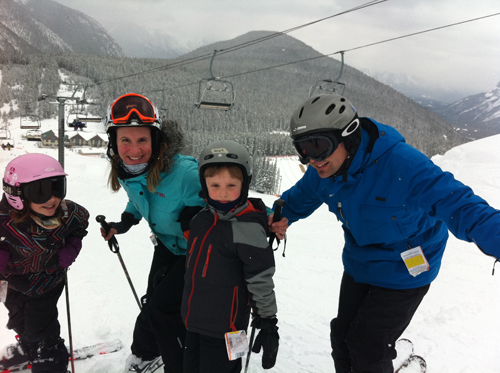 Lisa Kadane's family enjoys a ski day at Norquay.
Photo by Lisa Kadane
LISA KADANE
My son Bennett has mastered the magic carpets plus snowplowed up a storm at Nakiska and hit the tree trails at Norquay. That's no big accomplishment for most eight-year-old boys, but Bennett has autism, and his milestones are achieved after significantly more time, sweat and, occasionally, tears. When he comes to a stop at the bottom of a run with a huge smile plastered across his face, and wants to go up the lift again, my heart soars.
It's been a long and slippery path getting Bennett on sticks, but thanks to adaptive ski programs in Alberta, he's on his way to schussing with the family.
Learn to ski program
We began the downhill journey four years ago, by making him wear ski boots and simply ride the moving carpet. We knew then that we couldn't rush him into it; that he had neither the strength nor the co-ordination to master his "pizza," steer or come to a stop, so my husband and I bided our time.
Three years ago we enrolled him in some lessons for a learn-to-ski series I was writing for Snowseekers.ca. Bennett made progress with his beginner's wedge, but he still lacked focus. It sometimes felt like I was feeding my dream instead of attending to Bennett's wishes (namely, to eat French fries in the day lodge).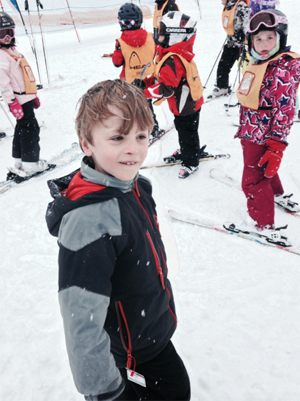 Bennett now loves skiing after several years of adaptive lessons.
Photo by Kevin Turner
Breakthrough for Bennett
When your child has a physical or cognitive disability it can take longer for him or her to learn a skill that other children master in a day or a week or — as with skiing — a season. We knew it could take a long time, but we were committed to the idea of skiing as a family. What's more, we hoped Bennett would grow to love the freedom of sliding on snow as much as we do; that skiing would become his dream. So we persevered.
The breakthrough came when Bennett was six, and old enough to participate in an adaptive ski program through CADS Alberta. Every Friday for eight weeks Bennett skied with an instructor who patiently encouraged him to keep trying. The weekly two-hour lesson wasn't long, but it was enough time and repetition for him to get the hang of linking turns, slowing down and stopping. Most importantly, his instructor and her aide kept him focused, and Bennett was able to stay on task — I no longer worried he would crash into a tree or lift tower while gazing off into La-la Land. We were on our way!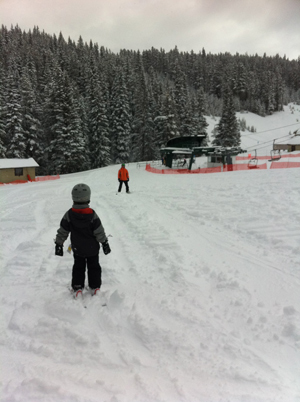 Bennett follows his instructor to the chairlift.
Photo by Lisa Kadane
Several ski resorts in Alberta offer adaptive downhill programs at an affordable cost for individuals with physical or cognitive disabilities—ranging from visual or hearing impairments to autism or Down Syndrome, and everything in between—including Canada Olympic Park, Marmot Basin and Sunshine Village.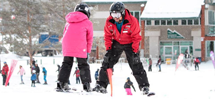 Get your ski chops back with GoSki Alberta
Learn to ski just like Bennett or get back on the slopes after years of being away from the sport. 
Instructors certified
"Our programs promote confidence and help participants feel their challenges can be overcome—that nothing is impossible," says Jamie McCulloch, executive director of Rocky Mountain Adaptive, a registered charity whose goal is to provide adults and children with extra needs access to sports activities in the Canadian Rockies.
"Anyone with a physical, cognitive or emotional challenge can participate. We create an environment where participants are given as much independence as possible," says McCulloch, adding that the instructors are all CSIA certified and receive additional training to work with people with a range of needs and abilities.
What's more, an adaptive ski lesson or program provides the opportunity to be outside and learn something new, says McCulloch. And it can open a doorway to being able to do something together as a family.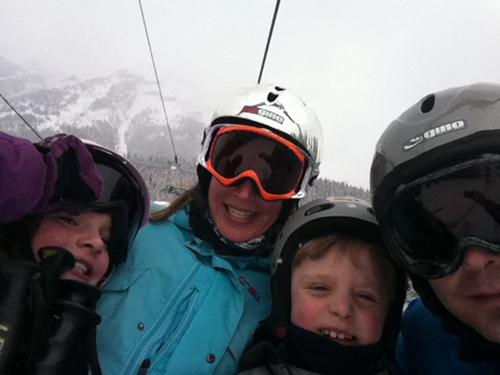 Lisa Kadane was committed to the idea of her whole family skiing together. 
Photo by Lisa Kadane
Last winter Bennett made even more progress, and this season is looking fantastic as he is signed up for another adaptive ski program. He's mastered most green runs now and we hope by season's end we can move on to easy blues.
Will skiing become his passion? Only time will tell. 
More information
Thinking about trying out skiing for the first time? Or want to get back on the hill after a few years? Learn to ski & board here.
Interested in adaptive sports? Share this story with like minded friends!