Fresh powder, spring conditions, and an amazing first experience
JEN BROSSEAU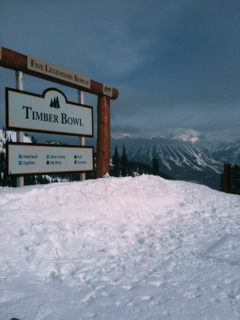 Fernie is renowned for its Five Legendary Bowls, with Timber being one of my favourites.
JEN BROSSEAU/SnowSeekers
FERNIE, BC — We can all agree that we have been spoiled the last few seasons, regardless of what our favourite hills are. Resorts all over Alberta and British Columbia have been reporting epic snowfalls two seasons running now, each time calling out to city slickers like myself to drop everything and head to the mountains.
I had driven past Fernie Alpine Resort many times, waving like a mistress on a train, wondering if our paths would ever cross. This past weekend I couldn't resist the sweet siren call of fresh powder, and as I stared out the window of the Griz Bar in Fernie, BC at the extraordinarily large snowflakes falling, I knew I made the right choice.
With the combination of fresh snow and spring conditions, my plan of attack was to work from Siberia Bowl (skier's far right) to Cedar Bowl (skier's far left) and hit a couple of runs in between, until we found the run with the right combination of spring snow, sun, and smiles.
Finding the perfect run
For me, early morning runs in the spring are a great opportunity to cruise some groomers or work on my CSIA* techniques (stance and balance, flexion and extension, pivoting, timing & coordination, etc.), until the snow softens up. By our third or fourth run of the day the conditions were just right.
I was travelling with my friend Peter, an ex-Calgarian who used to spend every weekend in Fernie. Peter's favourite run is located just off the Boomerang Chair, and according to him "Linda's Run" never disappoints, no matter the conditions. He was right.  
Linda's Run provided the right amount of pitch to make it challenging, soft snow, and trees to keep things interesting. There was nobody on the run but us. When I find a gem like Linda's Run I have a tendency to ski it over and over again until my legs give out, which is exactly what we did.  
Our second day actually brought with it another light layer of snow, and another day of non-stop skiing. Every bowl was open, and we were able to find some fresh tracks in Siberia Bowl mid-day! The sun came out later in the morning and we were left with dreamy spring snow and run after run of picturesque turns.  
On-hill accommodations
We were lucky enough to score accommodations at the Wolf's Den - located right at the base of Fernie Alpine Resort- which was much appreciated after a big day of skiing (and après!) on the mountain. The second night of our visit saw us run into town to pick up some BBQ fixings for a grilled supper, as the Wolf's Den provides a BBQ for guest use. After our dinner we enjoyed a nice dip in one of the Den's hot tubs, which, to me, is the perfect way to end a day.
Like I said, we have been spoiled. While April is technically considered spring skiing, the relentless snowfalls make the you feel like you're still in the heart of winter. Powder in the morning, spring conditions in the afternoon; it's the perfect combination. 
Fernie already has a special place in my heart, and I am already planning my next visit.
For more stories and detail on Fernie check out our SnowSeekers' destination page.