Originally posted in 2015
Ski hill modernizing but keeping its old-school vibe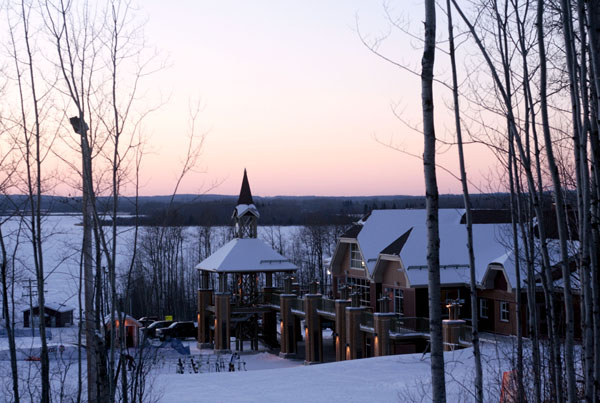 Kinosoo Ridge has added new improvements, including snow-making. 
Photo by Jakki Tyson
JAKKI TYSON
BONNYVILLE, AB - The New Year is all about making improvements and moving forward, and Kinosoo Ridge is doing just that.
The ski hill, located 14 kilometres east of Cold Lake, has come a long way since opening in 1981 and the last five years have been especially transformative. Kinosoo Ridge has undergone several facelifts but underneath its shiny, new exterior is the cozy, family atmosphere for which they are they are known and loved. That is something the Municipal District of Bonnyville, which owns the ski hill, considers a priority for locals and outside visitors, too.  
More snow, faster
From the name ?Cold Lake,? you?d assume the city would have an abundance of snow, but Kinosoo Ridge, like many other resorts, have had a bit of a struggle ensuring glorious skiing conditions.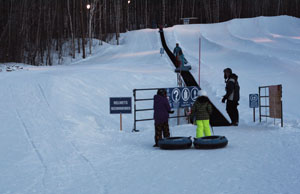 Kinosoo Ridge has been busy snow-making 40 acres of one-foot deep snow in the past three weeks. 
Photo by Jakki Tyson
?We were having a hard time with our snow-making system to guarantee by opening day that we would have the entire facility covered with snow,? said Jurgen Grau, manager of Kinosoo Ridge. ?Our goal was to develop a facility that would be consistent for the season pass holders.?
Kinosoo Ridge has achieved that goal by updating its snow making technology. The new system has more lines in more places and has increased the pumping capacity of water. They also have a larger fleet of snow guns than in previous years.
?We?re able to make 40 acres of one-foot deep snow in three weeks,? said Grau. ?We did 12 million cubic feet of snow for opening day. This was our best year yet for snow making.?
Changing with the times to be family friendly
The great thing about Kinosoo Ridge is that while it?s a family resort, they are willing to embrace change. It may have been built in 1981, but they aren?t stuck in the past.
?One of the things that we recognized within our community was that the demographic in the last few years has changed,? said Grau. ?There?s a lot of young families that have moved into the area, so we saw an opportunity.?
Kinosoo Ridge decided to build a tube park, which appeals to all families, skiing enthusiasts or not. The park is open to children over two and is equipped with a ?Koko Shack,? a place to grab some hot cocoa on the slopes by the tube park. It?s conveniently located for skied out parents to watch from the sidelines. The tube park is also great way for families who aren?t as comfortable on the slopes to get better acquainted with what winter has to offer
?The tube park brings people outside and it?s something that the family does together as a unit,? said Grau. ?They don?t need the skills or physical capabilities of skiing and they also don?t have to spend the money on equipment.?
More to explore
Visitors can now see a different side of Kinosoo Ridge, with the addition of three new trails. Kinosoo has also traded in its T-Bar for a quad chair, so the trip up to those trails is now much smoother.

?The quad chair has made it a lot easier,? said Grau. ?One of the things we were noticing was that families were having a difficult time riding the bar that was there before so this new chair makes that hill more accessible to families and beginner skiers.?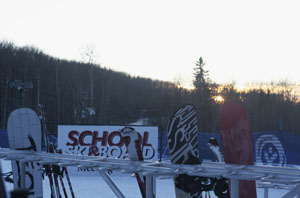 Kinosso Ridge offers ski and boarding lessons. 
Photo by Jakki Tyson
Fair-weather skiers will also enjoy the new trails, as they provide shelter from the cold.
?What?s nice about those trails is that two of the three trails go through the trees so they are nicely protected from the wind,? said Grau.
Some things never change
While Kinosoo Ridge?s updates are impressive, perhaps one of its greatest constants is the people that work there.
?People love our facility but more often we get comments on the staff,? said Grau.
That staff is a collection of avid skiers from as far as the U.K. and Australia, and their enthusiasm about the sport is hard to miss.
And though it?s nice to see the ski hill growing and expanding, visitors to Kinosoo Ridge will also be happy to see that some things never change.
For the latest deals, snow reports and contests, sign up today to our SnowSeekers e-newsletter.