JOHN KOROBANIK
Before she moved to Vermilion, Carol Wasylik knew from visiting the town that it had lots of activities and plenty of community involvement. Now that she's a resident and storeowner, it was only natural she would become one of those involved residents.
Owner of Extra Ordinary Extras, Wasylik is one of the citizens behind Vermilion's Good Life Institute that is promoting the second annual Winter Fair that continues on Dec. 6 to 8.
The fair runs over three weekends and features lots of hands-on learning activities designed to attract visitors to Vermilion.
 "From now to the second week of December there's something going on all the time, whether it's classes people want to take or events people want to go to," said councillor Caroline McAuley, a member of the town's Brand Management Committee. "Some of them are part of our Winter Fair and some are just part of our town."
Geoffrey Person, the brand management coordinator, said there's already a lot going on in Vermilion in the winter "so what we wanted was something that could serve as an umbrella, that would highlight a few of the events, a few of the clubs that are already going on."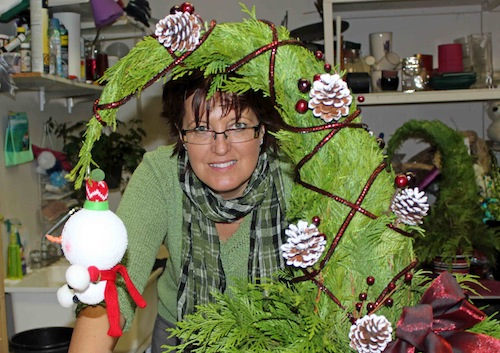 Rita Elliott working on a Christmas planter.
Photo by John Korobanik
So the Winter Fair was born last year. This year it has grown to be spread over the three weekends with the focus on hands-on learning activities for all ages. Like the classes offered by Rita Elliott of Lakeland County Florists, who had a Christmas outdoor planter and swag class on the first weekend.
"Last year the town approached me to do a class as part of the Winter Fair. We did one and it just escalated, so this year I've done about ten in conjunction with the fair and winter program," said Elliott who offers all types of flower arrangements and outdoor planters.
One of this year's classes is building a Who Ville tree, which is a parent-and-child project.
Elliott was excited by the fair proposal when it was first explained last year and predicts it will get better every year.
Wasylik said the committee behind the fair decided to expand it so people were aware it's not just a one-weekend event. 
The night before is the Santa Claus Parade and the Festival of Trees. While not part of the fair, those events illustrate McAuley's point that the town is filled with activities being offered all winter.
"One of the things we wanted to do was look at Vermillion and say, what are our strengths that would draw people here?" Wasylik explained.
With Lakeland College a huge part of the town, education seemed like a natural fit. Not school-type classes but courses where people can learn skills that would be useful at home, or perhaps just something they've always wanted to learn but never had the opportunity.
"We needed several hooks because what might bring you, might not bring your wife … So we thought, what opportunities can we create that people can come and learn hands-on events, while weaving into things already offered so we're making it more robust…so people can come on any weekend or even sometimes during the week and experience different kinds of events?"
"Vermillion has a great educational history," said Person. "The Good Life Institute is a non-profit organization and all we're focused on is developing classes and events that feature different classes. Kind of like educational tourism.
"It's about community pride, about showcasing the great talent we have. What a real cool community it is. That's why this is such a good concept. We're not trying to be something we're not, it's authentic Vermilion.
"Hopefully people will come, enjoy and they'll tell family and friends when they go home. The family's thinking we want a cool place to go for the weekend, it's an hour and a half from Edmonton."
Mary Lee Prior of the town's economic development department said the town's activities already attract people from throughout the community. The fair is important because "we would like to attract people from Saskatoon, Calgary and Edmonton as a starting point. We already have the region coming … we want to get those extra travellers who might want to come, do an overnight stay and decide they like it here, maybe move here and create a business here."
For the latest deals, snow reports and contests, sign up today to our SnowSeekers e-newsletter.