Cariboo Cat Skiing - less than a two-hour drive from Jasper - offers turns to remember
There aren't many cat skiing operations as dialed in as Cariboo Cat Skiing.
Photo courtesy of Megan Gibson
MEGAN GIBSON
VALEMOUNT, B.C. ? Terry Cinnamon is the owner and operator of Cariboo Cat Skiing, a first class cat skiing operation in Valemount, B.C. Terry has been in the ski business over 20 years and has two BR 275 snowcats that he operates (and named after his two oldest kids, Tat and Harry).
Terry greeted me in the dark parking lot after a short drive from Jasper. We basically arrived at the same time we left, with B.C. being an hour behind Alberta. He led us to the back of his family's beautiful log home and I was greeted by Matt Reynolds, Terry's lead guide, who handed me a beacon and asked if I needed fat skis for the day.
After a quick safety talk, I was out recovering the beacons the guides had buried for the benefit of the guests. Terry was sporting his tie-dyed Robson Rafting shirt, another family business, and a winter international trucking hat. His eyes sparkled, because he knew there was an epic day ahead of us and he was stoked to take us to the endless powder that lay ahead in the Mica Mountain range.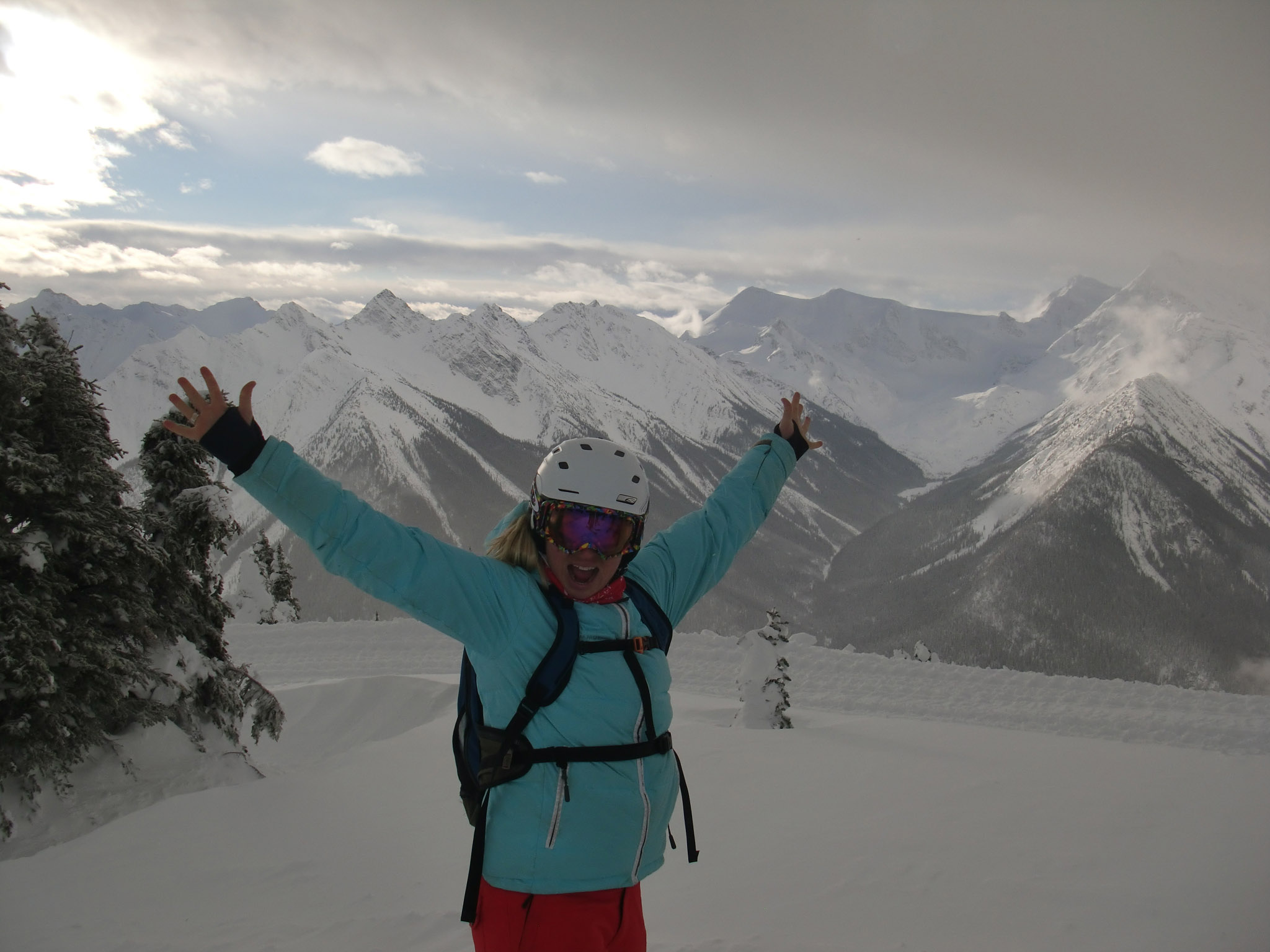 It's pretty clear in this picture that Megs had a great time.
Photo courtesy of Megan Gibson
Consistently mind-blowing
I hopped in the truck with him and we barreled up a logging road to the lease of 19,760 acres of varied terrain, tree skiing, and wide open bowls. I have been fortunate enough to have skied with Terry for the past three years, and every year I ski a different part of the mountain that blows my mind.
This year it was the North East Side of Mica Mountain and a run called Tiny's Dream, a long open bowl that continuously opens more and more until you reach the bottom and ski onto the cat track. This run is named after a friend of ours, Chris Doyle, who died too soon in life due to cancer. I saluted the heavens as we took a much needed break half way down the run.
The snow was absolutely incredible! It felt like dancing on clouds. Even now, writing this, I'm giddy like a little girl on Christmas morning and can't imagine any place I would rather be.
A deluxe day
Each time we finished a run I high-fived Terry, who was driving the snowcat and grinning from ear to ear. Terry and the guides loaded us into the cat and we journeyed along the cat track to the pizza hut. Yes, a pizza hut in the middle of the backcountry!
Our final run was the North Bowl. It has the grandaddy of all the terrain and offerred us a beautiful view of Mount Robson in the backdrop, the tallest mountain in the Canadian Rockies. We skied steep and beautiful undulating terrain right to where we parked the trucks that morning.
There, Terry greeted us, carrying a snowmobile on the front of the snowcat. Just another of the many cool contraptions he has that makes his operation as smooth as it is.Terry made his own pizzas for his guests, served hot out of his portable pizza oven and eaten right inside the cat.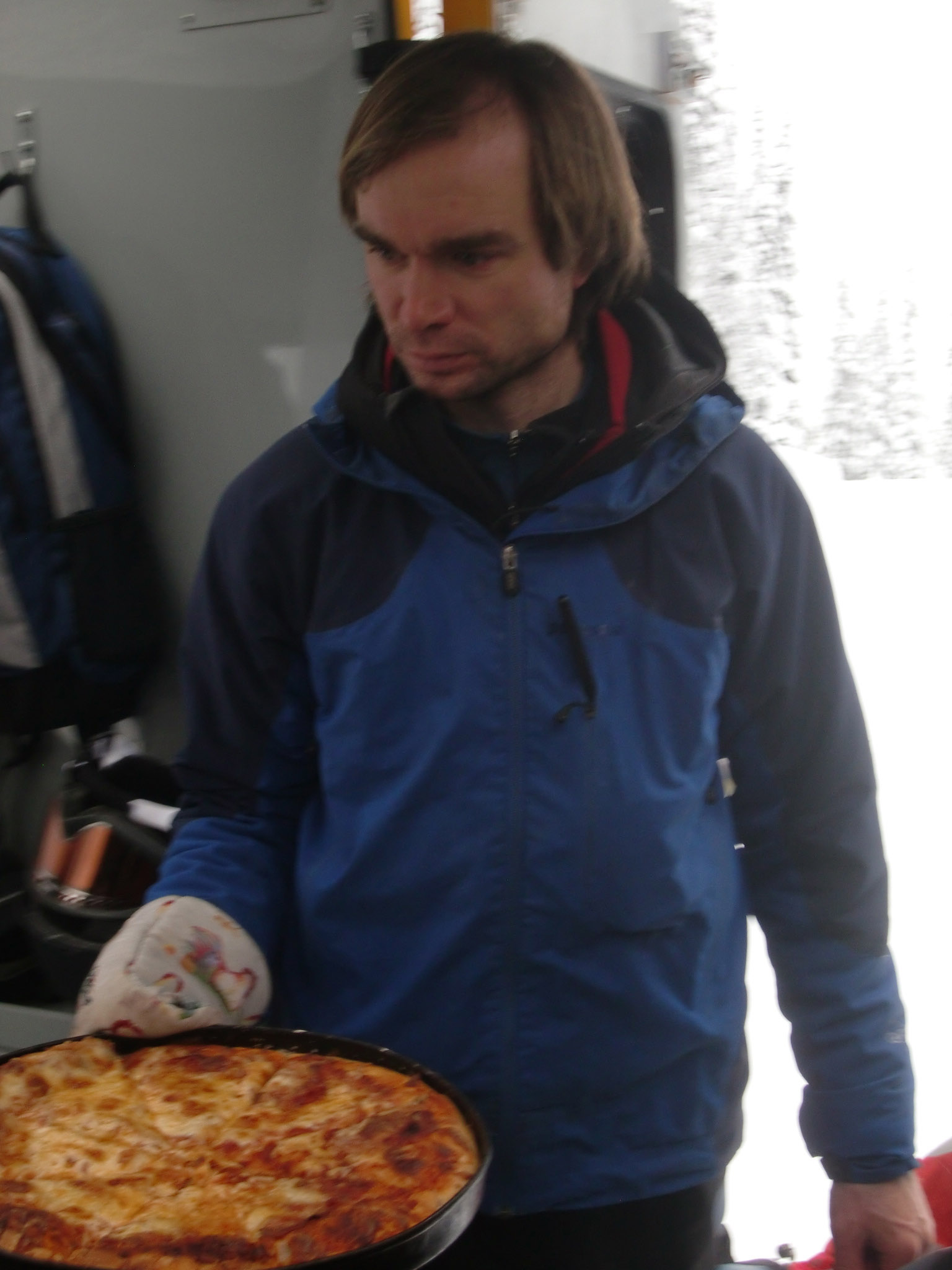 Pizza. In the cat. No, that's not a typo.
Photo courtesy of Megan Gibson
A pizza party was just the deluxe touch to an already perfect day. We climbed to our final descent, smacking our lips and laughing about the moments we had that day.
We cracked a beer in the parking lot with former strangers, now friends through the incredible bond of powder skiing and laughs. With a beautiful wife, three kids, two dogs, too many cats, and chickens, Terry knows how to live. He has a gem here in the Valemount valley, and if you are in the area, stop in because there is nothing Terry would love more than to take you cat skiing. It will change you somehow, and make you appreciate the fact that you can shred. 
Visit www.cariboocatskiing.com for more information.
For more stories and detail on Jasper check out our SnowSeekers' destination page.