Originally posted in 2013
Warren Miller's latest flick gives ski, boarding fans the ride of their life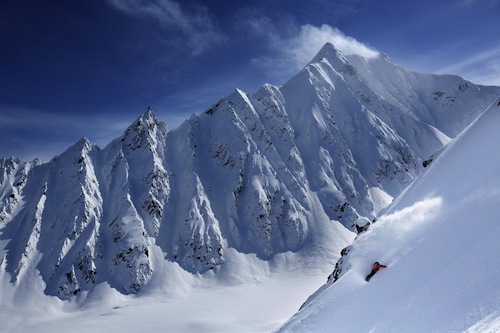 Sascha Schmidt in Switzerland. 
Photo by Peter Mathis
JOANNE ELVES
CALGARY - You know what marks the beginning of winter more than anything else? Not the ski sales. Not the changing of the seasons and not even the first frantic flurries of snow. It's the day the latest edition of the Warren Miller ski movie blows through town.
Say, "Seen any Warren Miller movies?" and anyone that has been around the slopes for the last 64 years will smile and say: "Which one?"
For many years, Warren Miller would accompany the film as it toured the continent. Miller would sit to the side of the stage and with a small light beaming on his notes he would narrate the movie. Even though you couldn't see him, you knew he was having a good time. He had a flair for mixing epic ski footage and outstanding scenery of far-away places with a huge dash of humour.
Year after year the audience left the theatre charged up for a new season of carving, trekking and seeking new adventures. Miller sold the company in the 1980s and now resides near Seattle. But the award-winning Warren Miller Entertainment movies continue to flourish, churning out stunning breathtaking I-wanna-do-that-too inspiring flicks.
This year, Backside Tours presents the Warren Miller Ticket To Ride. As usual, it follows fantastic athletes around the globe in search of perfect or not-so-perfect terrain or something you'd never dare to consider as ski or boarding terrain.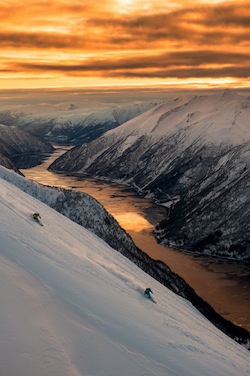 Kaylin Richardson and Aurelien Ducroz in Norway.
Photo by Sverre Hjornevik
Watch for regional terrain in Montana's Big Sky Country to be featured as well as the Alaskan Tordrillos, fjords of Greenland, Switzerland, Norway, Iceland's Troll Peninsula and Kazakhstan where Chris Anthony shows the new skiers on the Warren Miller Entertainment team this bit of paradise that took him 16 years to return to.
"It was great to be back in Kazakhstan – it's like I never left," said Anthony from his home in Colorado.
Anthony has appeared in at least 24 of the Warren Miller movies. He also works as an ambassador, hosting the primary screenings for more than 20 years and loves every minute of the adventure.
"I have been a fan of the films since I was in the crib.  My parents were fans.  I'm a skier.  Bottom line the Warren Miller Films have been very much a huge part of my life," said Anthony.
Putting together what looks like a seamless film takes an entourage of cameramen who are insanely talented skiers, pilots, planes, helicopters, boats, dog sleds, parachutes and athletes. (Yes, I said dogsleds . . . you'll see!)
Each shot takes hours, if not days, to get - not to mention travel time to the destination. Anthony says the team works year round to nail down the final product. And when it hits the screen even they are dazzled by the results.
"Every film is awesome because everyone involved in the film is doing it for the same reason. It's all pure passion. Passion for the sport, the season and for showing the ski (and) snowboarding community that is out there. We love it," said Anthony.
Snow fanatics in Edmonton can see Ticket To Ride on Nov. 15, as part of the Backside Ski + Snowboard Film Festival running Nov. 13 to 15, 2013. 
Take a peek at the Ticket to Ride  trailer now. You'll be wanting a front-row seat in either Calgary or Edmonton. Be ready for one big beautiful bumpy ride.
For the latest deals, snow reports and contests, sign up today to our SnowSeekers e-newsletter.