Skiing transforms winter for new Canadians and first-time skiers Chaitanya and Tejas Gautam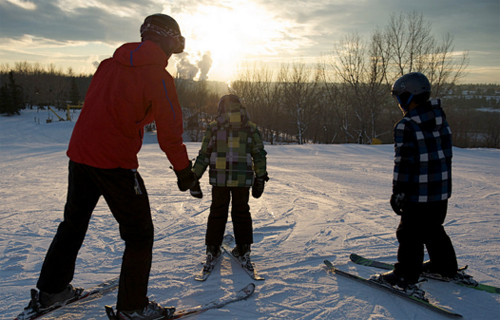 Chaitanya and Tejas Gautam taking to the slopes for the first time.
All photos by Jeremy Derksen
JEREMY DERKSEN
EDMONTON - Before coming to Canada from India, Chaitanya and Tejas Gautam had never seen snow, much less played in it. Their first winter in Toronto was miserable and cold. But the boys were singing a new tune after taking their first ski lesson in Edmonton, AB., this winter.
"I felt like I was flying, on land," says Chaitanya, the older brother at age 10. "The air was going by my face and it felt really nice."
On their own, it's taken time for the boys and their family to embrace the season. Like many newcomers, the Gautams come from a hot climate and are unused to the harsher cold of a Canadian winter.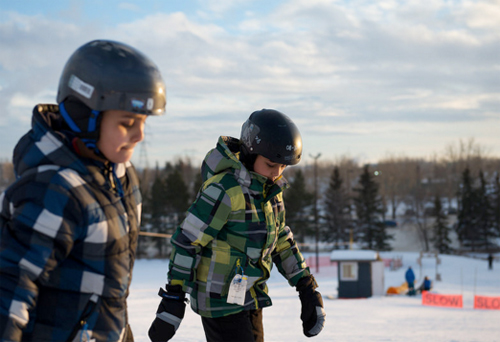 The brothers are originally from India and hadn't seen snow before moving to Canada.
'Now I like snow'
"Before, I hated snow," says eight-year-old Tejas. "Now I know about winter sports and skiing so now I like snow."
The family has lived in Canada for five years, four of those in Alberta. In that time the boys have grown accustomed to the climate, but there was still something missing from their winter experience.
"My friends used to ask me, had I gone skiing yet?" Chaitanya says. A big grin spreads across his face, "Now I can say yes!
For Nathan Lorenz, assistant ski school director at Sunridge Ski Area, seeing a young student discover the joy of skiing is one of the reasons he became an instructor seven years ago. Like Chaitanya, Lorenz first got on skis when he was 10.
Big smiles after first few turns
"Our goal in the first lesson is to see them smiling and happy," he says. "We don't always see turning and stopping the first day, but if we can see a smile on their faces and they come back for more, then mission accomplished. There's nothing better than seeing a smile on a child's face, and hearing them say, that was awesome!"
In a few short hours of instruction, Lorenz had the two boys lapping the bunny hill, practising the classic pizza-pie. There were still the occasional falls and frustrated moments, but both boys had big smiles.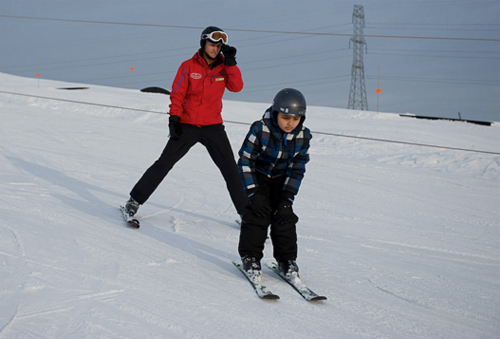 The boys learned quickly with the help of their instructor Nathan Lorenz.
The learning curve wasn't so different from what I recalled, first as a child myself and then as a father to three young skiers. Skis are an equalizer — we all feel the same awkwardness and vulnerability strapping them on for the very first time.
Perhaps the greatest difference between my family — me, my wife and our three kids aged three, six and nine, all of whom ski — and the Gautams is that we were all born and raised here. We are used to winter, snow and the seasonal activities that go along with it.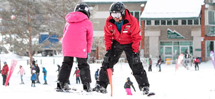 Get the kids on the slopes with GoSki Alberta
Kids in Grades 4 and 5 can hit the slopes three times for only $29.95. Check out GoSki Alberta for more details. 
Not that it's always been easy. The cost, time and effort of co-ordinating three kids has its challenges.
Skiing is an investment, but it's an investment in family time and your child's growth that will pay off many times over the years. And there are ways to reduce the upfront costs —such as the Grade 4/5 SnowPass that for $30 allows kids like Chaitanya to ski three times each at more than 150 hills across Canada.
Overcoming obstacles, building confidence
But the greatest obstacles are often the mental ones — the fear and uncertainty that come with trying something new. Chaitanya admits to feeling afraid upon first looking up the hill.
"At first the skis were really slippy," he says. "I saw the big hill and I thought I would slip off and go rolling down."
Now, emboldened by his first lesson, Chaitanya is ready to tackle more. "I want to try a steeper hill," he says. "I like the turns, it looks cool and you go all zig-zaggy."
"It feels really good when the skis move and you move with them," Tejas adds.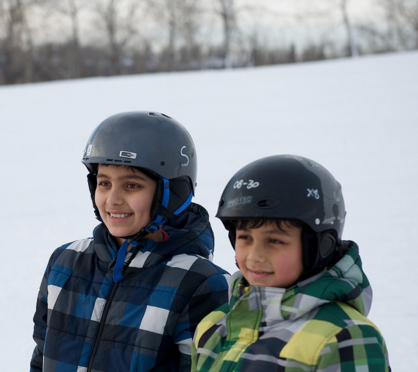 Happy faces after a day on the slopes!
"I am very proud of my boys," says their dad, Narinder, looking on. "I would really like to help them get more training, they really like skiing."
Already Chaitanya has begun to harbour bigger goals. "One day I would like to be in a big skiing competition and win it."
Whether he does or not is beside the point. He may not realize it, but Chaitanya is learning to fly in more ways than one. And when a child's dreams take flight, it can build the confidence for a life time of wanting to try new things.
More information
Thinking about having your child try out skiing for the first time? Sign up for the

grade 4 and 5 snow pass

with GoSki Alberta.

Need some tips while out on the slopes? Check out 

GoSki Alberta's awesome guide.

Love skiing with your kids? Share this story with like-minded friends.