Northern B.C. town has enough outdoor activities to fill your calendar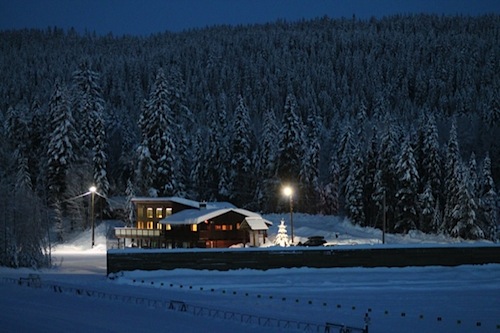 Less than 10 minutes drive from downtown, the Otway Nordic Centre is the starting zone to more than 50 kms of Nordic ski trails.
Photos by Doc Pow
DOC POW 
PRINCE GEORGE, B.C. - Around Prince George they have a slogan encouraging out of towners to "Take On PG." Recently, I had the chance to discover exactly what that means and you might be surprised by the answer.  
This is a pretty remote location, about 500 kilometres north of Kamloops, but more than worth the trek.
The place is a winter wonderland and here are some quick stats to prove it. Prince George and area is home to: 
Four ski hills – including the infamous Powder King - check out our recent story – averaging 12 metres (41 feet) of snow in a season
Hundreds of kilometres of Nordic ski trails
120 parks within the city limits 
Snowmobiling and ice fishing
For those looking for the ultimate adventure, take on the Ancient Forest for a snowshoeing experience you will never forget.  Only 10 minutes off the highway, you'll ascend into a grove of forest that is picture perfect. 
"I like the outdoors," says passionate snow-shoer Bonnie Watt. "And when I walk into those trees, there is a presence. . . .  that Ancient Forest, it's home to a very spiritual sense."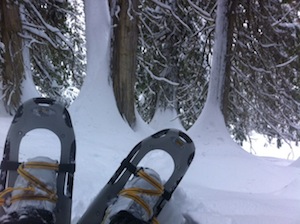 Put yourself here in the Ancient Forest.
Watt's right. The Ancient Forest is pretty special and after years of exploring Western Canada writing about the best in winter, nothing quite stacks up like spending time on snowshoes tromping around in this age-old woodland. 
You'll find trees that are 1,000 years old, some more than three metres (about 10 feet) in diameter.
"Be prepared to go for an awe-inspiring walk, be quiet, listen to the forest and you might even see some caribou in the area," says Watt. 
A trip around the Ancient Forest, located about an hour and a half east of PG, is an afternoon well spent.  To make it a weekend, break out the skinny skis and explore PG's vast Nordic trails.
That's just one of the reasons Prince George was chosen to host the Canada Winter Games in 2015.  It'll be its time to shine with the event  - a first for British Columbia.  Its bid slogan – "We Are Winter" helped secure the games and it couldn't be closer to the truth. 
The Otway Nordic Ski Centre will be one of the venues for the sporting spectacle. 
"With over 50 kilometres of groomed trails we are one of the largest Nordic ski centres in the province," says Kevin Pettersen, President of the ski club.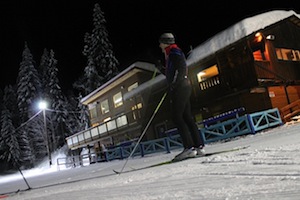 Kevin Pettersen on the night trail.
Pettersen grew up in PG, moved away to points, including Calgary and Toronto and now is thrilled to call the northern city his hometown again. 
"It's hard to describe the feeling you get sometimes.  I can see why the Germans and Europeans are simply blown away when they come up here.  It really is a place where you can have your cake and eat it too," Pettersen said during our morning ski.  
For him, it's quick access that is key. "Otway is within 10 minutes of downtown and you don't have to share it with anyone."
For local Bonnie Watt, after listing off all of its assets, she says, "take on PG because there are lots of adventures to take on around here."
Find out more
For more on the ancient forest check out ancientcedar.ca 
For more on the Nordic experiences visit caledonianordic.com
To start planning on how you'll take on PG in your own way, ski over to Tourism Prince George's website 
Aptly named Powder King Mountain Resort gets over 41 feet of powder each season. It's a powder paradise that every level of skiing and snowboarding ability can enjoy. From breath-taking drops to gentle groomed slopes, there is something for everyone. Locally owned and operated means you'll be part of the Powder King family in no time. Planes, trains and automobiles will get you there. Air Canada, West Jet, Central Mountain Air, Pacific Coastal Airlines and Via Rail all stop in Prince George. Rent a car at the airport using the #SkiNorthBC discount campaign.
If you go
Get the details about that snow here www.PowderKingResort.com 
Prince George International Airport http://www.pgairport.ca/
For all your Travel Northern BC details, the folks from Northern BC Tourism can help make the planning process smooth. http://www.travelnbc.com
#SkiNorthBC and explore more. SnowSeekers has partnered with National Car rental to secure you a SnowSeekers preferred rate. Make a reservation online, or with an agent and in the Contract field enter XVC4SNO for a savings that could cover your ski pass cost every day.