Get ready for the annual Take It To The Street tournament
LISA MONFORTON
BANFF, ALTA. - When you take Canada?s national pastime and play it on one of Canada?s most iconic main streets in the midst of the Rockies, it doesn?t get much more Canadian than that.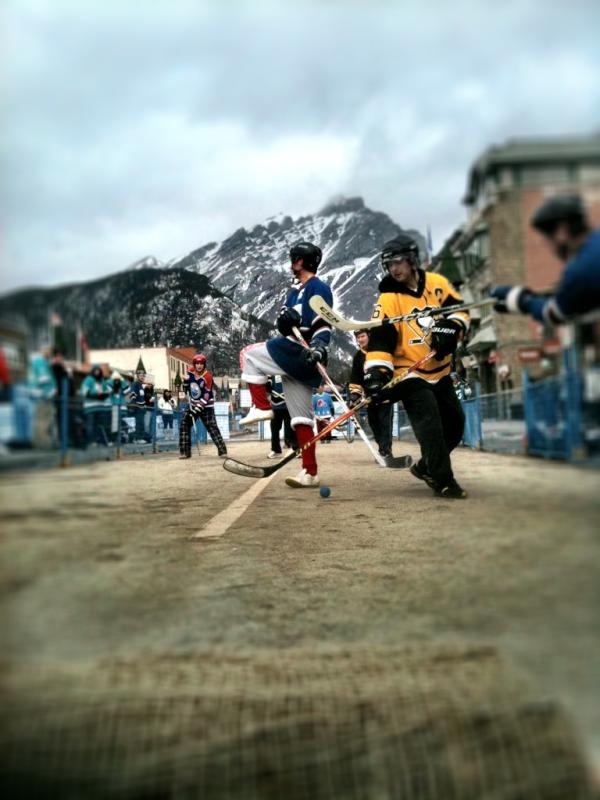 Classic 3-on-3 ball hockey ignites the Canadian spirit on Banff Avenue.
Photo courtesy of Banff Lake Louise Tourism
The annual Take It to the Street ball hockey tournament is back and promising to serve up some classic Canuck spirit with a healthy dose of competitiveness. 
From Feb. 8 to 9, temporary ball hockey ?rinks? will be set up along Banff Avenue between Buffalo and Caribou streets while teams compete in a 3-on-3 round-robin style ball hockey tournament. There are no goalies.
?I think it?s a great opportunity to play a classic Canadian sport in an iconic setting,? says John Bowden, program director of Banff Heritage Tourism.
The event is part of Banff Lake Louise Tourism?s SnowDays, a celebration of all things winter. Check out our story on SnowDays to know more.
?We?re looking for a bigger turnout and hope to inspire other organizations to come out and play,? Bowden said.
Though some teams were really ?fighting for that trophy? last year, said Bowden, ?there were other teams that were there just to have fun and play in an organized setting.?
The games - played with a ball rather than a puck - are intended to be more of a pick-up style of game, aimed at all abilities. Four games will be on the go at any given time with both competitive and recreational players on the ?rinks.?
"The whole idea is for players and spectators to have fun", says Bowden, ?It brings a festive atmosphere to Banff Avenue.?
Story Links:
Need To Know
Early bird registration is available for $367.50 per team - Register NOW
Registration includes: minimum four games; free snacks and beer at players? reception; free gift for each player; free team photo

Participants must be 18 years of age or over

Female and co-ed teams are welcome



For more stories and detail on Banff check out our SnowSeekers' destination page.